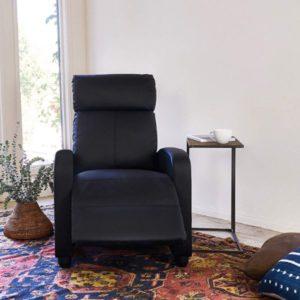 The hunt for a new recliner requires a lot of patience. You need to take note of not only the construction style of a chair but also its upholstery and features.
Most importantly, you must consider the brand. This could make a significant difference in the overall quality of the recliner you end up buying.
Some brands command respect because they have made it a trend to create comfortable and sturdy recliners that make fantastic stylistic statements.
On the other hand, some brands are only as good as their marketing gimmicks. You can be sure that learning about the brands will help you to trim down your options.
Dive in, and I'll tell you all about the best recliner brands for nowadays. These are companies that have stood the test of time and won the hearts of millions across the globe.
Who Makes The Best Recliners: Top 10 Best Recliner Brands Reviews
It's easy to feel stuck if you have no idea about the recliner brands you can trust. We did some serious detective work to learn more about the furniture pieces created by different companies and their overall quality.
Additionally, we went on a serious hunt for customer reviews to find out what real users have to say about their experience. Here are facts you should know about the 8 leading recliner brands.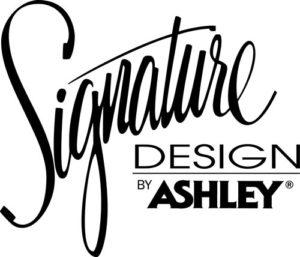 It is without debate that Ashley Furniture is one of the most popular recliner brands worldwide. Each furniture piece from the company is backed by years of hard work developing the design and ensuring its practicality, comfort, and durability.
You can expect any model from Ashley's Furniture to enhance the aesthetics of your home and make your life so much better.
Brand's Feature Highlights
A reputable brand that brags of thousands of happy customers
Provides recliners of all styles, colors, and fabrics
Durable and practical designs
Sturdy, yet more budget-friendly options
If there is one thing that this brand understands well is that people differ in their personal preferences. This has pushed the company to ensure that its recliner designs are available in a range of styles, fabrics, and colors. You will not lack something that tickles your fancy if you go through their collection of recliners.
The furniture pieces come with different functions and features. From recliners with heat and massage capabilities to those that can recline fully and wall huggers, this brand will not fail to amaze you.
Ashley Furniture has been on the market for a whole two decades. It was established in 1997 and is the ultimate discount store for all kinds of furniture pieces, including loveseats and sectionals.
---

It doesn't matter if you are making a top ten or top three list of recliner brands; Lazy Boy will be there; that's no secret. As this manufacturer has introduced the recliners to the market, their products will be top-tier.
The furniture by Lazy boy is a combination of functionality and an aesthetically pleasing outlook. And everything is available within an affordable price range. Well, that's pretty impressive!
Brand's Feature Highlights
The recliners it manufactures are affordable
Designs are aesthetically pleasing and functional
Offers top-notch comfort and lumbar support
Boasts high-quality material that ensures durability
When looking for comfortable padding and ergonomic lumbar support, you should always go for this brand. And you will find a product that goes perfectly with your interior, and that's something we would love to spend our money on!
You will get plenty of color choices and fabric options. As a result, finding the most suitable one for your room won't be an issue. Furthermore, these chairs are super durable, so your hard-earned cash will bring greater value!
For an overall experience, picking the Lazy Boy sounds like a superb idea, to be honest. However, this manufacturer only makes recliners and loveseats! So if you want to get a complete living room set, you may need to browse some other options.
---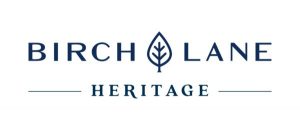 Birch Lane is one of the well-reputed brands for making top-grade recliners. As they create timeless designs, their furniture will never go out of style!
When you are into simple yet elegant furnishings, you should definitely look at this manufacturer's collection.
They focus on creating both traditional and contemporary models. In this way, this brand has made an enormous group of loyal customers.
Brand's Feature Highlights
Offers a wide range of furnishings
Available within a reasonable price range
Designs timeless and durable pieces
Has an excellent customer service
One of the fascinating facts about Birch Lane is that you will get any furniture in their store to decorate your house.
From the patio to the bedroom, this brand has something to offer. And everything is available within a moderate price range, which is a relief!
You will have a wide collection of stuff in front of you. Consequently, you can unleash your wildest imagination to decorate your house. And for some homeowners, that's a dream come true!
In addition, you will get top-notch customer service if you ever choose to buy any product from them. Therefore, for a hassle-free experience, you can consider getting your recliners from this manufacturer.
---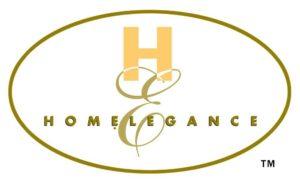 Another dominating name in the recliner furniture world is Homelegance. This brand is known for not only its power recliners but also for its day beds, sofas, to futons and more.
You can count on this company if you want a recliner that can take your entertainment and comfort to the next level.
Brand's Feature Highlights
Stylish modern recliner collections
Well-constructed chairs with solid frames
A wide selection of both high-end and budget-friendly models
Designs focus on giving users optimal comfort levels
Recliners from Homelegance are selling like hotcakes because of several self-evident reasons. First, they provide optimal comfort levels without compromising on style. There are numerous models and collections to choose from, including sizeable 3-seat mode sofas and simple single-person couches.
We tested several recliner models from the brand, and there are specific patterns we noted. First, the padding is quite generous, and the fabric upholstery is of excellent quality. These chairs are also crafted to give users years of service, thanks to their outstandingly sturdy frames.
Just like Ashley Furniture, this brand offers budget-friendly recliners too. Some models are quite expensive, although you will also get a suitable selection of chairs to choose from if you are on the budget.
---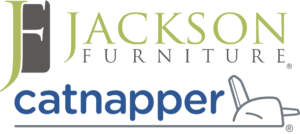 If you are searching for top-rated recliner brands made in the USA, the Catnapper is your best bet. This is a Jackson Furniture sub-brand that is dedicated to creating the most comfortable recliners in the market.
It is not hard to see why chairs from this brand take home the crown as far as comfort and practicality are concerned.
Brand's Feature Highlights
Excellent high-end recliners
A range of fantastic designs and collections
The brand is dedicated to ensuring practicality and comfort
Stylish pieces ideal for modern homes
This is your go-to brand if you want durable, stylish, and comfortable high-end recliners. The company boasts of being one of the best sellers worldwide. I guess this is enough evidence that their products are worth it, and you are likely to fall in love with every inch of their recliners.
Catnapper has recliner collections of all sorts. They vary in design, features, and functions. In fact, their power recliners come with loads of fantastic functions, including massage and heat therapy capabilities.
The only downside is that this company is mainly focused on creating high-end furniture pieces. In case you want budget-friendly options, you will not have much at your disposal to choose from.
---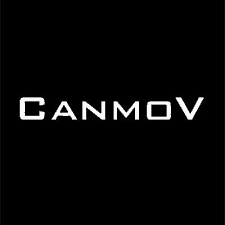 If you have a thing for simplified American style recliner designs, then CANMOV is an ideal brand to consider.
It specializes in creating excellent living room furniture pieces and does an excellent job researching and developing power recliners.
Sofas from the company have exceptional upholstery that helps in enhancing their comfort.
Brand's Feature Highlights
A wide array of models that differ in style
Gorgeous and practical recliners
Quality constructions to ensure maximum durability
This is a company that is committed to lighting up your life without breaking the bank. It has an impressive collection of recliners that have hit the dizzy heights of international popularity, thanks to their practicality and innovative features and functions.
If there is one thing that stands out about this brand, then it is the diversity of its products. In case you find one model that you do not like, you will surely not lack another one that will sweep you off your feet.
Even models that are not packed with features still have premium constructions and assure you of getting excellent value for your money.
---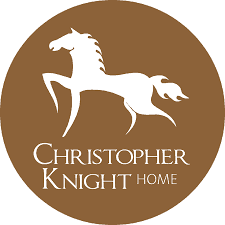 The history behind this brand is just as impressive as the recliners you can get. Well, Christopher Knight is a company named after its founder, who was a marketer and actor.
This brilliant man dropped everything and opted to dedicate his life to making comfortable home furnishings for people from all walks of life.
Even though this is not one of those brands that are backed by decades of prestige and experience, it has tons of quality pieces to offer. Its models are beautiful and can add a touch of class in any living room.
Brand's Feature Highlights
A wide array of models that differ in style
Gorgeous and practical recliners
Quality constructions to ensure maximum durability
This company mainly focuses on single armchair recliners. Specializing in these pieces has seen it grow into one of the best brands in the market. Even though the majority of models are budget-friendly, they still provide more classic and stylish pieces that people love.
Recliners from this brand come in a range of leathers, fabrics, and designs but without a hefty price tag. If you are on the budget and need a recliner that promises you comfort and unmatched durability, then you should check out some of the pieces from the company.
---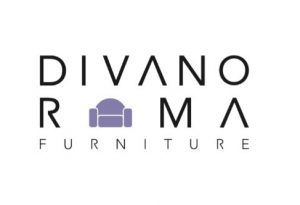 This is a company that has so far managed to gather some of the best brand recliners reviews.
Even though it is currently not as popular as Ashley or BarcaLoungerfurniture, this is something that could change soon.
The brand has varied types of furniture pieces and home décor stuff that make statements of luxury, comfort, and practicality.
Brand's Feature Highlights
Numerous excellent reviews from users
A wide array of elegant recliner designs
Durable and sturdy pieces
Recliners blend well with modern home decors
Budget-friendly options
You are guaranteed a variety of recliner designs, so you should not have a problem finding something that truly warms your heart. From the design and construction to the padding and upholstery, there is nothing you will not love about pieces from this company.
There are some standard features you are likely to find on recliner models from just about all brands. What sets Divano Roma Furniture apart from its competition is its ability to develop pieces with modern and futuristic styles.
Lots of models from the company are selling like hotcakes because they are simply amazing.
---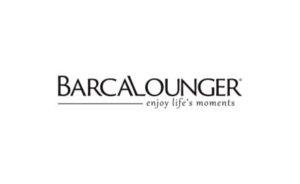 If you happen to be the picky kind with an unquenchable thirst for perfect high-end furniture pieces, then the BarcaLounger is a brand that will not disappoint you.
It has been around since the 1940s, and its designs make it apparent that this company has decades of experience up its belt.
Even if you happen to be the kind of customer who is hard to please, we can bet that pieces from this brand will leave you thrilled.
Brand's Feature Highlights
Striking pieces with modern and traditional designs
Excellent padding for enhanced comfort
Models are made of using the best grade materials
The brand is committed to creating flawless recliners
The high standards of craftsmanship and the quality of materials used on each piece unfortunately also attract hefty price tags. As a result, the cost of the majority of models can make most folks shy away.
On the bright side, the recliners from this company are unbeatable in terms of styleand elegance. They are quality-oriented pieces, and you can also find a few casual and simple designs that are more affordable. Your selection, in this case, will be somewhat limited.
Irrespective of the price range you focus on, you can trust this brand to provide comfortable and exquisite looking recliners. Models from the company also boast of having high-end features and the highest-quality upholstery covers.
---

If you are searching for recliners with superior designs, progressive technologies, and quality materials, consider choosing pieces from BonzyHome furniture.
This is a company that believes in using the best wood species, metals, and fabrics to create truly outstanding recliners. Better still, their quality of craftsmanship earns them some serious bragging points.
Brand's Feature Highlights
Plenty of elegant designs
Sturdy and durable models
Practical and easy to use recliners
Most models are designed to require minimal maintenance
In terms of popularity, this brand would possibly rank the lowest on our list. It, however, managed to get a slot on this review because its furniture pieces have a unique edge above the competition. Some models are not as highly-priced as high-end recliners, yet they offer world-class comfort and elegance.
The prices of recliners from Bonzy Home are unbeatable. This is more so the case when you consider the features and functions they offer. In case you want a super good sofa with a smooth reclining mechanism, you are likely to find the best models if you sort through the collections from this company.
From the patterns we saw during our research, the love for recliners from Bonzy Home had reached to a fever pitch for their ability to satisfy the elderly and those with mobility problems. These pieces not only function well and last for decades, but are also easy to maintain and operate.
---
Difference Between the Recliners and Mediocre Recliners

Recliners are not cheap assets. Whether you choose the very best one in the market or you settle for a mediocre one, the chances are that you will still part with a handsome amount of money. So, how do you differentiate a top-quality recliner from a decorated piece of junk? How can you be sure that your investment is worth it?
Well, one of the surest ways to separate the wheat from the chaff is by reading customer reviews. You need to know something about the experience of other users.
While naysayers can taint the reputation of even an almost perfect product, you can tell that a specific model is subpar if you notice a pattern in the negative reviews.
For instance, it is safe to ignore a review that claims a specific model is uncomfortable if a thousand more people are claiming it is the most comfortable recliner in the market. In the same manner, you have reasons to raise an eyebrow if too many people complain about the recliner in question being uncomfortable.
I also like betting on the reputation of a brand. Brands like Ashley Furniture have made their mark in the market and are known for producing the very best recliners. It is hard to go wrong if you choose a product made by this company.
What to Expect from a Good Recliner Brand?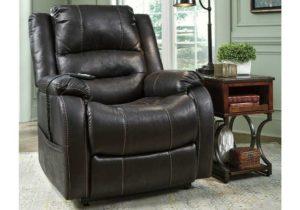 Have you tried browsing online in search of a top-quality recliner? If you have, then you understand that the choices you have at your disposal can be a little overwhelming.
Your budget will help you to narrow down your options drastically. Here are more aspects to consider for you to find one for your home.
Well-sought Dimensions
When searching for a recliner, one of the most vital aspects to consider is the dimensions of the chair. Consider the measurements of not only the chair itself but also its sitting area.
Recliners are considerably larger than regular chairs. This makes it necessary to take note of their maximum overall dimensions. Take into account the additional space that will be needed to allow the chair to lift or fully recline.
Right Weight Capacity
If you are on the heavy side, the last thing you need is to invest in a recliner that is too small for you. Some excellent models can accommodate people who are between 300 and 330 pounds.
Keep in mind that you must remain within the weight limit of a chair for your safety. In case this limit is exceeded, it could lead to unwanted accidents or even failure of the lift and recline mechanism.
Safety Features
For senior citizens, safety is a concern that cannot be overlooked. Power recliners have all sorts of mechanisms that may or may not work in case of a blackout.
In case a loved one has severe mobility issues, it is better to choose a model with an in-built battery backup. This will allow you to make use of all features and functions even if you experience a power outage.
Better Upholstery
The upholstery on the recliner you buy will determine the visual appeal of your chair, its durability, and also the level of maintenance needed.
Most importantly, it will dictate how the chair feels against your skin. For the best experience, avoid fabrics that make the chair sticky and less breathable, especially during hot days. One of the best upholstery materials is polyester.
Longevity
Any recliner that is worth purchasing will be sturdy enough to withstand repeated usage over a decent number of years.
For you to gauge the average lifespan of any model, consider the quality of its construction (frame) and also the materials used. Additionally, confirm that the rocking, reclining, and gliding systems are sturdy.
In the current era, even candy manufacturers are not offering freebies. The cost of a recliner is often indicative of its overall quality and durability. Although some expensive sofas have proven to be pieces of junk while some cheap ones have passed the test of time. It is always safer to have a reasonable budget.
Comfort
If you need a comfortable recliner, there are certain features you must inspect. Apart from checking out the overall engineering of a chair, examine the armrests and sitting region and ensure they have adequate padding.
You must also confirm that the design of the recliner provides ample lumber support. In case you are a tall person, make sure that your model of choice is a perfect match for your height.
Origin and Popularity
Let's face it; we are all a little weary about mass-produced products and have more faith in products made in the USA and Germany. It is perfectly okay for you to have the urge to know a little more about a brand before you purchase your recliner.
If you do not want to get disappointed, consider chairs from reputable brands. The longer the brand has been around, the better.
Don't get me wrong; I'm not saying that newer brands are not remarkable. What I mean is you have to be extra careful if you want to purchase a recliner from a company that is not backed by numerous outstanding client reviews.
Frequently Asked Questions about Recliner Brands
1. How durable are recliners from these brands?
Brands we listed here have all kinds of high-end and inexpensive models. The construction and materials of a chair are indicative of its overall quality and durability.
In the majority of cases, expensive options have the best upholstery, padding, and frame, so they tend to last longer.On average, expect a quality model to last for a whole decade.
2. Do I need to consider the warranty policies of these brands?
Yes, you do. Credible companies with top-quality recliners will always be happy to stand behind their products for a reasonable while. If a specific model offers a generous guarantee, then you can buy with confidence and expect compensation in case the product is defective.
3. I want a budget-friendly recliner, which is the best brand to consider?
You can find more than a few reputable brands on our list that offer quality yet budget-friendly recliners. We recommend choosing models from Bonzy and Ashley Furniture.
4. I am attentive to detail and want the "perfect" recliner, which brand would you recommend?
BarcaLounger is undoubtedly the best brand for you. This company specializes in creating quality-oriented high-end recliners. You will, however, need to be prepared to dig a little deeper into your wallet to acquire furniture pieces from the company.
5. I have limited space in my home, is it wise to buy a recliner?
Recliners come in different styles, sizes, and designs. The brands mentioned above have, over the years, done a brilliant job developing designs for all kinds of homes.
In this case, avoid oversized recliners and choose smaller models. It also makes sense to select wall huggers because they do not need much wall clearance.
Final Words
There you have it, a comprehensive list of the very best recliner brands in the market. If you want magnificent styles and designs, consider recliners from BarcaLounger and Catnapper.
In case you are searching for elegant, yet budget-friendly options, chairs from Ashley and BonzyHome will not let you down. One thing these top 8 brands have in common is a commitment to leave their clients happy and satisfied.
This is Autem Decker. Main Author of 'TheHomeDigs'. You may not find her on the list of top 10 contemporary Canadian interior designers, but everyone who knows her says she was born to be an interior designer.
She makes her plan in her head and draws them in her years-old diary with a note in the corner. The way she plays with color and shape amazes us.
Connect Her On – Twitter