Floors are incredibly important in giving your home the atmosphere you want. They affect the appearance of everything – whether the house looks spacious or cramped. They even have a say on the color and quality of the furniture you buy.
So, if you are building a new home for your family, or even just renovating the house, you need to give floors a good amount of thought. There are actually plenty of options for you to choose from. Terrazzo, mosaic, PVC, glass, and so on – there are many fancy options.
But when it comes to the comfort and style, one type supersedes all others – hardwood floors.
How to Pick the Best Hardwood Floor for My Home?
In order to pick the right one from all the different finishes, textures, and colors, you need to have a general idea about the differences in them. That is indeed what it sounds like. Yes, it's a lot of digging. But not to worry; we are here to save your time and energy.
We've done the research for you. Continue down the article if you want to learn.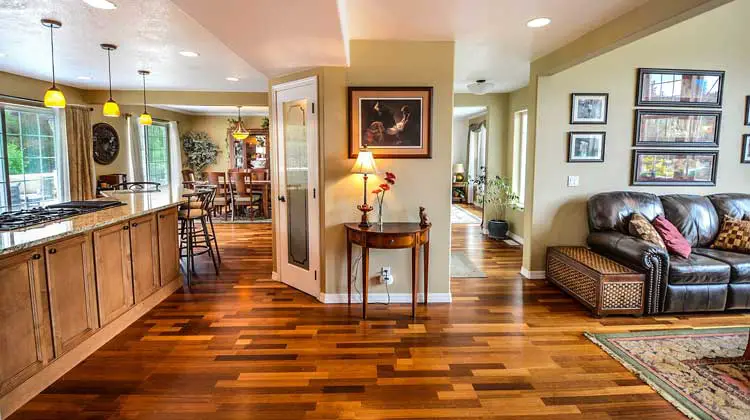 Types of Hardwood Flooring
Solid wood boards and engineered hardwood boards – the difference between them is in terms of price, quality, and durability.
The ones that have always been used traditionally are called solid hardwood floors. These are actual wood planks with no artificial components. And this is why they are more expensive.
Engineered boards, on the other hand, are made by putting layers of wood on top of each other. The outer planks are of high quality, and the plank at the core of the board is of a cheaper quality.
Traditional Hardwood Floors
The advantages of having traditional hardwood flooring are that they will be able to withstand several coats of finishing without the quality being compromised. As a result, they can retain their shine and health, and continue to last for many long years.
However, if you have a concrete substrate, then you can't choose to work these wooden boards because they have to be nailed into the subfloor below. Also, they get terribly warped by the humidity and moisture in the air.
Which is why they cannot be used for flooring the lower stories of the house, like the basements.
Engineered Hardwood Floors
Engineered floors are man-made, and therefore they have many varieties.
Compressed wood, resin, and polymers – these are the materials which make the thin outer layers of an engineered plank, whereas, one layer of expensive wood lies in the midst of it all.
Unlike the traditional ones, these floorboards can be used on concrete sub-floors. This is because they are usually fitted and snapped into place as opposed to being nailed into the support below. The grooves on the sides of the boards help them to stay in place without budging.
Also, most of these engineered boards are built to be resistant to moisture and humidity. Therefore, they can be used in any part of the house. Even bathrooms and basements without fear.
One disadvantage here is just that these boards cannot be refinished multiple times like the traditional boards.
Here's an example that will give you some idea of the difference in price points. Solid red oak floorboards will cost you about $5 more than the engineered red oak floorboards.
The Kind of Finish You Want
You might see that the hardwood you choose comes with two options – either they already have a finishing layer or they do not. Which one you want will depend on your preference. Firstly, let us tell you that the finished and the unfinished wood both look vastly different.
We'd say that getting the unfinished wood will be a better choice because you already know what the final look is like. Finishing often changes the appearance of some types of wood. Also, finished wood can be installed more conveniently than the ones with no finishing.
Many people prefer getting finishing on their floorboards after the installation process. And this is because if you watch over the finishing process, you will be able to customize the shine and the color of the boards according to your wishes.
Also, manual finishing can make the floors look smoother as it is done when the sanding and the nailing are complete. So, if you are someone who is very particular about how you want things to look, then you might take the risk and get unfinished wood and have a better payoff once it's all done.
The Types of Wood You Can Get
When selecting the wood, look at the grain and the design circles on the surface. All over the world, oak is the most preferred among all other types of wood. This because they are the most elegant choice and also the safest option.
The grain is naturally spread out across the surface, which is why this wood looks appealing with any type of stain. There are two types of oak – white and pink. Red oak has a slightly reddish hue that appeals to many people because it has more luster. This is also one of the most durable wood for flooring.
If you want a cleaner and flatter appearance, then you can go with white oak, which can be incorporated with different styles of modern furnishings.
Another popular option is walnut wood. This wood has a darker color, which makes it a very complementary to rooms that have a darker and more defined atmosphere. Walnut wood flooring will give your rooms a warm glow and a fuller vibrancy.
These are two of the most common types of wood that are used for flooring. Other types of wood are not frequently used in standard flooring because they are either lacking in quality or they are too expensive.
Conclusion
Hardwood flooring preferences rely heavily on factors such as the amount of light that will enter the room and the amount of moisture in the air.
You can look at the standard types of flooring and decide which ones will suit the conditions of your room the best. May you make the best choice. Good luck!
This is Autem Decker. Main Author of 'TheHomeDigs'. You may not find her on the list of top 10 contemporary Canadian interior designers, but everyone who knows her says she was born to be an interior designer.
She makes her plan in her head and draws them in her years-old diary with a note in the corner. The way she plays with color and shape amazes us.
Connect Her On – Twitter