A tool that helps us cleaning our spaces and makes our living rooms livable sometimes requires a complete cleaning.
Actually, the cleanness of our apartment largely depends on the freshness of the cleaning tool. Cleaning with a dirty tool is not cleaning at all, rather you are just replacing dirt and dust here to there while losing your calories!
Moreover, when you do your cleaning with a fresh tool, you will enjoy some advantages during and after the cleaning, such as…
You can clean a large area within a short time easily.
No chance of dirt addition to the floor.
After the first phase of cleaning, you don't have to clean the same space for the second time.
A perfect neat and clean spaces will be assured.
It will burn less of your calories.
If you want to enjoy all these advantages, you can follow our suggestion. We will guide you how you clean your both rubber bristle as well as plastic bristle brooms.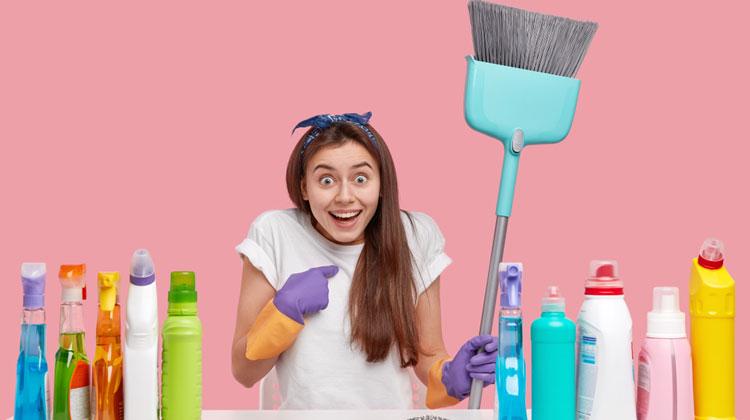 Cleaning A Rubber Bristle Broom
If you have a broom that has a rubber pad in front of it, you can follow following steps to get the cleaning of your tool done.
Step-1: Uninstalling
At the beginning of the cleaning, you have to uninstall the broom head from the handle. Most of the times, the head is attached with the help of screw, simply removing the screw, you can separate the head from the body.
Step-2: Dry Cleaning
Before wetting the rubber pad, clean it with the help of a dry piece of cloth or a vacuum cleaner. This dry cleaning will remove all the debris that may be hard or impossible to remove after wetting the bristle. Because there are some debris that firmly attach to the bristle when they get wet.
Step-3: Bang the Bristle
Normally, you can remove the outside dirt with dry cleaning, but for the inside dirt and dust, you need to bang the rubber pad on any hard surface.
Step-4: Washing the Bristle
When you are done with the dry cleaning, you have to concentrate on the melted dust and dirt of the bristle. To clean the bristle completely, you need to make a solution.
Take a large size bowl where you can freely move the tool head, then mix some drops of dishwasher with the warm water in the bowl. Finally, soak the broom head into the solution and keep it there for an hour.
At the second stage of washing, after one hour, take out the bristle from the solution and keep it under a running faucet. Now, using your finger, rub the bristle until clean water goes through the broom head.
Step-5: Disinfecting the Handle
In naked eyes, the boom handle looks clean, but it's full of germ. For disinfecting the handle, you can apply some antiseptic on it and wipe throughout the handle with a piece of cloth.
Cleaning A Plastic Broom
Other than the rubber broom, there are some brooms that have plastic bristle. If you have this type of broom in your house, you can follow the below steps for cleaning it.
Step-1: Separating
Usually with the plastic broom, the handle is attached with the head with the help of threads, where anyone can separate them by just moving inversely.
However, you may have seen both straight type of handle and slope handle, interestingly you can uninstall both of them in the same simple manner.
Step-2: Combing
Even for a human, combing is a good way of cleaning. Doing the same for the brooms, you can remove the dust, fluff, dirt, from them. In a plastic broom, bristles are separate from one another that will help you combing it. So, after uninstalling, remove as much as dust you can with a comb.
Step-3: Making Solution
Just like cleaning of a rubber bristle, you have to make the mixture for the cleaning.
However, if you wish you can clean with normal water too, but for a better result, you have to use the solution. To make the solution, take a bowl of lukewarm water and add some dishwasher to it.
Step-4: Cleaning
Now soak the broom head into the solution and keep it into the water for an hour.  After an hour, take out the bristle from the solution, then wash with clean water just like our previous steps.
You can also clean the broom handle with simple cleaning, like weeping with a piece of cloth. Finally, when you are done, re-attach the broom head with the broom handle.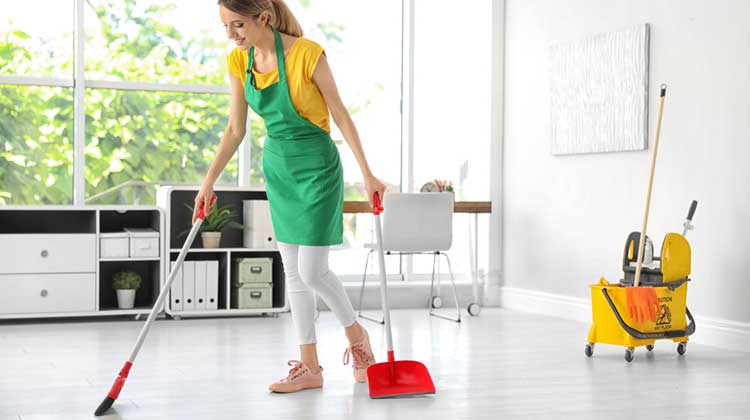 You may love to read: How to Make a Witch's Broom 
Maintenance of The Broom
A broom is an integral part of household appliance collection. When you take care of it after every use like your other house tools, a single broom whether it is plastic one or rubber one will serve you for long.
In the following section, we will guide you how you can keep your broom always in a working condition and increase its durability while saving your cost.
Choose the Right Broom
Two of the major types of brooms are plastic broom and rubber broom. Plastic broom can be used for cleaning the dust, fluff, dirt of floor as well as the ceiling. You should use this broom on any dry surface for getting efficient cleaning experience. On the other hand, a rubber broom is mainly used for cleaning the damp floor. So, one of the major responsibilities of maintaining broom for longer use is, you have to use it for the purpose it is made for.
Immediate Cleaning
Every time after the cleaning, if you clean you broom instantly, it will be always good for use. Moreover, due to regular cleaning, there will be no permanent dirt in your cleaner. There is dirt, if you don't clean it immediately, it may be the cause of damage to your broom after a while.
Complete Drying
It's good to clean your cleaning tool regularly, but don't hurry for drying. After cleaning, keep the broom in a friendly temperature and let it dry completely. Sometimes broom without proper drying emits odor!
Storing
It is also important to make a safe space for storing your broom. Choose a space where there will be no enemies of broom, like mice.
Conclusion
Cleaning a broom is a simple process that can help you enormously by cleaning your house effectively and saving your budget on home appliances.
However, you may not need to do the cleaning the ways we mentioned earlier on a regular basis, you can make your own broom cleaning schedule for mild and complete cleaning.
This is Autem Decker. Main Author of 'TheHomeDigs'. You may not find her on the list of top 10 contemporary Canadian interior designers, but everyone who knows her says she was born to be an interior designer.
She makes her plan in her head and draws them in her years-old diary with a note in the corner. The way she plays with color and shape amazes us.
Connect Her On – Twitter