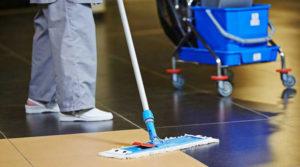 It is quite likely to happen— you spill water, leave foot stains, and even have dust piling up on your hardwood floor.
Result?
The gloss and glimmer of your gorgeous hardwood floor are fading off and the moisture level is eroding gradually.
Although hardwood performs remarkably as flooring material improving the aesthetic appeal of your house, without proper cleaning and maintenance, it tends to degrade over time. Hardwood is sensitive to moisture, and your prime challenge should be to manage its moisture content to achieve optimum beauty and durability.
So, how do you take care of your hardwood floor?
Fortunately, the cure lies at your very own kitchen cupboard— Vinegar. I have the pleasure to inform you that, if used right, vinegar is pretty much safe to sweep on your delicate hardwood floor.
Being a natural bi-product of vegetables, fruits and grains, Vinegar is 100% biodegradable. Therefore, you can use this organic substance without the concern of exposing your family to a hazardous toxin or hurting the environment. Furthermore, regular household vinegar effectively kills bacteria, mold and viruses.
So, without keeping you wait any longer, let me walk you through the following three simple yet effective methods of cleaning hardwood floors using vinegar.
3 Methods of Cleaning Hardwood Floors with Vinegar
1. Using Clothes and Vinegar
If you do not want to buy any additional tool for mopping, take a bucket of warm water, then mix ½ cup of vinegar. There go your primary ingredients. Now all you need is a cloth or dish towels to mop around your hardwood floors. Cleaning with clothes comes very handy when you are cleaning the small area of the home with your hand.
For some extra glaze, you can add some oil from one to two drops. Make sure you're done with the sweeping before mopping to get rid of the dust. The whole process will go in vain if you don't keep changing the vinegar mixed water before it gets dirty.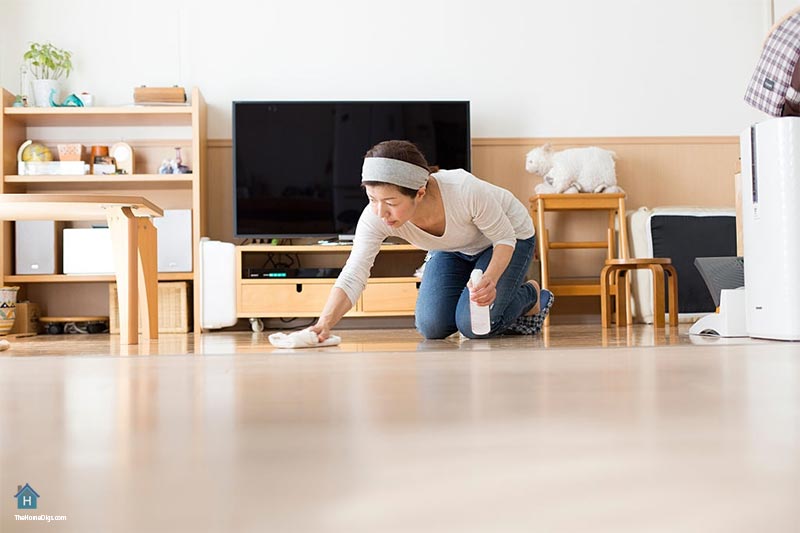 2. Using Vinegar with Spray Bottles & Microfiber Mop
You can prepare a mix easily using two to three spoons of vinegar in a spray bottle that has 16 ounces of water in it. The main advantage of this technique is that you get to move freely while mopping like a vacuum cleaner. Now wash the microfiber mops head again and again while it gets dirty.
If you think the mop is getting too wet, using a sponge mop. If you are making the floor too wet, there will be spots of watermarks all over the floors. Using sponge mop will reduce the times of water removal from the mop. It is quite useful for sticky dirt.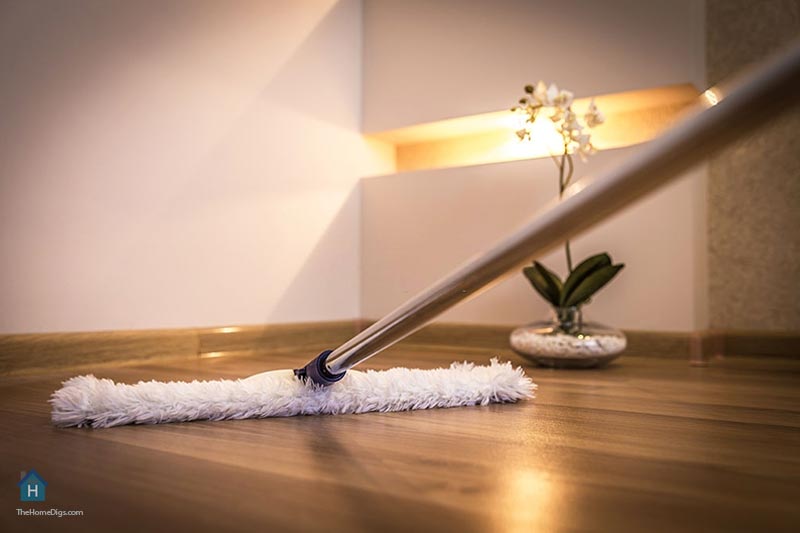 3. Using a Mixture of Oil and Vinegar
In this method, the floors will turn out extra glossy because of the amount of oil infused into it. Use the same amount of vegetable oil as the vinegar in the bucket of warm water. It should be ½ cup of water and vinegar for a gallon of water to make the solution.
You can use both microfiber mops and clothes in this case. Clothes are pretty useful for small areas as mops are for fast cleaning. You can put a solution more than it requires in a particular space and use it to mop the whole floor by dragging. The mixture would work fine in such cases.
You can put soaps of your favor in the solution. Sometimes people use different flavors for the scent. I prefer mixing orange peels. Whether it is fresh or not; it will diffuse a fresh scent and aroma in the surrounding.
My Recommendation
Though all three of the above methods are pretty simple to apply, I would recommend the second method as the best one. Simple, easy to use and requires less effort, spray bottles & microfiber mop should be your go-to method for cleaning hardwood floor.
All it will require are vinegar, a spray bottle and a microfiber mop which are all pretty much convenient to grab from your local store. The best part of using microfiber mop is that it requires less body movement, relieving you from any back pain, which can be a flaw for the other two methods.
Final Words
However, deciding which method serves you best is contingent upon several factors. Your choice may vary depending on your floor space, equipment at your disposal and how frequent you are likely to clean the floor.
I hope my guideline for How to Clean Hardwood Floors with Vinegar gave you a sense of direction about what to do and how effectively you should do while taking care of your hardwood floor.
This is Autem Decker. Main Author of 'TheHomeDigs'. You may not find her on the list of top 10 contemporary Canadian interior designers, but everyone who knows her says she was born to be an interior designer.
She makes her plan in her head and draws them in her years-old diary with a note in the corner. The way she plays with color and shape amazes us.
Connect Her On – Twitter