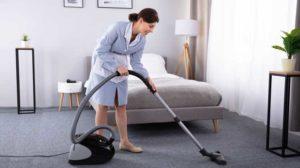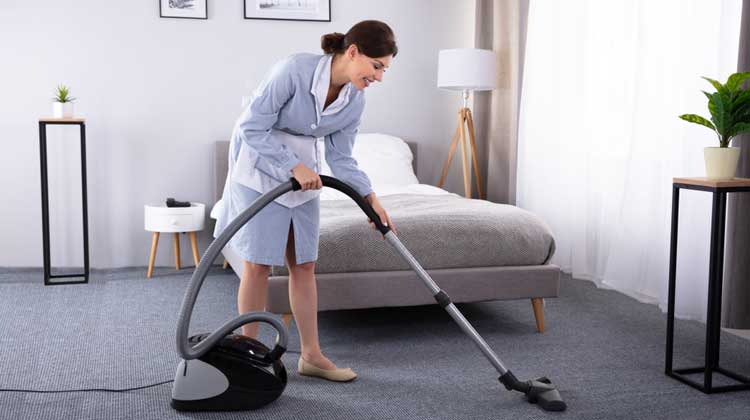 Remember when we had to use highly uncomfortable machines to keep our surfaces clean?
Fortunately, those days are far gone now. Technological advancements over the last decades have made house maintenance tasks easier than ever, and safer than it was before.
While there are many modern cleaning methods that you can use to make your floors shiny, none of those are as efficient as the hardwood floor cleaner units.
In our search for the best floor cleaning machine, we've found many options that deliver incredible results while being comfortable to use.
From wireless to cordless, these cleaners feature high-quality technologies to ensure your house looks perfect.
Before we get into our best floor cleaning machine reviews, we first need to learn how to use them properly.
Top Picks of Floor Cleaning Machine for Home/Office
How to Clean Hardwood Floors with A Floor Cleaner Machine?
In this section, we'll talk about how you can clean a hardwood floor with a floor cleaner machine. It's easier than you think, just follow the steps.
Step 1:
Start by confirming the tanks have the proper amount of water to complete the task. If you have a large tank capacity, there won't be any problem, but using a machine with less water might require refilling eventually.
Step 2:
Start by plugging or activating the machine, it depends on if it is wireless or not. Then, wait for a moment until the machine gets heated up. It might take a couple of minutes.
Step 3:
When the cleaner machine is ready, choose a starting point in the room. It is always better to initiate the route from the walls, and then follow a route to cover the entire floor surface.
Step 4:
If there are areas with stuck-on stains, consider changing the steam power to a high level, and use the spray functionality. Fortunately, these two controls are available in the handle of most cleaner machines, and it doesn't require more than pushing a button.
Step 5:
When you reach a tight space, detach the pieces to turn it into a handheld vacuum cleaner. It will help you clean under those areas that often store dirt, and we can't clean them regularly. If the unit features LED lights, turn them on for more vision.
Step 6:
After you finish cleaning, store the unit in a proper place. Don't leave it over the surface, it could damage the floor.
Best Hardwood Floor Cleaning Machine Reviews
Using timber for house decoration gives it a beautiful look, but cleaning it could be frustrating. We'll help you with that by offering different options to choose the best cleaning machine for hardwood floors. We have picked only the best ones and reviewed them impartially. Make sure you go through each of them and choose the one that meets your demand most.
1. BISSELL 1940 PowerFresh Hard Wood Floor Cleaner
In the past, removing germs and bacteria required time, effort and strong chemicals. Not only was it a highly tough task, but it was also harmful to your health.
Fortunately, now you don't need to put your body through that process and work that hard to make your floors look shiny, you only need a cleaner like this one.
It is the most convenient option to keep our hard floor sanitized and cleaned. While operating it, you can choose different steam modes, from high to medium or low. To change its functionality, use the intuitive digital control for the steam.
About where to use it, this machine is compatible over many surfaces, but it performs well over ceramic, marble, granite and hardwood floors.
This cleaner also takes care of another chemical issue: the unpleasant smell that used to impregnate the whole room.
However, that's not an issue with this machine. It is compatible with fragrance discs that you can insert in the mop pad. Then, you will enjoy the pleasant scent of your preference during the whole cleaning process. No longer you will have a stinky room after finishing up.
Even though the power cord might seem like an issue to some people, especially now with the rise of cordless machines, the 23-foot cable gives plenty of freedom to walk around the room without an issue.
The power cord length is not a problem, but the hot steam temperature might be.
You need to keep track of the steam temperature because it can cause damage. It is quite powerful, which is a good thing! But don't put your toes too close to it, or it may hurt you.
The high steam temperature is also a problem if you leave the cleaner machine over a particular area of the house for too long.
---
2. Hoover FloorMate Deluxe Hardwood Floor Cleaner Machine
With the variety of floor types that people might have in their homes, it is a demanding task to come up with a machine capable of cleaning over all of them. Regardless, the best hardwood floor cleaner machine should be versatile, and this one delivers what most homeowners would need.
This machine uses the SpinScrub Brushes that are compatible over many surfaces, like a wood floor, tile, vinyl, and others. It works well to scrub any of those, but it works even better as long as it is a bare floor.
The brush technology washes and scrubs from all angles, ensuring there isn't a single spot left uncleaned. During its operation, it uses a cleaning solution, which later the machine suctions as you pass by. There's no need to worry about doing extra work after every route.
Here, the machine also does an incredible job of separating the dirty water from the clean water.
It keeps them in separated compartments to prevent it goes back onto the floor once again. Now, while this isn't anything new and plenty of other cleaners have it, the water often leaks. That's an issue that this machine takes care of with its Dual Tank Technology, and avoids leaving those unpleasant watermarks when you clean over particular areas of the house.
To get its best performance, you'll need to be familiar with the wash/dry modalities:  the first one makes the brushes work while still taking care of the excess water; dry mode, on the other hand, stops the brushes while it takes care of the dirty water below.
Unfortunately, it does have downsides, too. It suffers from low-quality pieces that don't last long. You'd need to be very careful while using it to get the best out of your investment, which reduces its priority on the customer's mind.
---
3. BISSELL 2039A Spinwave Hardwood Floor Cleaning Mop
This powered mop is the tool you need when there are marks complicated to remove from the floor. It features an on-demand spray that allows the users to control the formula that the cleaner sprays on the floor while cleaning.
It is a convenient feature that, while it might not seem that essential, it improves the performance of the machine by giving us the exact amount of substance we need to remove stains over different surfaces.
And that's another one of the advantages of this machine: high compatibility with floor surfaces of different materials. Regardless of where you decide to use it, this mop performs well, and the SpinWave technology ensures there are no uncomfortable noises while you clean.
The weight of this machine also makes it easy to carry from one place to another. It weighs about 11 pounds. There are no issues when it comes to moving the mop around the house, and to clean under furniture.
The pads improve the performance of this machine, too.
There are two: the scrubby pad that you can use more than once, and a microfiber type of pad that you can throw away in the trash after use.
These two types of pads allow you to use them over particular surfaces depending on how complicated it is to remove the stains.
For instance, the reusable pad works better for stains that don't require too much effort. However, if you want to get rid of grease or oil off the surface, the microfiber pad will do an incredible job.
The two pads work well under different circumstances, but they're equally efficient at getting the job done. The two 8 Oz. formula makes sure your floor is perfect after passing by.
---
4. Shark Rocket DuoClean HV382 Hard Floor & Carpet Cleaner
In a society that moves towards wireless machines, it is satisfying to find products like this one that manages to fulfill our cleaning tasks with the power we need. And yes, that includes a cord, but don't disregard it yet. Let's find out why you should consider buying this vacuum.
It features DuoClean Technology, which is a unique and regular benefit of buying from this brand. This feature is present in past models, but as long as it continues working efficiently, there's no reason to change it.
The DuoClean provides a bristle brush that quickly cleans the carpets with little effort. This technology includes another soft brush roll as well, which is responsible for removing those large particles and debris ruining the finish of your floor.
After you use it, you can access the brush roll compartment to perform the maintenance necessary.
Another issue that this mop takes care of is pet hair.
Having a pet provides plenty of beautiful memories, but dealing with the mess they can create is something people don't talk about regularly. Nonetheless, the hand vacuum mode of this machine makes it suitable to clean after our furry friends.
One method to ensure you clean even the tiniest particle is to take advantage of its light system.
It features LED Lights located at the floor nozzle and the hand vacuum. The lights increase our field of vision to remove those near invisible particles, or stains, below the items of the house.
The lighting system helps adults, but it is an incredible feature to assist the elderly while they're cleaning the house.
Now, one of the disadvantages of using this vacuum is, you guessed it: the cord. It becomes a problem when you're trying to detach the pieces to make it a handheld tool.
If you manage to get past that, then there is nothing but benefits from using it.
---
5. LIGHT 'N' EASY Steam Mops for Laminate Floor, Carpet & Wood Floor Steamer
Even when corded machines aren't often convenient, sometimes the power they provide is what you need. Keeping that in mind, the manufacturer of our next cleaner ensures you have a comfortable experience while using it.
It is a 4-pound machine featuring a swivel head to clean either over many surfaces. The lightweight feature is, undoubtedly, one of the best benefits of using this machine. You can use it at home, at the office, or any other places thanks to its portability.
Either way and because it doesn't require the use of strong chemicals, the place where you use it won't suffer from dangerous substances.
It only needs pure water to function properly, removing those nasty products you had to buy many years ago that would leave the house inhospitable.
Also, make sure to get the best out of the pads. They're washable, meaning that you can use them multiple times. Reusable pieces are always a benefit to avoid spending more money buying new items.
But, that's not to say that this machine is pocket-friendly. To get the carpets completely clean and odor-free, you'd need to use the carpet glider, which doesn't come included with this purchase.
Another issue we found while using this machine was the cord. It makes the experience highly uncomfortable because of its short length, limiting the area where you can use it. Moving around the house and unplugging it and then plugging it back again is an inconvenience.
If you can work your way around those issues, then there are many reasons why you could consider it the best wood floor cleaner machine.
6. Shark Genius (S5003D) Hard Floor Cleaning Machine
Steam mops have proven to be a reliable ally to get your floors clean and shiny. They provide the power needed to get those stains off when other cleaning tools won't get the job done. This mop is just another incredible example of why people should consider buying it for their households.
You can get a grasp of this machine's efficiency by taking a look at its two cleaning methods.
The first method allows you to have constant steam power through the device's cleaning pads. This modality comes in very handy when you're pushing the mop around during your cleaning.
Secondly, but equally efficient, is the other cleaning modality which has the steam pull through the front of the mop. This mode works well to clean those tricky areas of the house that require flipping the cleaning head.
Either way, changing between those two modalities and making the adjustment to meet your demands is pretty easy, too. The design of this machine makes it a user-friendly device, even for inexperienced users.
Right at the top, you will find the circular handle with the power button. Also, you can store the cord there after you finish cleaning. The location of the power button, along with the machine's dimensions, keeps people from kneeling or making awkward moves to get the mop going.
The cleaning pads are other benefits of using this cleaner machine. After every use, you can access the backside lever to get the dirty pads out of the system and replace it, if necessary. The best part? During this process, you don't have to touch the dirty pads!
As a consideration to keep in mind, make sure to store it after each use. If you leave it standing around the house, the water could end up leaking, and it will create another frustrating mess.
---
Best Multi-Surface Floor Cleaning Machine Reviews
When a single machine can't do the task, buying a multi-purpose unit is the next thing you should try. These cleaners are our top picks to help you scrub, sand, wax, and complete other activities.
7. Oreck Orbiter Ultra Multi-Purpose Floor Cleaner Machine
Looking among the multi-purpose cleaning machines to find the right one may lead us to many promises, but more often than not, there is barely any pay off at all. However, this floor machine comes through providing everything you could expect from the best hard floor cleaning machine.
First of all, to satisfy user's demands, this machine is capable of working over different surfaces, with different uses; you could use it for sanding, scrubbing and polishing the floors, all of which is possible because of how easy it is to operate it.
The fingertip power controls allow you to adapt the machine to operate in every area of the house. There, you'll notice the random orbit movement to remove stains on the tile floor. It even gets unpleasant marks off concrete!
It is perfect for cleaning carpets, too. It takes care of frustrating issues like the pets leaving their hair all over the place.
Something that this machine does very well is its maintenance, and with that, I mean that there's barely any maintenance you must put it through. It features a powerful motor made of zinc and steel, two highly durable materials.
Also, and because it doesn't have gears or belts in its system, there aren't many pieces that would wear down over time.
Because of its maintenance-free design, this multi-purpose cleaner is a suitable choice for people of different age groups, including young teens and the elderly.
Regardless of your age or gender, this multi-purpose will provide a comfortable performance with little to no effort. No longer will you have to worry about ruining the floor finish, or having dirty surfaces.
---
8. Hoover Power Scrub Elite Pet Upright Carpet Cleaner and Shampooer
When your appearance doesn't do you any favor, the least you can do is compensate for that in other areas. That's the case of our next cleaner machine. From the first impression, not many people enjoy its design, but in all fairness, this hardwood floor device is more than that.
Because the benefits of using this machine are noticeable from the moment you turn it on. It is a multi-purpose cleaning tool designed for those homeowners with a carpeted and hard floor in the house.
What makes it unique from the rest is the SpinScrub Technology. It allows you to perform a 360-degree cleaning process to remove the stains through smooth movements.
With its Dual Tank Technology, cleaning over carpets is a breeze. The dual system helps the users pour the right amount of water and soap.
First, you need to clean the carpet with both of those liquids, and then proceed to rinse the surface using water to wash off any possible soap remnants lying around.
But it is not efficient over carpet only. There are many more surfaces where it performs well, and you can rest assured the automatic system for the detergent will provide the amount you need to achieve the best results.
However, make sure to place the tanks in the proper position. It sounds like a simple task, but it can be tricky. If you don't do it properly, it won't be long before the water starts leaking.
---
9. Dupray Neat Steam Cleaner – Heavy Duty Multipurpose Steam Cleaner
We all know how complicated it is, sometimes, to keep the floor clean. It doesn't matter the number of times you pass over it, that unpleasant stain won't go off. Here, what you need is a proper, multi-purpose cleaner machine with a sanitary system.
It requires tap water to operate, reducing the risk of health issues that could come up from using chemicals. The tank capacity is 54 Oz., which gives users more than enough of cleaning time, going for over 50 minutes, at least.
To start it up, you have to wait for about 6 minutes before it reaches the 275° temperature. Then, you can begin your operation. After finishing in an area of the house, moving to another room would be pretty easy too because this machine is lightweight, weighing 9lbs with empty tanks.
Another convenient feature from its design is the handle to operate it. It makes the process of turning on and off much easier for every user.
The handle is retractable, too. And you could fit it into its compartment for more comfort while cleaning, or after finishing your work when you want to store it.
We also appreciate that it doesn't require the use of standard pads. Instead, you could use a towel, and it will work perfectly. There's no need to worry about buying new and expensive cleaning pads after each use. And that, in our books, is a plus.
When you finish cleaning and want to store it, you can wrap the cord around the base, and use the wheels to move it without problems.
---
Best Laminate Floor Cleaning Machine Reviews
Do you have a laminate floor at your home? Look at these beauties to help you keep them clean!
10. LIGHT 'N' EASY Multi-Purpose Floor Steamer Cleaner
If you're looking for the best laminate floor cleaning machine, then we might have what you need. This mop is one of the lightest tools you could find, but don't let that fool you: it is powerful, and it will wipe that surface clean.
The reason we enjoyed this mop is because of how intuitive it is. Anyone can do it; even the young ones in the house won't have an excuse to do the cleaning sometimes.
To operate it, you need to get familiar with its technology. First, we have the Smart Switch system, which allows you to control the steam power with simple hand moves: tilting the handle starts the steaming while standing it upright stops it.
There's also the Smart Sensor, which works when you use the device as a steamer; holding the sensor starts it, and leaving it stops it.
These two technology systems make this mop as amazing as it is. But, there's more than that. After all, this cleaner is a multi-purpose device, meaning that you can use it for many different tasks.
Besides its regular upright use around the house, you can dismount it and make it work as a handheld steamer.
In this mode, you can use it to clean dirty clothes, but it also works to clean in closed spaces and any other areas that a normal-sized machine can't access.
---
11. ThermaPro Steam Mop Cleaner – Pet Friendly, Whole House Multipurpose Cleaner
Here we have one of the best-rated cleaners in the market. It uses a combination of high-quality features to provide outstanding performance, cleaning everything there is ruining your floor. How does it do it? Let's take a look at what this device has to offer!
The best advantage of using this cleaner machine is that it is very friendly to different floors. It manages to do its job without ruining the finish, which is necessary to maintain the harmony of the room.
For hardwood floors, keeping its finish is something that always worries when we put anything over it.
However, this cleaner machine offers a reliable performance that doesn't ruin the floor. You can even adjust its steam modes to adapt over different surfaces, with the lowest setting providing constant steam power for about 20 minutes.
To get it going, you only need to start the machine and wait for about 30 seconds for the steam to be ready. It is a quick process that allows the cleaner to work as soon as possible without using harmful chemicals. That's possible because it requires tap water instead of other substances.
Now, if you're wondering where you can use it, it is capable of cleaning over a glass, sealed tile, stone, and stainless steel.
To sum up, this mop is more than enough to complete the floor maintenance routine. It is not only incredible for floors, either! Other surfaces like windows also get benefitted of using this cleaner.
The only issue we could mention is that the included pads are not that efficient. It was necessary to replace them to achieve better results.
---
12. Nellie's Wow Mop with Floor Cleaning Pads- Cordless Light-Weight and Rechargeable
Remember when we had to use those uncomfortable corded machines? Sure, there are still some incredible cleaners that need to connect a cable, but there's something about wireless tools that make them appealing to everyone. This product is a perfect example of that.
It is a wireless mop that gives users the freedom they need to move around the house. Cleaning is a rather boring routine sometimes, and there's no need to make it more frustrating by having a corded machine limiting your area.
This mop includes two pads that you can find at the bottom, which will help you cover a large portion of the surface you're cleaning. Here, the battery is another benefit; you can use it for about an hour during each charge, giving you plenty of time to clean.
Sure enough, this mop isn't the best out there, but its design puts it between the top picks for sure. Its appearance resembles old-fashioned cleaning tools that we used to have in the past but featuring modern technology that makes it better.
The ergonomic design makes it easier to get into tight spaces, and the adjustable height allows users to set it up at the perfect angle for their bodies. Changing the dimensions of the mop also works for kids who want to lend a helping hand at cleaning the house.
Whether it is kids or elders using it, the spray function features an automatic system capable of setting a specific amount of cleaner substance to be released. It helps us maintain track of how much we're using during each pass.
Again, there are other options there that may be your priority when buying one of these tools, but this mop takes a special place in this list because of how comfortable it is to use for everyone.
---
Best Tile Floor Cleaner Machine Reviews
Or perhaps you need the best tile floor cleaner machine? The following cleaner machines are the best to maintain the floor finish.
13. Bissell Powerfresh Deluxe 1806 Steam Mop for Tile, Hard Wood Floor Cleaner
A regular issue homeowners face while cleaning, is having a cleaner machine without a proper water system. It causes leakages, and all of your work is gone to waste in a few seconds. Then, you have to start all over again.
Fortunately, this mop includes a water cup to prevent wrong measurements. It is not something we haven't seen before, but it does work efficiently to fill the machine's water tank. Also, after you use it, you can store it conveniently attaching it to the handle.
After that, the mop will be ready to use. The swivel steering makes the cleaning process comfortable and easy. Furthermore, the mop's design allows you to reach under furniture or places that other cleaning tools won't reach.
Overall, you'll receive a comfortable machine to use without having to kneel or make dangerous moves to reach under those places.
Like only the best hard floor cleaner machine can do, this one doesn't use chemicals substances either. It ensures a secured performance to keep everyone in the house safe, including the little ones and the pets.
One of the things you might notice is that there is no switch to turn it on. Instead, it will start automatically after plugging the cord in the electricity output. It might seem impractical, but the boiler heats up quickly, and it will be ready to use within a minute.
Finally, the touch panel is worth pointing out, too. It includes the controls for power and steam, among other things.
However, make sure to not leave it upright over the surface, or it could ruin your surface. That's its only disadvantage, especially if the children want to help and are unaware of this information.
Overall, this one is a great contender for the best tile floor cleaner machine
tag.
---
Best Vinyl Floor Cleaner Machine Reviews
There might be plenty of vinyl cleaner machines out there, but many of them don't provide the results you might expect. This next unit is one of the few options that meet our expectations.
14. Oreck Commercial Floor Cleaner Machine for Tile, Wood, Vinyl & Other Hard Floors
Cleaning over vinyl was never as simple as it is now. It is a floor type that used to require special attention and a lot of patience. This cleaner makes everything so much easier you'd be surprised you haven't gotten it before.
Its incredible performance is possible because of its exclusive design and new technology. It features a brush head that randomly moves in different patterns, which may not sound like a big deal, but it is highly efficient and prevents creating more chaos than before.
This technology keeps the floor clean, but it also reduces brush marks and gouges as the cleaner smoothly glides over the surface.
It is a multi-floor machine capable of cleaning a variety of floors, and it provides outstanding performance while cleaning your carpets deeply. This machine is a reliable ally for homeowners when the floor starts to wear down and show signs of tearing down.
In those circumstances, this cleaner is capable of providing a new layer of beauty to those old floors. Its performance gets the best out of its integrated pad, the versatile brushes, and the proper cleaning product to keep your house surfaces in good shape.
Of course, those are all items that you might need to acquire separately. That's not bad, though, because it is another sign of the machine's compatibility with other accessories you might have lying around the house.
We highly regard this machine as one of the best because of how easy it is to use on different floors other than vinyl, but you may still need to pass it a couple more times to remove particular stains successfully.

Things to Consider Before Buying a Floor Cleaner Machine
As you can see from our reviews, finding the best floor cleaner machine requires time, effort, and the ability to sort out between all of the options to find the proper one for your purposes.
But don't worry! We're going to help you by shedding some light on every feature you must keep in mind before buying. Continue reading our next section to find out more.
The Type of Floor
Before buying the right tools, you must know where you'll be using them. Knowing what type of floor your house has will help you sort out through plenty of machines and reduce your options to only a few.
Some brands offer tools capable of working better over certain surfaces. That's not to say the machines don't perform well over other materials, but it is better to find a cleaner with a specific purpose in mind because it understands what the flooring needs, and how to do the cleaning.
Now, if the machine is compatible with other surfaces, then that's even better.
Multi-Purpose Cleaning Machine
We know that, sometimes, passing by over the surface doesn't do the job. The stains remain on place, and then you're left to figure out what else do you need to do.
Here, the best solution would be to acquire a multi-purpose machine. These devices serve more than one task, and they're highly efficient at it.
For example, all of the products listed under our multi-purpose section are capable of sanding, scrubbing, waxing, you name, they do it all.
You can't go wrong with a multi-purpose machine. It's always an advantage to have a cleaner that does all of these activities. Even if you consider you might not need it, there may come a time when your house could require it.
A Powerful Motor
Just like any other machine, cleaner units require a motor to produce all of the energy desired. It will help the unit produce hot steam to bring back the beautiful finish of the floor.
Machines with a 1/2 horsepower motor are more than enough to complete most tasks. Keep in mind that more power might lead to annoying noises, as well. You want to avoid that at all costs.
Water
Water is an essential element for the cleaner machine, but you must use it wisely.
For instance, plenty of machines require tap water. However, that's not always the case. Some other cleaners need a specific mixture of water and detergent to be able to function properly.
Also, don't overload the tanks, or it could end up leaking and creating another mess on the surface.
The Tanks
After discussing the water, it is worth talking about its storage system: the tanks and their capacity.
The best machine cleaners are capable of working for plenty of time, regardless of being cord or cordless units. There some models that you can use for almost an hour straight! Of course, you'll need a large tank capacity for that.
You can find tanks capable of storing from 12, to 54 Oz, sometimes more than that. The amount of water you need will depend entirely on how much flooring you need to cover.
A large tank also helps you reduce the time that you'd spend recharging water otherwise.
Important note: remember, even if you find the best cleaner machine out there, it may still present water leakages. Always make sure the tanks are in their proper place and don't leave the cleaner machine standing upright over the surface for too long.
Storing the machine in a proper place not only prevents water leakages around the house, but it also prevents the cleaner from ruining the finish of the floor.
Maintenance
Maintaining the machine is necessary if you want to preserve its performance. While some units need to be detached completely to clean the pieces, other machines make it easier than that.
Most of the cleaner machines featured in our reviews have proper pad compartments easy to access. In most cases, you don't even have to touch the dirty pieces.
Overall, the maintenance of the cleaners doesn't require much time or effort. Manufacturers try to make it simple for the elderly, too. Safe to say, they succeed at it pretty efficiently.
Safety
Cleaning the surfaces in the house is a task that some people like to do daily. It may not be necessary, but it helps to keep that gorgeous finish of the floors.
Naturally, to achieve that, the machine uses a mixture of water and other substances. Most of the times, they aren't dangerous, but there are still some low-quality units that aren't capable of providing the safety measures you need.
Consider buying a cleaner machine that doesn't use chemicals. Or, at least one that keeps those substances at a minimum level. It will be better for us, the other family members, and even our pets.
LED Lights
An included lighting system is not always necessary, but it might be useful when the conditions at the house aren't optimum.
Many cleaners feature LED lights at the base of the machine to provide better vision right where you need to clean. It helps at getting rid of those particles that remain under the furniture, at the kitchen, and other tight areas.
Also, this feature is highly convenient for the elderly, too. If the elder's vision is not the best, the LED lights will shed light right where they need it.
Conclusion
Sorting through all of the options to find the best floor cleaner machine is pretty tough. You have to learn about all of their features to figure out which one is capable of doing what you need.
Nonetheless, doing proper research is always necessary, and the results will pay off. It will be incredibly satisfying when you enter the house, and the floor is as shiny as it was when you first installed it.