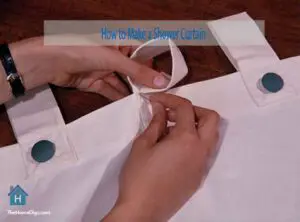 Anybody who would love to try several home décors projects during this quarantine moments? Well, it's the best time to explore your creativeness by creating some house usage worthy goods yourself. One such simple and handy project idea is making a shower curtain. If you are confused about how to make a shower curtain with some unique ideas then today's writing will certainly cheer you up.
 How to Make a Shower Curtain with Some Unique DIY Ideas
Making a look-changing worthy shower curtain isn't a big deal! You just need some basic ideas on sewing and employ your creative parts. I'll be sharing an easy to follow guide on the whole DIY along with some extremely trendy curtain styling ideas.
Preparation Phase
To keep things simple, its best to get a standard size liner. The ones with 72×72 inches size should be perfect for this. This version usually comes with 12 holes row. You'll see this amazingly maintained row on top of the material for hooks. Usually, this should come with hooks for the holes as well.
Now that you are sorted with liner and hooks, time to think about the curtain material. You can go with any fabric of your choice for this project. It does not really matter. Just keep one thing in mind. The shower curtain you will end up with needs to be of 74 inches width. However, most fabrics available are somewhere between 45 to 60 inches when it comes to width. And so, you may need to try some seaming for getting two lengths working for the overall width.
An easy way to understand the right measurement for fabric is first determining how long you want the curtain to be. Then go for a fabric that is twice that determine length plus another twelve inches. This is basically for top and bottom hems.
Now in most of the cases, length should not be more than 80 inches and less than 74 inches. However, if you are planning to mount the rod closer to ceiling, things are a bit different. Then you need to be more specific about the length. You can also find quilting cotton that comes with even 108 inches of width.
Also, it's been said that the cotton tablecloths are fantastic to become an ideal shower curtain with appropriate width.
In short, the general idea here is to cut a width of 74 inches. And then for length consider curtain height plus three additional inches.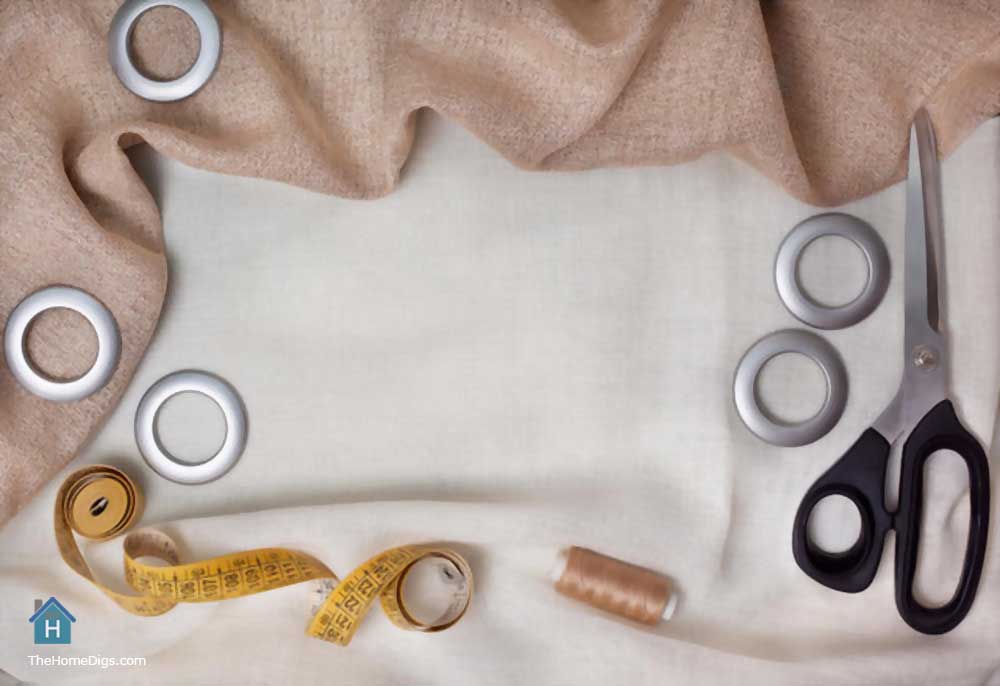 The Process
You need to make some clean finish on both sides of the fabric. On the side edges, simply turn around quarter inches and press. Now you need to press another ¾ inch turned part. Finally, stitch this turned and pressed parts nicely and evenly.
Once you are done with this, move on for hem. Using a similar press and turn manner, you need to nicely hem the bottom portion of curtain. Using hem will let you experience the accent fabric and trim using.
You need to finish shower curtain's top edge as well by following the same manner on side seams. However here you need to make a fold of two inches. You will next markdown the holes for button. A plastic liner can work as your template here for better results. This will give you accurate spaces. The ending holes need to be around two inches spaced from an edge, make sure you pay attention to that. This is to avoid any peeking out of your plastic liner.
Now you need to stitch the buttonholes simply. Using the vertical direction gradually complete this stitching part. You should always start an inch down from the shower curtain's top fold portion.
It's time to cut those buttonholes open next. The process ends once you provide the final press to our created curtain. You only need to hang curtain and give the bathroom your personalized look.

Customization Ideas to Try
If you have an idea to implement on your shower curtain, go ahead with that. However, if you are not sure about what else ideas can be used for creating a marvelous looking shower curtain, then this section is clearly for you. Here are some ideas you may want to try!
You can simply buy a stencil or make one. This can be used for turning any ordinary shower curtain into a one-of-a-kind type. You can either use a waterproof marker or simple paint for transferring the stencil onto the curtain. Some prefer iron appliques and bonding tape formulas as well.
Your bathroom is very basic and so, you want something that can add some color and make it lively. Well, simply give your sewing skill wings. You need some linen fabric of different panels to make color-blocked curtains. Use a measuring tape, a grommet kit along with basic sewing materials to complete this project. A shower curtain with emphasizing color blocks is a good trick to turn your neutral bath space into something more vibrant.
Do you have an unused throw blanket at home? Well, this can help in making a soft and stylish shower curtain. You just need some grommets as additional supplies. Place this grommet by mapping out the pieces. Then use a hammer to place them right. You hardly need to cut anything with this idea. The end result is gorgeous and provides a home feel that is almost impossible to get from a store-bought curtain.
A plain curtain can get back life with a simple addition of a ribbon. You can depend on the color scheme and style of your washroom to choose any ribbon. You want something suitable in texture plus width. Now allow your artistic sense to simply apply a geometric pattern for these ribbons. The designing scope with this idea is probably infinite and it strongly bases on your creative judgments.
Tips to Keep in Mind
You can get a groomer kit if cutting holes is not something very comfortable to do. This will also make the project less time-consuming.
For fabrics that have huge repeating patterns, you probably are going to need more of it. This is because you need extra coverage for matching the pattern while panel sewing. 
Also, buttonholes or tabs are a better alternative to grommets. Simply because you can go for tying, sewing, buttoning and similar simple ways to attach the curtain to your washroom's shower rod.
Conclusion
And now you have some good ideas on how to make a shower curtain with your own styling sense. It's not necessary to end up making a shower curtain that looks exactly how those stores sell out. It's about giving your creative sides a bit more chance and enjoying making something functional for your lovely home. Besides, it saves you some money.
The entire point here is trying something new and maybe your DIY journey will start once you figure out how fun it is to make things even as simple as a shower curtain.
Hang your personalized shower curtain and admire your work. The next time a guest comes to your house, let them see your work and maybe they'll appreciate your ideas providing you some motivation to try more in the future!
if you like this post, you may also love to read How to Wash a Shower Curtain Liner without Damaging It.
Good Luck!
This is Autem Decker. Main Author of 'TheHomeDigs'. You may not find her on the list of top 10 contemporary Canadian interior designers, but everyone who knows her says she was born to be an interior designer.
She makes her plan in her head and draws them in her years-old diary with a note in the corner. The way she plays with color and shape amazes us.
Connect Her On – Twitter