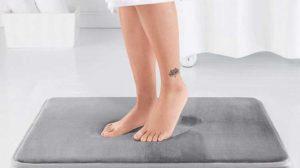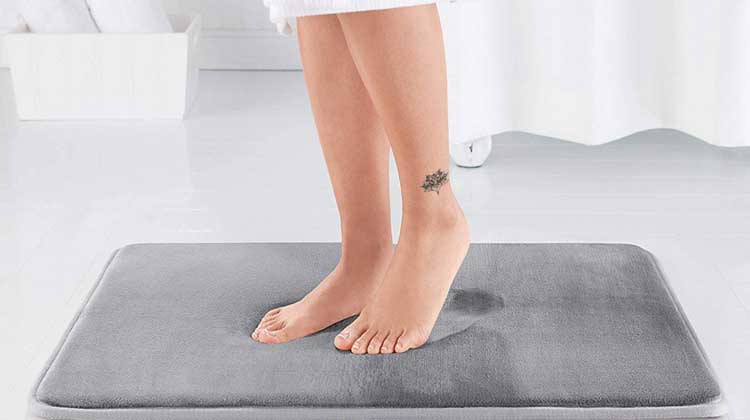 Bathroom rugs are the most used area of carpeting where most wear and tear are received. So, without regular laundering, the rugs can be destroyed quickly.
As bathroom rugs are small and machine washable, you may need a little work to launder it. So, knowing how to wash bathroom rugs will help you a lot to keep your rugs clean and durable.
Whether your bathroom rug is machine washable or not, you can't throw it into the washing machine. Also, as the rugs are a great source of bacteria, fungi, and other germs, a mere washing can't put out them. A frequent and robust shower is required to eradicate microorganisms.
Tips to Wash Bathroom Rugs with/without Washing Machine
Bathroom rugs can be washed through different ways. However, machine washing and hand washing are two effective ways still are followed.
How to Wash Bathroom Rugs by Hand
Hand washing is an easy and comfortable way to clean bathroom rugs. For hand wash, pour 1 capful of your regular detergent into the bucket. Fill the bucket with normal water to submerge the rugs.
Place water until the rugs are wholly submerged and agitate them for 5 minutes. Use your hand to scrub over the rugs until they are cleaned. When they are seemed clean, wash them with clean water and dry them with sunlight.
How to Wash Bathroom Rugs in Washing Machine
Machine washing is a popular way of cleaning bathroom rugs. At first, place the rugs into the machine where nothing else should be there. Then, turn the machine on by using a cold-water wash setting. It helps the rugs to freely move. After that, pour 1 cap of your regular detergent into the machine and turn the machine on for completing a full cycle.
Let the machine complete its cycle. When the machine completes its cycle, remove the rugs from the machine. Dry them according to the instructions. Place them hang in the dryer.
Things to Maintain When Washing your Bathroom Rugs
Durability and comfort from a product require special and proper attention from the users. Hence, washing a bathroom rug also depends on several factors. You can't throw it into the washing machine and clean it. If you follow the practice regularly, your rugs can't last long.
Use the Right Products
A precise washing depends upon the right materials you use in washing. So, never use bleach or other toxic chemicals which can break as well as ruin the backing. Also, vinegar is another acidic nature to destroy the rugs.
Shake Before Wash
When you want to wash the rugs, shake them before dipping into the water. It also helps to remove the hair from the rugs. However, if you can continue frequently, you may not wash the rugs with water.
Look at The Care Label
Always pay attention to the care label of the bathroom rugs. Though most rugs are machine-washable, you may find something those are hand washing. Also, there may be some special instructions for laundering or heat-free drying.
Always Keep Double Rugs
You must keep at least one rug in front of your bathroom. As a rug requires much time to be dried up, only one can't help you to keep your bathroom clean. So, always keep at least two rugs so that you can use another rug when one is under washing.
Use the Right Temperature
Both hot and cold water harm the rugs. When hot water loosens the glue, the cold water can't refresh the dirt precisely. Hence, you have to make sure that the water has the right temperature to clean the water. At the same time, it can't loosen the glue that holds the carpet fibers.
Air Dry is the Best
Till the date, air dry is the best to keep the adhesive and the glue strong and durable. It helps the carpet backing to last long. So, if it's possible, dry them under the sun for at least 20 minutes thoroughly. If sun-dry isn't possible, dry them thoroughly.
Determine the rug's Material
Maybe it should be a top priority of the considerations. The materials determine the quality of the rug. It can be either plastic or rubber backing. No matter which materials it is used for backing, each has a distinctive way to refresh.
Read Next: How To Keep Rugs From Slipping On Hardwood Floors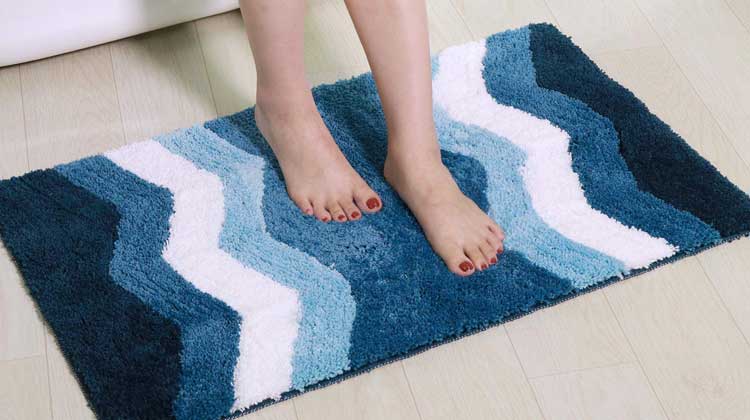 How Often to Wash Bathroom Rugs
How often should you wash a bathroom rug depends on several factors. They are:
Non-skid rubber backing
Frequent uses of a rug
Splashing water on the floor.
A non-skid rubber backing can't tolerate frequent washing by water. Also, hot water reduces the durability of the rubber. So, try to wash the rugs once in 3 to 4 weeks.
On the other hand, if the rug is used frequently, most probably for daily uses, wash them weekly. However, you must dry the rug after each time wash. Otherwise, the germs will remain there.
Furthermore, a rug surrounded by water requires special care due to excessive fungi and other microorganisms. So, wash and dry them regularly and never use it before completely dry.
Additional Pro Tips to Wash Bathroom Rugs
Here are some pro tips you can follow for washing bathroom rugs.
Never use liquid fabric while you are washing the bathroom rugs. The fabric softener will loosen the adhesive of the carpet fibers and bindings. It also reduces the durability of the rugs.
Vinegar is a natural acid that keeps the rug fibers from matting. Hence, the rugs will stay fluffy. Therefore, you shouldn't use vinegar as a washing detergent. Here, baking soda works best for cleaning the bathroom rugs. So, pour 1 cup of baking soda into your regular detergent.
Final Remarks
In most cases, bathroom rugs are ignored to be cleaned. But, washing them is a pretty and effortless process. Hence, if you can keep your home clean, the bathroom rugs will be a little dirty.
Furthermore, always wash the rugs alone or with other mats. But never mix them with clothes or other materials. Also, don't use too hot or too cold water or excessive detergent. It will harm the rugs baking and reduces their durability.
This is Autem Decker. Main Author of 'TheHomeDigs'. You may not find her on the list of top 10 contemporary Canadian interior designers, but everyone who knows her says she was born to be an interior designer.
She makes her plan in her head and draws them in her years-old diary with a note in the corner. The way she plays with color and shape amazes us.
Connect Her On – Twitter