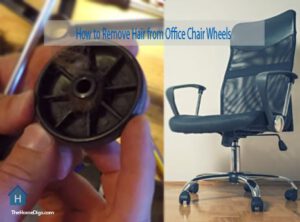 Don't you remember the first effortless glide of your office chair when you just bought it? The same chair is now a pain to get on other side of desk.
Well, this could be because of having a pretty long gap between now and the last time you've clean those wheels.
You probably have already checked the wheels and found out grime, dirt, and hair stuck within it. Since your chair is always rolling on the floor, it tends to collect those dirty stuff during this time.
And so, you must clean it occasionally. However, removing stray hair from the wheels is a real fight compared to regular dust and debris. And so, to end your frustration on it, I'll be talking about how to remove hair from office chair wheels easily using random stuff.
4 Methods to Clean Hair Out of Office Chair Wheels
Before trying anything at all, you need to take off the caster out of chair. If your office chair has a removable caster wheel then this should not be a tricky task. In that case, you need to remove it from the base for an easy cleanup facility.
If the wheels are more permanent type, then you need to use appropriate methods to remove it. The ones that are non-removable will need you to turn it upside down for having a better look at wheels.
Once you are done with that, think about how do you remove hair from chair wheels using the appropriate tool out of all mentioned below.
Using Your Fingers
This is bare basic of course. But some people will feel a bit concerned about damaging the wheels by using their fingers. It's not going to cause any harm, go ahead. You just need to use your fingers to pick off anything stuck inside or side to the wheel.
Hair will come off easily if you use your finger. However, there can be chewing gum or sticky stuff as well. In that case, you will also need a butter knife or any pointed curve included tool such as a bottle opener. Usually, these sticky items are the main criminal behind getting hair stuck on wheel.
A Duct Tape in Help
Another simple way to get rid of hair plus debris is by using regular duct tape pieces. You just need to apply the tape over parts holding dirt and hair. Next, simply pull it away from the chair wheel.
A tiny section of tape will be just enough. You also want to pull very swiftly. Quite similar to waxing hair, you need to make the pull. And the nasty things should come off. Don't use the same piece of tape again. Go with another clean one. Keep on repeating until all those concerning stuff comes out including hair.
Regular Tweezers at Rescue
In some cases, you may get out a huge chunk of hair easily. But then you notice there are still small tangled pieces left out. To get those tiny problem creators out, you can simply utilize a regular tweezer. These are perfect to easily catch remaining strands of hair. And also, you will be able to go deeper into the nooks and crannies of your chair's wheels.
Burn It Off
Not the wheels, I'm talking about the strands. You can use any regular lighter for this. Simply aim at the smaller hair strands. And the fire will help to make those hair turn into ashes in no time.
Now, this is probably not recommended if your chair has plastic wheels. Because in that case, your wheels will be at risk of getting burned. Also, you don't want anything that creates huge flames such as a blow torch.
Instead, go for something that uses a small burst of flames. If you have a heat gun then that's going to work excellently in this case. Since this tool can emit pretty strong heat but without making any flame.
Cleaning with Soapy Water
After you are done with removing hair strands, it's time to give the wheel a good wash. Use any liquid soap mixed with water to do so. You want to thoroughly wash the wheels and scrub if necessary.
Once it looks squeaky new like before, wash it with clean water. Let it dry completely before proceeding to the next step. You can use a paper towel or any clean fabric for this.
Lubrication & Reattachment
To avoid the risk of fluid movements, you need to apply some lubricant. You should use this for the metal parts basically. The ones that come with long tube applicators will feel easier here to apply thoroughly.
These are great at getting in between the caster wheels. Also, while applying the lubricant, avoid parts that will be in direct contact with the floor. Or else it can create a huge greasy mess for your office floors.
Now you need to get those wheels back to the chair. Just follow whatever method you used to remove it in reverse steps. One side note I want to mention is about your office floors. Since you just cleaned the wheels, make sure they are not going back to roll on dirty floors. Clean the floor as well to not let all your efforts go in vain.
Remember These Points
Don't try to clean office chair wheels hair when it's wet. You have to let it dry or wash after removing the hair.
Make sure you follow the regular maintenance and cleaning regime for casters. This will help to keep it clog-free and far from debris. Once every two months is the golden period to follow for this.
You can use a separate chair mat for the rolling chair. This will make sure the wheels stay clean for a long time, as well as your wood floors will be safe.
Some lubricants can invite dirt and a few will not do so. You want to buy a greaseless lubricant for metal to metal contact wheels. Silicone lubricants are best for plastic wheels.
Wrap Up
I tried to keep this guide simple yet comprehensive with ideas. Now you should be clear about how to remove hair from office chair wheels easily and in the most efficient way. There's nothing more pleasing than getting your wheels back to how it was when you first bought it.
A thorough cleaning will lead the wheels to maintain smooth, quiet, and reliable functioning for a long time period. So, give this guide a try and restore the effortless rolling of your office chair wheels. Good Luck!
This is Autem Decker. Main Author of 'TheHomeDigs'. You may not find her on the list of top 10 contemporary Canadian interior designers, but everyone who knows her says she was born to be an interior designer.
She makes her plan in her head and draws them in her years-old diary with a note in the corner. The way she plays with color and shape amazes us.
Connect Her On – Twitter