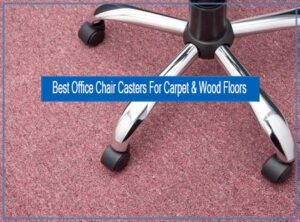 Chances are if you have an office, it's carpeted.
Now, it doesn't matter if you work from home or at an office away from home. It's important to maintain the overall look and feel of the workplace, and one of the most important aspects of that is a well-maintained floors & carpet .
Unfortunately, the wheels of some office chairs tend to be abrasive and can cause damage to your carpet & hardwood floor over long-term use. for this reason, may be you are using chair mat to protect your carpet or wood floors.
Do you ever wonder what the best office chair casters for carpet & hardwood floors are? More importantly, who wonders such a thing?
Most people don't, but we do. At any rate, we've done the research, so you won't have to. So here are best office chair wheels handpicked for the carpet-conscious, as well as to protect all kind of your floors from scratch or damage. lets get in and read our top 7 Best office chair wheels for carpet & wood floors reviews.
Top B
est Office Chair Wheels
at a Glance
Top 7 Best Office Chair Casters Wheels for Carpet
Carpeting is an expensive part of any home or office and protecting it is important. Here are 7 casters for your office chair that won't damage your carpet, presented after much research and discussion.
1. TheOfficeOasis Heavy Duty Office Chair Caster Wheels for Carpet & All Floors
The first product we've selected for you today is a 5 caster set from The Office Oasis. Given the casters' impeccable performance and affordable price, it's easy to see why this is such a highly rated product. Let's find out more.
The wheels on these casters have been designed in the rollerblade style, which enables smooth and hassle-free mobility. Add to that the soft polyurethane material used in constructing the wheels, and you end up with casters that don't leave signs on your flooring.
Key Features
Soft polyurethane wheels and precision ball bearing allow for smooth and quiet rolling
High-quality steel internal parts promise years of durability
Compatible with all stools and chairs thanks to universal standard size
5 casters together have a weight capacity of 650 pounds
Speaking of which, you can use these casters on every type! Whether you have hardwood, tile, or carpeted floors, these casters are bound to serve you well. And given that the internal components are built from high-quality steel, durability won't be a concern either.
Furthermore, the swivels in these casters are equipped with precision ball bearings, which only adds to the overall smoothness of their rolling. And don't worry, these casters can definitely hold your weight; the 5 casters together can accommodate around 650 pounds of weight!
And they can do this without making a single sound, either. We know what you're thinking: such heavy-duty casters, of such high quality, at such a great price? Yep, you better believe it!
---
2. LIFELONG Office Chair Wheels Replacement for Hardwood, Tile & Carpeted Floors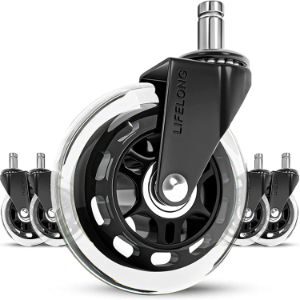 The next set we've nominated to be on our list is a collection of highly durable and smooth casters from LIFELONG. Available at a universal fit, these casters come at a great price and come with a number of great features.
Made from highly durable polyurethane and alloy steel, these casters promise to glide softly and smoothly for years and years. Roll effortlessly on chairs outfitted with these casters, no matter what kind of flooring you have in your home/office.
Key Features
Soft yet sturdy polyurethane allows for smooth gliding and durability
Makes no noise when moving thanks to rollerblade design and ball bearings
Ideal for use on all types of flooring
All internal parts are made from high-quality steel
Transparent polyurethane and rollerblade style have high aesthetic appeal
This is helped in no small part by the quality of the internal parts, which have all been made with only the highest quality steel. You're also bound to appreciate the support bracket, which is built for heavy-duty performance.
Undoubtedly what we love most about this set, however, is how easy the casters are to install. It'll take you just a moment to put these casters in once you've gone through with taking out the old ones. No one wants to spend all day sitting around fitting their chair with casters, and LIFELONG seems to know that.
Finally, we'd love to gush about how these casters look. No, we're not kidding! As they are made in the rollerblade style, these wheels are extremely sleek-looking. The black parts housed inside transparent wheels are bound to appeal to anyone who loves a spruced-up workplace.
---
3. Seddox Professional Office Chair Caster Wheels for Hardwood All Floors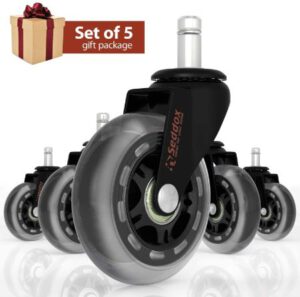 This next set comes with 5 swivel casters that are bound to wow you. Made with soft polyurethane, these casters promise to be gentle with your floors, no matter if it's carpeted, hardwood, vinyl, or tile.
At the same time, mobility is the name of the game with these casters. That's thanks to the high-quality, precise ball bearings and a bracket also made from soft polyurethane, just like the wheels. This allows you to effortlessly change your direction when you're gliding atop your precious office chair.
Key Features
Polyurethane wheels go easy on your floors, no matter the type
Durable universal stem and plastic felloe promise years of service
Integrated dual precision ball bearing makes for a smoother glide
Durable construction with high-grade steel and polyurethane
5 casters together can accommodate up to 650 pounds of weight
But the ultimate test of the best office chair wheels for carpet, in our opinion, is durability. Thankfully, these casters deliver on that front, as well. The stem and frame are both made from solid, heavy-duty steel, while the plastic rim allows the 5 casters combined to support weights up to 650 pounds.
The best part is that you can use these casters on virtually any chair or stool, thanks to the universal stem, which is built for heavy-duty performance on most chairs. And finally, these casters look great, too! So whether you're replacing casters for an office chair, study chair, or gaming chair, these are bound to spice up the look. All in all, a great buy.
---
4. OPTTICO Office Chair Casters Wheels – Best Chair Casters for Hardwood Floors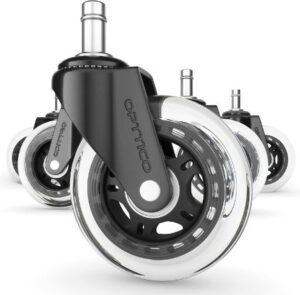 If you've been wanting to switch out those annoying plastic casters on your chair for a while now, there's probably a good reason. Plastic casters are needlessly abrasive on all kinds of flooring. In particular, office chair casters for hardwood floors should always be smooth and easy–and these casters from Opttico are just that.
And it achieves the effect effortlessly thanks to its high-quality polyurethane construction. The PU is ultra-thick, so it can hold up 650 pounds of weight with ease. At the same time, it's ultra-smooth, so it won't leave stubborn marks on your precious flooring.
Key Features
Eliminates all noise thanks to soft polyurethane construction and ball bearings
Ideal for use on hardwood, tile and vinyl floors
Durable construction without any plastic whatsoever
Together the 5 casters have a weight capacity of 650 pounds
Clear polyurethane construction gives the wheels a sleek appearance
Our favorite thing about these casters is probably their soundlessness, though. One of the most annoying things about default plastic casters is how much of a racket they make while sliding and ruining your floors. These PU casters are so smooth that they won't make a sound when you're rolling on them. And of course, they look great, too!
Furthermore, if you're conscious about the installation of your new casters, the guys at Opttico have made provisions for you. Yep, even without tools, installing these casters into your chair is a walk in the park, thanks to the universal stem size and C-ring grip system!
---
5. STEALTHO Office Chair Caster Wheels to Protect Carpet & Other Floors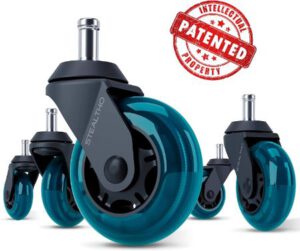 Not all of us are crazy about clear caster wheels on our chairs. Some of us, with brighter imaginations, dream of the day we can glide smoothly across the office floor on swanky, colorful caster wheels. If that sounds like you, you're going to love these beautiful blue polyurethane-housed casters from Stealtho!
We know what you're thinking; that's a cool brand name, right? Absolutely, and it's also a perfect reflection of how these casters perform. Built using high-quality, high-tech elastic polyurethane, these caster wheels are not only smooth and soft but also unbelievably quiet. Stealthy, if you will!
Key Features
Perfect for use on all kinds of flooring, including heavy carpeting
Constructed from high-quality and high-tech elastic polyurethane
The attractive blue color will add a touch of style to any office space
Improved new stem design and updated bearings work together for years of smooth mobility
But how are they going to hold up over the years? Beautifully, that's how. The new and improved stem design works against axial run-out, while ABEC9 bearings ensure that your casters will keep rolling beautifully for many years to come.
So no matter whether you have hardwood, tile, laminate, parquet, linoleum or carpet floors, and are looking to spice up the look of your chair with some beautiful casters that will glide you noiselessly across your space – well, you've found what you need then, don't you?
---
6. Rollerblade Office Chair Wheels Replacement Set – Perfect Substitute for Chair Mat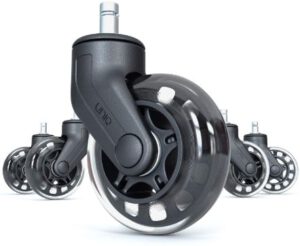 This durable, smooth, and sturdy 5-piece caster set from Uniq is the next one on our list. Designed with a unique fit to accommodate the majority of office chairs, this is a great choice for those looking to replace worn-out default casters on their office chair.
These wheels are particularly notable for their reinforced construction. They are made from nylon rubber and housed in soft PU, which is what enables them to glide so smoothly across various kinds of flooring without leaving a single scratch. it is Perfect Substitute for Chair Mat.
Key Features
Polyurethane wheels are housed in protective nylon rubber
Ideal for use on tile, vinyl, hardwood, and short hair carpeting
Reinforced swivel vertical axle and ball bearings promise durability
Rollerblade style and black color make the wheels aesthetically appealing
Yep, that's right. Whether it's short-hair carpeting, vinyl, tiles, or hardwood, these casters are going to help you roll with ease while on the job. And of course, noise concerns will also be eliminated thanks to how softly the casters are able to operate. No more annoying creaking or dragging noises to contend with!
We also love the longevity of these casters. Equipped with a reinforced swivel vertical axle and ball bearings, these casters promise to stay on top of their performance for many years.
And finally, we love how sleek and cool these black casters look! There's definitely something to be said about rollerblade style casters sailing noiselessly about in an office room. All in all, we think this is definitely a set worth investing in.
---
7. ATOMDOC Ball Bearing Office Chair Caster Wheels – Heavy Duty & Safe for All Floors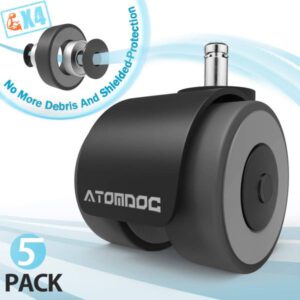 The final set of casters we've selected for you is a little different from all of the others we've looked at today.
Instead of a rollerblade appearance, these casters come equipped with the latest quadruple ball bearing technology.
The casters in these set, like all of the other ones we've looked at today, are made from a soft polyurethane material and covered with a large, sturdy bracket. Inside, the parts are made from high-quality metal.
Key Features
Soft polyurethane construction makes casters soft and smooth
Noiseless and bump-free movement thanks to new quadruple ball bearings
5 casters combined can accommodate up to 550 pounds in weight
Extremely easy to install, especially thanks to the 7/16″ universal stems
That's perhaps what allows these casters to be so resilient because they can accommodate weights of up to 550 pounds. Yep, that's right; each caster, by itself, is able to withstand the pressure of 110 pounds!
We also love how quiet these casters are. Say bye-bye to annoying scratches and noisy rattling that distract you from the task at hand. These casters will transport you so smoothly that you'll wonder if you're hovering.
Finally, we love how easy these things are to install, as well! The stem is a universal fit, measuring 7/16″, which makes it very likely that they'll fit in the place of your existing casters. Just pull them out and drive these right in!

FAQ's about Office Chair Casters
Are office chair casters universal?
Yes. The standard size is 2 to 2.5 inches, which is usually good enough for the vast majority of chairs. Consider buying 3-inch casters if you want lower resistance.
How do you remove casters from a chair?
Turn your chair over and grab the chair leg. Attempt to pull the caster out by the wheel. If you can't do it by hand, consider using a flat-head screwdriver or pry bar. You should read this post to know detail about chair casters removal & replacement process.
How do you put casters on a chair?
Place the spindle sleeve inside the hole. Using a mallet, tap it until it sits flush with the hole. Now set up each caster in its spindle.
How much weight can caster wheels hold?
A chair having 4 casters can typically hold up to 320 pounds of weight. However, this can vary, so check the manufacturer's instructions carefully.
What should I keep in mind when buying office chair caster wheels?
The chair's purpose, the chair's weight capacity, and the type of flooring are the three things you'll have to keep in mind.
Final Words
So now that you have an idea of what the best office chair casters for carpet look like, we tried to suggest you the best and top rated chair wheels in the market, it will hopefully be easier for you to choose one for yourself.
Remember, hard nylon and metal are the best choices for caster material when it comes to carpeted floors. And if removing/installing casters seems difficult, you can always turn to the internet for assistance. Good luck!
This is Autem Decker. Main Author of 'TheHomeDigs'. You may not find her on the list of top 10 contemporary Canadian interior designers, but everyone who knows her says she was born to be an interior designer.
She makes her plan in her head and draws them in her years-old diary with a note in the corner. The way she plays with color and shape amazes us.
Connect Her On – Twitter