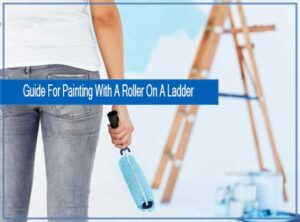 Most of us nowadays want to remodel our surroundings to obtain a break from our repetitive routines. Painting your exterior or interior may provide a different appearance.
In that scenario, a painting roller might come in handy. When you decide to paint on your own, it's important to consider the necessary tools.  If you're new to this job, don't be scared. Because roller painting is easier than you may think.
While there are various ways to apply paint, a roller, as well as ladder accessories, are the greatest option for swiftly covering big walls, ceilings, and doors.
Read down for more information, step-by-step instructions, and helpful hints for painting with a roller on a ladder. Keep scrolling if you want to learn more.
How to Make Painting with A Roller on A Ladder More Effective
To paint while standing on a ladder, you must have a solid understanding of the task at hand.
Such as the area in which the extension ladder will be used, the site's altitude, and the strength load that the ladder must support.
Though paintbrushes may appear to be the easier option, using a paint roller not only save your valuable time but also give you the professional look you always wanted. Let's discuss more about all kinds of handy tools required.
Choose the Best Ladder
With low-quality tools, even the finest method will fail. Don't spend your money on one-time-use equipment settings when you can invest in a professional setup that would support a long period. Things you should have-
Painting ladders
Extension ladders for painting are indeed very useful. These ladders are suitable for a number of tasks, from painting your high ceiling as well as the roof to painting a high wall. Buying the most expensive ladder, however, does not guarantee the best outcome. To achieve the finest results, you must understand how to use the ladder and ladder accessories for painting effectively.
Knowing about ladder grades and their weight load may help you pick the right one and finish the house painting project flawlessly. Let's have a look…
Grades of Ladders
Ladders are categorized as Grade 3, 2, 1, or 1A, reflecting greater levels of endurance.
Grade 1A ladders:
They're quite robust, but they're also rather heavy, which might make moving the ladder dangerous.
Grade 2 ladders:
In most circumstances, grade 2 is the best option for painting. They're tough, weighing in about 225 pounds, yet small enough to handle comfortably. Moreover, any professional painter loves to use a Grade 2 ladder.
Grade-3 ladders:
They're designed for residential use and can be fairly thin, so they're not recommended for work over 20 feet.
Use Ladder Accessories for Painting
After picking a perfect ladder, you must get all the necessary accessories to make the most out of your painting. These accessories not only make your work easier but also enhance your safety while working on heights.
When it comes to picking the finest ladder accessories for painting, there are several considerations you need to think about while painting with a roller on a ladder. Here are these tools-
Heavy-Duty Painting Roller
Begin with a sturdy roller frame. You've experimented with paint rollers earlier, with varying levels of effectiveness. Sometimes you just immediately jumped in and began rolling, gradually perfecting your skill. You'll additionally require a paint container. Even though most people use paint trays, professionals rarely do.
Proper Painting Bucket
A good quality paint bucket will make your job easier. It will allow you to gently dip your paint roller into the paint. However, after each usage, the bucket should be cleaned thoroughly, especially before the paint dries.
Ladder Bucket Hook
It is critical to handle the paint bucket properly while painting from a ladder. You can avoid your paint bucket from falling and complete your task more quickly by using the right ladder bucket hook.
Paint Tray for Ladder
Since you're going to use a roller, you'll need a durable paint tray. Some trays include hooks that let you hang them straight from a ladder. They are easy to clean and long-lasting.
Some Crucial Guidelines For Painting On A Ladder
Doing a paint job on a ladder with a paint roller is a challenging task. If you decide to go it alone, there are a few things you should keep in mind:
Whenever you begin painting, make sure you and the surrounding environment are both safe. Move all objects from the area you'll be painting and cover the ground with drop sheets.
To provide adequate airflow, open all of the entryways in the area where you'll be working.
Once you begin working, do not forget to put on a face mask as well as other protective equipment which you may require.
Always keep one hand free to balance yourself while holding the paint container. Take only what you need.
While setting the ladder, locate a flat, stable surface. Always ensure that your setup is on a level, sturdy floor. To avoid slipping on the surface, set the spiky feet on the flat ground.
Before you begin, thoroughly inspect your ladder to see whether it is in good working order. Examine the bolts and rivets that hold the ladder together. Otherwise, you risk being involved in an unforeseen incident.
Never carry too much paint, as this will increase your burden.
Dip the roller completely into the paint. Next, move it back and forwards many times to fully coat it.
During the period of your painting project, keep the paint container nearby and easily accessible. As a result, you don't have to move to the opposite corner of the space to refill the roller with paint.
Last but not least
The most difficult aspect of utilizing a paint roller from a ladder is figuring out where to set the paint tray for the ladder. To save time climbing up and down the ladder, dump the paint into a fresh container first.
After that, you must add a small length of the board to it. You should hang a bucket from the ladder carefully. Meanwhile, ensuring the bucket is big enough to accommodate the roller's whole width. You may, therefore, can use the board to roll out the excess paint.
Final Thought
Changing the texture of a room's paint is a simple and easy approach to modifying its appearance. Even though there are numerous methods for painting with a roller on a ladder. Meanwhile, you won't need many items to finish this project.
Following the guidelines above, you may quickly paint any surface with a roller on a ladder. All you need to do is fully prepare yourself.
This is Autem Decker. Main Author of 'TheHomeDigs'. You may not find her on the list of top 10 contemporary Canadian interior designers, but everyone who knows her says she was born to be an interior designer.
She makes her plan in her head and draws them in her years-old diary with a note in the corner. The way she plays with color and shape amazes us.
Connect Her On – Twitter