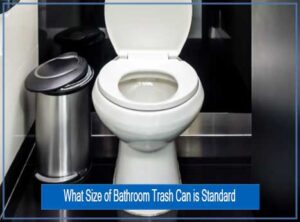 The trash can in the bathroom is a must if you want to keep your bathroom clean and odorless. Now the question arises, why do we need trash cans in the bathroom?
Mostly to keep the paper waste. Many of us flash the paper inside the toilet bowl and don't understand why we need to keep a trash can inside the bathroom. Look, you can flash toilet tissue paper inside the bowl, but it's not good to flash face wash tissue or alcohol pad, etc. in the flash.
Here we are pretty confused about what size trash can for bathroom would be perfect. Usually, a bathroom trash bin is not a busy can like a kitchen trash bin, so it takes time, even a month to fill it up. That's why there is no real reason to have a bigger trash can. It's time to do a bit of investigation on this matter, don't you guys think so?
What Size of Bathroom Trash Can is the Standard One
Most of the bathroom trash cans are smaller and pretty similar in their height. The width can be variable, but most trash can maintain the same height because we mostly keep bathroom trash cans beside the toilet bowl or the bassinet. So here we'll talk about the ideal size of garbage can size for bathroom.
1.2 Gallons
1.2 gallons to 1.5 gallons; we mostly consider them as a small trash can for the bathroom. In liters, the volume is 4.5 liters. This kind of bathroom trash can with lid offers a height of 12 inches to 14 inches maximum. So almost like a long scale size.
a 1.2 gallon trash can fit anywhere in the bathroom. No matter if it is under the bassinet or beside the toilet bowl. Eventually, most people use this size besides the toilet bowl as you can easily throw the tissue paper in it as its height is lower than the toilet bowl.
2 Gallons
Two gallons of trash cans are mostly thin and longer. It offers both lid trash cans and without lid trash cans. But without lid cans, it's not better to keep them besides the toilet bowl. Even if they are longer, like 13-16 inches, it's better to keep this trash can in any bathroom corner or beside the bathroom vanity.
2.5 Gallons
It means the trash can have a capacity of a little over 10 liters. Most people need it when the bathroom trash can is the only one in their bedroom and attached bathroom. Also, if you have a pet in the house, putting its hair inside this trash can will be your habit.
If you use feminine hygiene products frequently, change toothbrushes regularly, use dental floss, and use mini bottles of shampoos and soaps, 2.5 gallons is the perfect size for you.
What Size Trash Can Is Best for Bathroom
Choosing the right size of a trash can is an important task, and if it is for our bathroom, then nothing can be more important than it. In modern apartments, you guys rarely get the room for keeping a normal trash can inside the bathroom. So it's important to find a small but efficient one.
A small bathroom trash can size depends on a few matters, like if it will sit between a wall and toilet, under the sink, or side of a bathtub. Now, these are all the tiny spots where you can keep trash cans. That's why the bathroom trash can needs to be smaller.
It's better to measure the area where you want to put the trash can. Because if you order it and then find it doesn't actually fit in the tight spots, then it will become a hassle to find the right spot.
That's why we keep saying, 1.2 gallons to 2.5 gallons is the standard size according to most of the bathrooms' architecture. Never try to use bigger cans than these; otherwise, the bathroom will look awkward.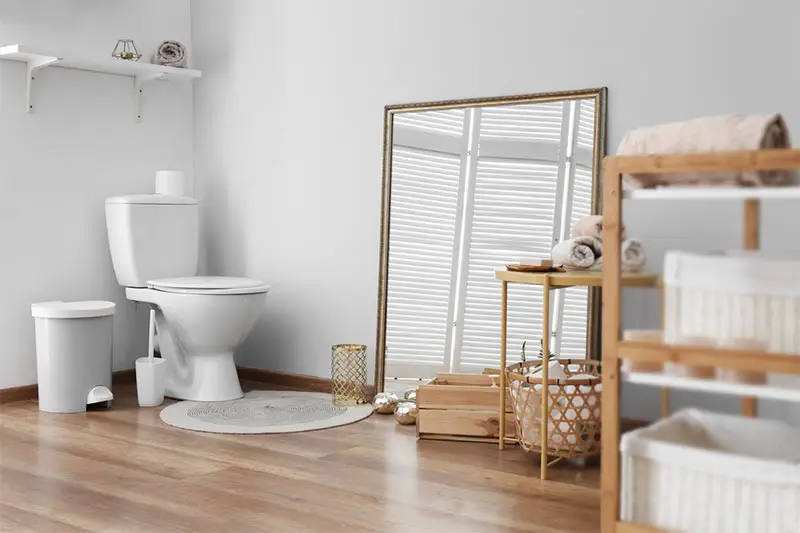 Next Read: How to Choose Perfect Lighting for Bathroom Vanity
FAQ's
What kind of trash can to use in bathroom? 
– with lid and without lid, you can have both types of trash cans inside your bathroom. Lid trash cans are for keeping away the view of what is inside the trash cans and often keep the odor inside the trash. To keep a brisk look in the bathroom, you must avoid having a large trash can.
Should you have a trash can in your bathroom? 
-we all should keep a trash can inside our bathroom. You never know wherever you need it, like throwing away the older toothbrush, shampoo, soap bottle, etc. So keeping a trash can in your bathroom is a must.
How big of trash can Do I Need? 
-If you have too much trash to throw away while using the bathroom, you can have the trash can around 2.2- 2.5 gallons. But, for rare use, anything near 1.2 gallons is absolutely fine.
Conclusion
Most people think that their plumbing system is too good to handle the everyday trash. But unfortunately, it isn't. And if you live in an old apartment where the plumbing system was way worse than nowadays, you must keep avoiding throwing even toilet tissue in it.
Choosing the right size trash can for bathroom is necessary, but choosing the right type of trash can is equally important. Don't forget to have a lid trash can if you have a pet in the house because pets peek inside the trash can.
We (TheHomeDigs) want to make sure that you feel like you can trust us. So, please give this article a rate below out of 5 stars! This will help others to find us helpfull.
This is Autem Decker. Main Author of 'TheHomeDigs'. You may not find her on the list of top 10 contemporary Canadian interior designers, but everyone who knows her says she was born to be an interior designer.
She makes her plan in her head and draws them in her years-old diary with a note in the corner. The way she plays with color and shape amazes us.
Connect Her On – Twitter