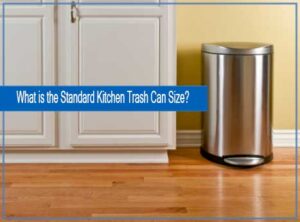 No wonder the kitchen trash can is likely the dirtiest one in your home. It doesn't only safely keep the kitchen garbage; it ensures a hygienic and hassle-free keeping of garbage.
Maybe you guys are doing research about the best kitchen trash for your kitchen. But today, we are here not to discuss the best possible kitchen trash can; instead, we will talk about what size trash can for kitchen.
What does having a small or large trash can in the kitchen matter? It really matters a large trash can will consume the valuable space in the kitchen, and normally it will look awkward in the small kitchen.
In contrast, overflowing of trash and spreading the foul smell happens when your trash is smaller. So let's see how to select a good size trash can for kitchen. 
What is the Standard Kitchen Trash Can Size? 
There are quite a few sizes of kitchen trash can, like 7 gallon trash can, 12 gallons, and 16 gallon trash can. But the most popular one is the 13 gallon kitchen trash can. Kitchen trash must hold enough trash in your kitchen and may not occupy much space. You can have a trash can according to it's dimensions and volume.
Let's learn about the process of understanding the standard trash can size in the kitchen. 
Trash Bin Dimensions
Dimensions mean the length, width, and height of the trash can. Yeah, it is a popular system to measure trash cans, and you can have the best idea from it about how much space the trash can will occupy.
For the tight spaces and small kitchen, we like to suggest going to the trash can to measure the dimensions of the space selected for the trash can. Here, you are about to learn about different standard trash can and their sizes. 
Free Standing: 
Free standing kitchen trash can mean it will tuck into the nook of your kitchen. It is a very traditional way of keeping trash in the kitchen.
Mostly, people use 10-15 inches width and 20-30 inches height trash cans in the kitchen as free-standing types. 20-30 inches in height means it is almost similar to the kitchen countertop height. You can easily scrap crumbs and directly push them straight into the trash. 
Under Sink: 
Under Sink, trash can be useful in the kitchen because you can keep the garbage there for a couple of days, and the garbage will become compost so you can use it in your garden. Undersink Kitchen trash can seal the leak of the foul odor from the garbage, and it prevents flies in the kitchen. 
So what is the standard trash can size for under kitchen sink? Normally, under the sink, there is shortage of space. Anything less than 10 inches high will be perfect for an under sink trash can. 
In Cabinet:  
In cabinet, trash cans are smaller than free standing ones but bigger than under sink ones. This type of kitchen trash can is popular because you can keep them inside the cabinet. The odor won't come out. They often offer dual compartment trash can where you can easily separate the live garbage from the kitchen with the packets of any spices or anything. 
So what size trash can for the kitchen cabinet? Now there is no specific or standard size for the cabinet trash can. Because many kitchen cabinets may have different heights, width is not an issue here, so anything between 12 to 24 inches in width is fine, but over 20 inches in height may cause problems for different kitchen cabinets. 
Trash Bin Volume
Measuring in volume means the trash bin can keep that amount of gallon or liter of any liquid in it. But we rarely measure kitchen trash can size in liters. We mostly use gallons as a measure. But it is really easy to convert them from gallon to liter. 
Undersink: 
The under sink height is around 30 inches; your trash can height must be smaller than the under sink height. That's why the standard volume for an under sink trash can is around 7- 10 gallons. 
Freestanding: 
Kitchen trash can occupy a lot of space, so if you place it near the counter, 12-16 gallons are standard trash can sizes. But if you place it in any corner of your kitchen, 20 gallon kitchen trash can is the perfect one. 
Standard Kitchen Garbage Bag size 
Garbage bag size is an important fact in selecting the trash can size. Often we don't get the perfect garbage bag size in local stores; they are smaller or bigger.
To find out which sizes of garbage bags are available in your area. The ideal size of a garbage bag is 13 gallons, and you can stick out a 12-16 gallon trash can.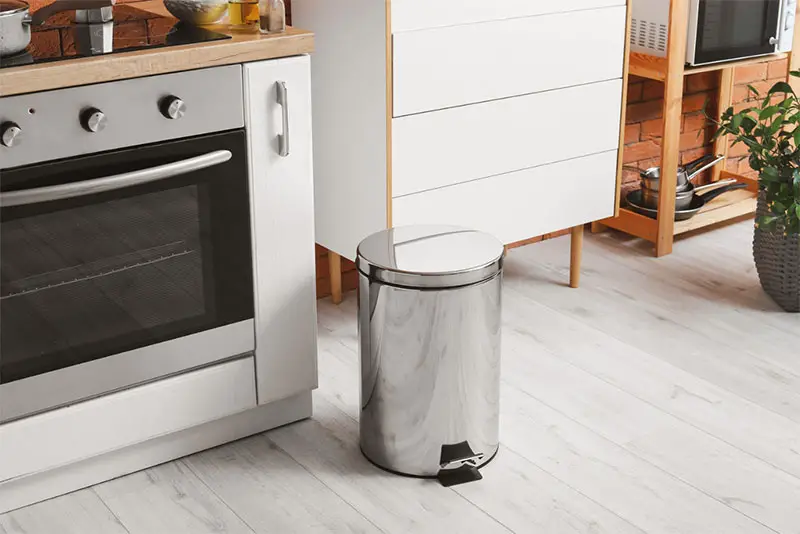 Next Read: What Size Trash Can for Bathroom is Most Suitable
FAQ's
– What is a good size for a kitchen trash can?
10 to 15 inches in width and less than 30 inches' longer trash can be good for the kitchen. But for regular positions in the kitchen, like under sink, countertop and, besides the kitchen wall, medium size of trash cans are good. The under sink never goes above the height of 10 inches. 
– How many gallons should a kitchen trash can be?
12-16 gallons is the standard size of the kitchen trash can. But for the kitchen cabinet to pull out the trash can, it can be less than 10 gallons. If you have a large family and cook a lot, then you should go for freestanding and over 20-gallon trash can. 
Conclusion 
So have you got an idea about the standard trash can size for the kitchen? Surely you got the idea. Some things you all should forecast; how much cooking waste is going to be produced every day.
For tons of waste, try to get a lid trash can, otherwise, waste will decompose and spread an unpleasant odor. Keep in mind, that opening the lid needs more room, so the lid won't hit the sink if you keep the trash can under sink.
Hopefully, next time, you guys will have a decent kitchen trash can and will help people out who are looking for the best kitchen trash can.
We (TheHomeDigs) want to make sure that you feel like you can trust us. So, please give this article a rate below out of 5 stars! This will help others to find us helpfull.
This is Autem Decker. Main Author of 'TheHomeDigs'. You may not find her on the list of top 10 contemporary Canadian interior designers, but everyone who knows her says she was born to be an interior designer.
She makes her plan in her head and draws them in her years-old diary with a note in the corner. The way she plays with color and shape amazes us.
Connect Her On – Twitter