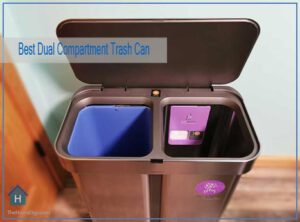 People usually do not put a lot of thought into managing waste. Sometimes they may feel bothered about it. Separating and taking care of the trash can make a change if you do it properly.
Are you thinking about getting a new trash can? Or maybe upgrading the current one you have? Then, you should have a look at the best dual compartment trash can. They will help you manage the trash in better ways.
When talking about a trash can, it does not excite one like other appliances. Getting a new oven sounds more sophisticated. But trash can is an integral part while working in the kitchen. The best thing about this product is, you can keep the disposal and recycle wastes separately.
Top 5 Dual Trash Cans at a Glance
10 Best Dual Compartment Trash Cans Reviews
In the marketplace, there are various trash cans available. They all have different designs and facilities. You may face a dilemma, which one is sufficient for you. So, here is a review of the best two-compartment trash can.
1. Home Zone Living 13 Gallon Kitchen Trash Can, Dual Compartment Recycle Combo
The first product is from the brand Home Zone Living. We have the 13-gallon kitchen trash can for the best dual compartment trash can. This splendid bin with two different slots is perfect for managing your garbage.
For the garbage, you will get an 8-gallon slot, and for recyclable waste 5-gallon. The bag tug band allows to hang the bin bags without falling inside.
The stainless steel body gives it a smooth and smart design. It will fit anywhere in your kitchen. You need a small space to put this rectangular trash can. This bin can fit as a furniture piece at your home.
Key Features
It is easy to clean.
The product is value for money.
This is ideal for small spaces.
The lid makes no sound.
It is a durable product.
Recycling has become simpler with it. The metal pedal is made from quality material to ensure durability. This product is perfect for smaller families. The reviews and ratings are positive that indicates customer satisfaction.
There is no warranty from the manufacturer. But you can contact them and ask for it if you want.
Specifications:
Stainless steel.
26 pounds weighs.
Size dimension: Length 21.97 inches, Width 11.57 inches, and Height 26.57 inches.
50 liters Capacity.
Best location: Kitchen.
To open: step on the metal pedal.
---
2. Simplehuman Rectangular Hands-Free Dual Compartment Recycling Kitchen Step Trash Can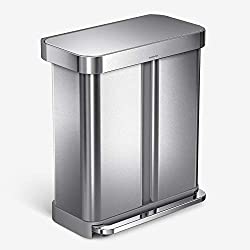 The second product is from Simplehuman. It is a quite popular brand. This has one of the highest ratings among the products we are going to review.
You can have it in five different colors. The elegant design of the bin will fit in your room without difficulty. There is a liner bag storage in the front. It will change the trash bags quickly and prevent them from slipping.
The two compartments are divided into equal capacity. Each of them is capable of holding 29 liters of trash. As an eco-friendly product, it is excellent for maintaining your garbage.
Key Features
Equal slot for both types of trash.
The price is also reasonable.
The silent lid opens and closes smoothly. 
There is a wide padel below to open the lid. In most bins, they have smaller ones. But this one is strong and durable. It is capable of tolerating up to 150,000 steps. Additionally, the product has a fingerprint-proof coating that is saturated with Agion.
The EPA-registered antimicrobial agent prevents the growth and inhabitant of bacteria, mildew, fungi, and mold. You will also get a ten years warranty from the manufacturer. This ensures the quality of the product.
Overall it is a versatile trash can with quality building materials. Spending the money on it is a great investment.
Specifications:
Stainless steel material.
Weighs 21.3 pounds.
Size Dimension: Length 14.2 inches, Width 22 inches, and Height 25.8 inches.
Capacity: 58 liters.
Best location: Home or Office.
To open: Step on the wide steel padel.
---
3. NINESTARS Automatic Touchless Infrared Motion Sensor Trash Can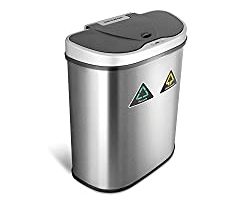 Ninestars has created a great product with this trash can. With the "D"-shaped structure, it has got a stylish look. Most others are rectangular. So, it is unique in that sense.
It is small in size compared to others. This small product still has two separate slots. There are indicators for guiding which trash goes where.
This double garbage recycle can have a motion sensor, so you do not have to use your hand. When you want to throw the garbage, you have to put your hand over the lid. It will automatically open. After you are finished remove the hand. Then the lid closes in three seconds.
Key Features
The small size is ideal if there are few users.
There is a garbage bag ring that hides it from the people.
The batteries last up to 6 months that contribute to power saving.
You can fit two full-size kitchen bags in them.
It has great functionality with the motion sensor.
You get two years of warranty from the manufacturer. The motion sensor needs 4 "D" batteries to work. Those are not part of the package.
This trash can is simple to use with a touch of the latest technology. It is a great deal combining the price and benefits.
Specifications:
Material: Stainless steel.
Weighs: 11.5 pounds.
Size Dimension: Length 13 inches, Width 21.3 inches, and Height 26.2 inches.
Capacity: 18.5 gallons.
Best location: Home and outdoor.
To open: Motion sensor.
---
4. iTouchless Dual Step Trash Can & Recycle Bin – Stainless Steel Body, Soft Close Lid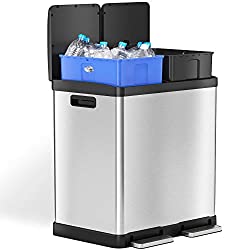 iTouchless trash can is one of the most popular products on the market. It is hard to find someone who does not know the name.
The two compartments are of two different colors- Black and Blue. You can easily understand where to put which trash. They are also removable with handles. Each one has the capacity of 8-gallon.
Also, the lid is gentle and easy to open. Putting too much is not necessary. The company provides two years of warranty with full customer support. It is fingerprint-proof and smudge resistant. So, there is no need for you to worry about the stain.
Key Features
The building materials are of high quality for the trash can.
It is a long-lasting product.
Special filters keep the air fresh and odor-free.
Noise-free lid closing.
This product is easy to use and also simple to clean.
Moreover, there are dual AbsorbX odor filters. They absorb the odor and keeps the environment fresh. You will get the first two filters attached. Then you have to buy.
The air damper is replaceable. Whenever you change, it is ready to renew performance in no time. In short, though the product seems expensive, you will not regret it after using the bin.
Specifications:
Material: Stainless steel.
Weighs: 24.6 pounds.
Size dimension: Length 28.4 inches, Width 21 inches, and Height 16.8 inches.
Capacity: 60 liters.
Best location: Kitchen.
To open: Two pedals for each type of trash.
---
5. SONGMICS Step Trash Can, Double Recycle Pedal Bin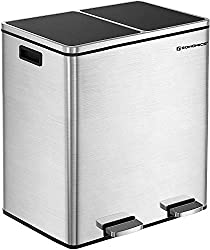 Songmics presents you with the stylish and sleek designed dual compartment trash can.
This product will give you an upgrade to the house. As the shape is rectangular, it fits anywhere, even against the wall.
Inside the trash can, there are two individual buckets for disposal and recycle garbage. They have an equal slot for both. It is easy to use because of the two pedals.
Key Features
The compartments are separate from one another.
It has easy maneuverability.
This product is durable.
The lid keeps open at almost eighty degrees that occupy less space.
It is Anti-fingerprint and anti-stain.
The trash can is air-tight to prevent odor from spreading.
You have to step on the pedal that needs use. Additionally, each bucket has a steel handle. So, you can pull it out when required. The lid material is ABS plastic that allows slow and smooth closure.
This trash can easy to operate. Moreover, the high-quality materials have given it a sturdy structure.
Specifications:
The product material is 410 stainless steel, plastic for the inner bucket, and ABS plastic for the lid.
This trash can weighs 20.1 pounds.
The measurements are Length 23 inches, Width 12.6 inches, and Height 25.6 inches.
It has a capacity of 60 liters for wastes.
The best location for placement: Kitchen.
To open: Step on pedals.
---
6. Simplehuman Rectangular Dual Compartment Recycling Kitchen Step Trash Can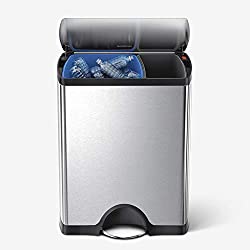 We included another product from Simplehuman. This dual compartment step trash can is a beautiful addition to your kitchen or anywhere in the house.
In most products, the lids stay close. When in need, you open them. But with this one, you keep it open as long as you want. It gives you that facility. The lid also works slowly and silently.
The manufacturer provides ten years warranty for their product. So, you can buy them without being worried. The price is a little more than $100, so it is costly. But, the product is worth the price.
Key Features
The strong steel padel is long-lasting.
When you open the lid, it does not bump into the wall.
It is a stain and smudge resistant product.
The product comes with sample trash bags.
It is great value for money.
Stainless steel has made it a durable trash can.
It has code H & V custom fit liners. This feature allows the usage of strong and durable trash bags fitting in the buckets.
Between the two compartments, the recycling part is bigger. But if you have more disposable trash than recycle, use them vice versa. The quality materials help the can to survive, even in a rough environment.
Specifications:
Material: Stainless steel.
Weighs: 17.6 pounds.
Size dimension: Length 12.8 inches, Width 12.6 inches, and Height 25.7 inches.
Capacity: 46 liters.
Best location: Kitchen.
To open: Step on pedals.
---
7. EKO EcoCasa II Dual Compartment Kitchen Recycle Trash Can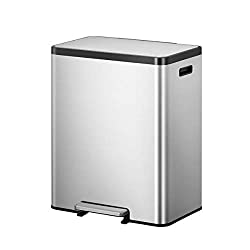 On the review list of the best dual compartment trash can, we have a trash can from the brand EKO. This product has a unique design. You can easily manage your garbage with this functional bin.
Usually, the heights are longer in other products. But in this one, the product width is bigger. Also, the two compartments have the capacity of 36 liters and 24 liters for trash. The disposable part is larger.
Key Features
The rectangular design is space-saving.
It is a fingerprint-resistant trash can.
There is a mechanism for keeping the lid open as long as you need.
The bin stays in place because of the bag fixer.
There are handles on both sides of the can for easy carrying.
Moreover, you can remove them with the attached steel handle. The brushed stainless steel finish makes it stain resistant. You will get a three-year warranty with the purchase.
The best part is, there is a built-in deodorizer compartment to absorb the odor. But you have to buy it separately. With the bag fixer, you can tuck them neatly. It also prevents overhanging.
Specifications:
The product material is stainless steel.
This trash can weighs 31.7 pounds.
The measurements are Length 14.7 inches, Width 20.7 inches, and Height 26 inches.
It has a capacity of 60 liters for wastes.
The best location for placement: Kitchen.
To open: Step on the cantilever pedal.
---
8. Cozy Castle Dual Step Trash Can, 2x30L Double Garbage Can with lid
This trash can is a premium product from Cozy Castle. The design, material, and style are perfect to become an addition to your house. The product is ideal for both indoor and outdoor.
The outer body material is high-quality stainless steel. The inner buckets have eco-friendly plastic.
The bottom is a stable and non-slip base. So, it will not move around when you tip over. Also, the floor will be scratch-free.
Key Features
This product is efficient and convenient.
The lid closes softly and without noise.
It is waterproof, fingerprint-proof, oil-proof, and scratch-proof.
The 16-gallon capacity is enough for large families.
You can also use the foot pedal of metal for putting garbage in the trash. Your hands will not get dirty. It has the capability of controlling the odor. With the strong airtightness, the can easily emit odor.
The outer surface material is 201 stainless steel, where the two compartments are linked. The thickness of 0.8 mm gives it good stability. While making, the inner filling holds high-quality plastic. Other use foam or a template that does not last long.
Specifications:
Material: Stainless steel.
Weighs: 24.91 pounds.
Size dimension: Width 25.59 inches, Depth 12.60 inches, Height 27.56 inches.
Capacity: 60 liters.
Best location: Living room, Office, Outdoor, and Kitchen.
To open: Step on the metal pedals.
---
9. iTouchless Dual Compartment Slim Open Top Waste Bin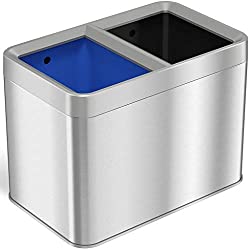 iTouchless has another model with a small capacity. This one is 5.3-gallon. You are going to love this if you use it for less trash. The price is also low.
There is no lid in this product. The square shape and smaller size fit anywhere. You do not need a large can for all places. In that case, this one is perfect.
The stainless steel body is fingerprint-proof and scratch-proof.
Key Features
They have excellent customer service.
The small size is perfect where garbage is less.
You can change the bags quickly as the open lid lifts easily.
It has versatile use.
This product is easy to clean.
The stainless steel body prevents from getting any stain.
For this bin, you will get an unconditional warranty. The manufacturer will give you full service for parts. On the outside, there are handles to carry easily.
Moreover, the inner buckets are plastic made with the removable facility. They are also colored differently for easy recognition.
Specifications:
Material: is stainless steel.
Weighs: 6.44 pounds.
Size dimension: Depth 10 inches, Width 15.75 inches, and Height 10 inches.
Capacity: 5.3-gallons.
Best location: Home, office, and hotel.
To open: Open lid product.
---
10. Kohler K-20956-ST Dual Compartment Step Trash Can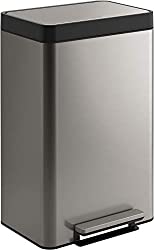 The last product in the review list is from Kohler. The brand is well known for its different product lines. The dual compartment trash can has an elegant look that will compliment any decor at your house.
The two sections have equal size buckets- one for regular trash and the other for recycling. The company recommends using any 13-gallon or 8-gallon tall drawstring bags for storing trash. As it has fingerprint-proof finish, the bin stays clean for longer.
You can clean it easily as well. To clean it regularly, use a damp microfiber cloth. Remember not to use any cleaners or abrasives. That should be enough.
Key Features
The durability of the product is highly praisable.
It is easy to remove.
The product structure/ construction is sturdy.
You get ten years of warranty.
The manufacturer offers three stylish and standard colors for this can. You can choose the one that fits with your house decor. The lid closes silently and gently. Also, because of the rectangular shape, the product fits in any place.
Overall, the product is expensive. There is no doubt. But when you see the features and have the user experience, you will understand. The product is not overpriced at all.
Specifications:
Material: Stainless steel and Polypropylene.
Weighs: 25 pounds.
Size dimension: Length 16.82 inches, Width 13 inches, and Height 26.44 inches.
Capacity: of 11-gallon for wastes.
Best location: Kitchen.
To open: Step on the pedal.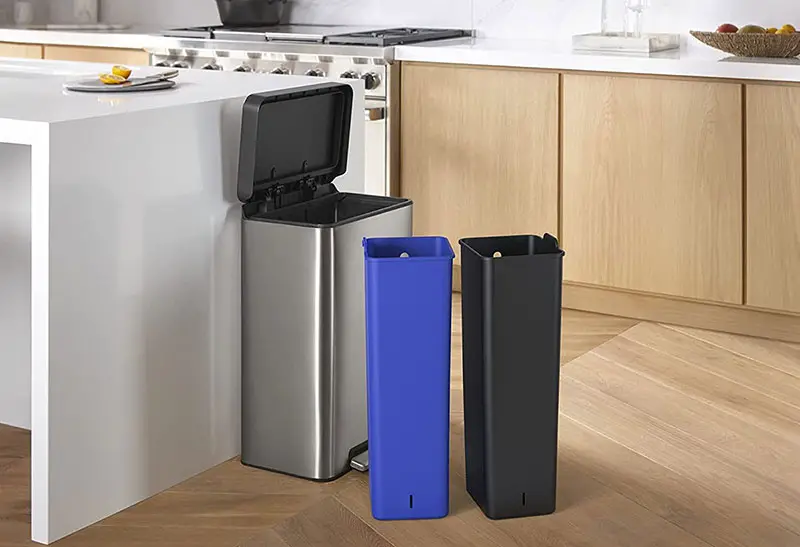 What You Need to Know Before Buying a Dual Trash Can
Buying the trash bin can be easy and difficult at the same time. The features play a crucial role in selecting the product. That is why we have gathered those for you. Read through the buying guide and decide your criteria for the trash can.
Weight
If the trash can is heavy, it can benefit you. There are many times we knock over it- knowingly or unknowingly. A lighter one will fall every time, and if the lid is somehow open, a disaster happens. You are aware of that very well.
So, a comparatively heavier one will tip over less. When you do not need to move it often, this can be handy.
Size
Before buying you should decide what size you need. This decision often is based on the area and layout of the place. A spacious area can contain a big dual compartment trash bin and still look tiny.
However, in small areas, there is no need for bigger ones. The number of people using it also determine the size. A small one can make you put out the trash more than once. But the bigger one with an individual compartment will let you sort the waste.
As you can see, each size has its pros and cons. What you need is to look around your place and finalize depending on the requirement.
Lid
The lid is a vital part of the trash can. You will find different types, but we recommend you to recommend the hand-free one. It will ensure there is a need to use the hand. The feet let to open the lid.
In this way, the trash will stay covered, and you will have clean hands. Other than that, there are swing lid, hands-on lid, sensor lid, and open-top lid. So, before choosing, do your research.
Material 
There are mainly two materials used for the trash cans. One is plastic, and the other is stainless steel. Both of them have their advantages and disadvantages.
For kitchen mainly, these are most used. Plastic ones are lighter in weight. They are easy to move around when in need. Also, the price is comparatively lower. You will also find different colors for them.
But the main problem with plastic is that it consumes the waste odor. That is difficult to remove. Moreover, they easily get stained. So, it can be annoying.
On the other hand, stainless steel is heavy. It will not fall easily if you knock over it. So, there is less chance the waste will come out and spread in the whole place. It is also useful if you have a baby or pet. They cannot easily knock it over and make a mess.
This material also gives your kitchen a modern look. They are durable as well.
Recycling
Many people are into recycling. This is why they are interested in different types of bins. Separate compartments will allow you to keep things apart. The best dual trash recycles containers can help you to do so.
As the bins provide facilities for discrete waste management, they can be costly. So, before buying make sure you are ready to spend that much money.
Style
There was a time when things, especially a bin, did not need to be appealing. But with time, this has changed. People are more cautious about what they bring to the house.
Just because of being a trash can, does not mean it will not have style. Today's world is more attentive to the style and detail design. People look for products that match their other appliances and gadgets.
So, if you want a stylish one, search on the internet for a bit. There are tons of options.
Price
Everyone has their budget and capacity for everything they buy. Also, manufacturers set the price for the quality and value they provide. So, the cost can vary a lot depending on the factors.
You will find a different range of prices while buying. Even in our review, we have a low to a higher-priced product.
If a trash can is over $100, then it is expensive. Still, the service you get is worth the price. So, find out one combining the budget and the price that suits you best. We discussed almost all the price ranges.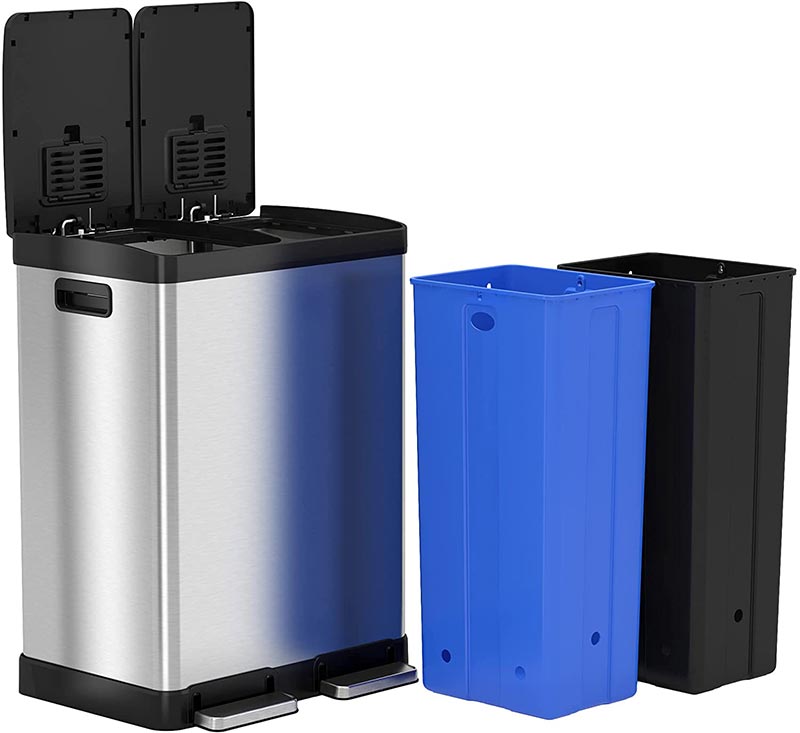 FAQ's About 2 Compartment Trash Cans
How to clean the dual compartment trash can?
You should be careful while cleaning a bin. At first, when it's full, put the waste out. Make sure there is nothing left. Then, you will have to extract the inner seals.
After that, fill the bins with water and washing liquids. Keep the mixture for few minutes. Next, use a brush to clean the stains and wash them. Let them dry and use them again.
What is the need for a dual compartment garbage can?
With only one compartment, you cannot separate different trash. All your garbage goes into one place. So, when it is time to put them out, sorting them becomes tough and messy. To avoid this situation, it is better to have a dual one.
If you are into recycling, then this product is for you. The dual-chamber allows you to sort disposal and recycle waste. The buckets are both different in color. The colors let you identify which trash goes where.
How can I maintain the trash can?
You need to take care of the trash can to use it for the long term. Proper maintenance and ease of use are essential. So, buy a model that you can use without difficulty. Then, follow the instructions to keep it clean.
Why are kitchen trash cans prices so expensive?
Trash cans can be expensive. But not every model is so. You will find a $20 bin and a $400 one in the same market. So, what makes them so different to label such a price? Several factors increase the price of a trash can.
The first thing is the building quality. You cannot use a mesh bin for the kitchen. Even there should not be any comparison as well.
Mesh, plastic, or stainless steel- each is different and costs not the same. Also, the size differs. A low cost will not have the same look and style as the expensive one. Costly trash cans have a premium appearance that gets attention from outside comfortably.
The type of lid also makes difference. An open lid one will not be the same as an automatic one. The technology used for the sensor, or making odor-free is expensive itself. So, factors like these create the classification and price.
Final Words
One step towards a new bin can reflect your concern towards the environment. With the best dual compartment trash can, you can easily contribute to the wellness of mother nature.
It may sound unfamiliar, but using dual trash can make a difference. Buying one will make you more cautious about the environment and surroundings.
So, in this review, we gathered the best bins that will ease the waste management process. As a necessity, it is better to have an eco-friendly product at your home.
A trash can does not need to look like an actual one. These amazing products also come with a sleek and stylish design. It enhances the look of the kitchen as well. So, take the opportunity and change to the dual compartment bins. You will not be disappointed.
This is Autem Decker. Main Author of 'TheHomeDigs'. You may not find her on the list of top 10 contemporary Canadian interior designers, but everyone who knows her says she was born to be an interior designer.
She makes her plan in her head and draws them in her years-old diary with a note in the corner. The way she plays with color and shape amazes us.
Connect Her On – Twitter