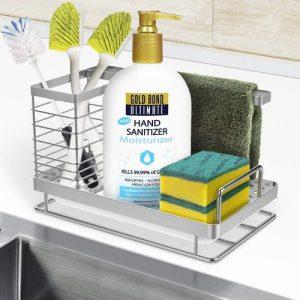 Sink clutter can be one of the most annoying things to deal with in any kitchen, especially if you have many dish washing/cleaning implements. The ideal solution is a sink caddy, or sink organizer.
Beyond just keeping your dish washing things organized, the best kitchen sink caddy will also ensure that germs won't spread so easily to and from the brushes and sponges that you use to clean your dishes. Plus, kitchen cleaning becomes easier as well.
And finally, many modern kitchen sink caddies are made to be aesthetically appealing; they can definitely add beauty to the kitchen.
After hours of research, we present the following 5 caddies most worth your consideration, along with a buying guide to aid you in your purchase.
Top 4 Kitchen Sink Caddies at a Glance
Top 5 Best Kitchen Sink Caddy Reviews
Without further ado, we now present the following kitchen sink caddies, selected carefully with the cautious consumer like you in mind. We hope you like our picks!
1. ODesign Kitchen Sink Caddy – Kitchen Sponge, Soap & Brush Organizer
Highlighted Features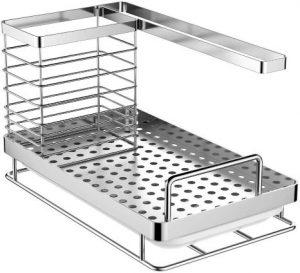 Constructed from high-quality rust- and water-resistant stainless steel
Has enough space for cleaning implements, soap dispenser, and towel
Removable drain pain makes cleaning and maintenance easy
Has a simple and minimalistic aesthetic appeal
Our first pick is an equally gorgeous and functional stainless steel kitchen sink caddy from ODesign. With features such as a large surface area and an intuitive design that accommodates other items as well, it's easy to see why this caddy comes so highly rated.
Constructed from premium quality SUS304 stainless steel, this caddy is built to be both water- and rust-resistant. This can be the difference between a caddy that just stores your things and a caddy that promises to serve you for years to come.
But undoubtedly, the best thing about this caddy is its design. Measuring 9.84″x5.9″x5.9″ inches, this thing is big enough to carry all of your sponges and brushes. What's more, there is a dedicated soap dispenser compartment; and if that wasn't enough, the manufacturers have also included the option to store a small washcloth or hand towel on the rail.
Furthermore, this caddy comes with a drain pain, which is easily removable for when you need to clean out the caddy. All in all, this caddy will keep both your kitchen sink and itself clean. What more is there to ask for?
---
2. Kesol Adhesive 2-in-1 Sink Caddy – Kitchen Sponge & Brush Holder
Highlighted Features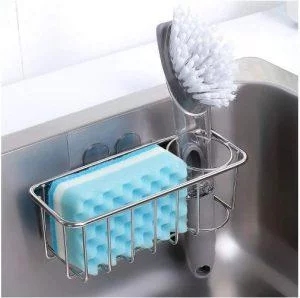 The compact design makes it ideal for smaller kitchen sinks
Doesn't get in the way of other activities in or near the kitchen sink
Built from high-quality stainless steel that stays rust and water-resistant
Includes a brush holder beside the main storage compartment
Can be installed on a number of different surfaces
The next kitchen sink caddy on our list is also built from stainless steel, but it's much more compact. Accordingly, it's also available at a much lower price point, but don't let that make you think that it's not packed with a number of great features.
Built from high-grade stainless steel that is equally resistant to rust and water, this little sink caddy is definitely meant to last you a good while. Its open design also means that water will drain out quickly and easily, allowing your stored items to dry out faster.
And speaking of the design, you're definitely going to appreciate the little brush holder attached to the side of the main sponge basket. Plus, not only is the caddy small and manageable, but installing it is also a breeze: just peel off the adhesive and place it on any inside wall of your kitchen sink. And on that note, you can actually install this thing anywhere! The adhesive is meant to stick on a number of surfaces, from marble to glass to ceramic.
Now, while this is a great and highly functional little kitchen sink caddy whose durability can be relied upon, it's good to remember that it's quite small, and therefore may not be very well-suited to those who have a large number of cleaning tools to store. Other than that, however, there's really not much else to complain about!
---
3. Simplehuman Slim Sink Caddy – Undermount Kitchen Sink Organizer Caddy
Highlighted Features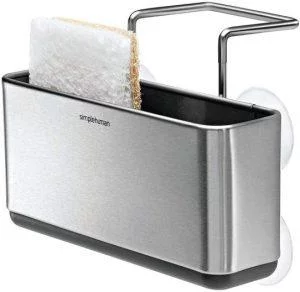 Constructed from high quality rust-resistant stainless steel
Can be installed using suction cups as well as a wire hanger
Compact but innovative design allows you to store your essentials easily
Allows you to save space on the kitchen surface
Having been around for two decades now, simplehuman is a brand that seems to have gotten the art of domestic utility down pat. This straightforward little stainless steel sink caddy is a perfect example of their innovative, yet simple approach.
Built from durable and strong high-quality stainless steel, this little kitchen sink caddy is unique despite its conventional design. The sponge storage compartment is slightly elevated, and thanks to a large number of ventilation holes, your cleaning implements will dry out quickly and easily.
Installing this little guy is also super easy thanks to the convenient and durable suction cups. Your purchase will include four of them, allowing you to securely place your caddy inside your kitchen sink.
Another thing we love is the ledge hanger (built from wire), which makes it very easy to hang up this caddy, especially if you have an undermount sink. Either way, you can rest assured that this nifty little caddy will serve its purpose well of saving you valuable kitchen sink space.
There is one issue to look out for, however. Although the design is meant to enhance airflow, the layout makes it so that some users have reported that this caddy is somewhat difficult to clean. Ultimately, however, remember that keeping your kitchen clean is a task that's entirely up to you!
---
4. Simplehuman Sink Caddy Sponge & Brush Organizer with Suction Cup
Highlighted Features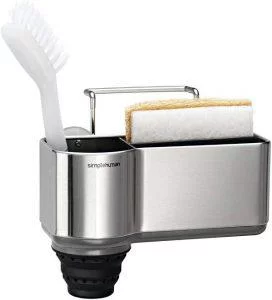 Features an extendable silicone cup for easy storage brushes with longer handles
Brushed stainless steel surface offers high aesthetic value
Built to last with water and rust-resistant stainless steel build
Can be installed using suction cups or ledge hanger
Much more affordable compared to similar products
Yep, our next caddy is also from simplehuman! We really love this brand, and there's a good reason for it. This caddy, with its brushed stainless steel body and suction-cup design, is a product from the brand which is particularly popular. Let's find out why!
Compared to the last simplehuman caddy we reviewed, this one is larger in size, so it's ideal for those with a bigger kitchen sink or just generally more surface area.
Not only will you be able to store a larger number of sponges, however; you can also take advantage of the pop-out silicone extension to effortlessly store longer brushes.
And because this thing is also attached using suction cups and a wire ledge hanger, there is no danger of it slipping or falling into your kitchen sink while you're using it for its other intended purposes.
The design of this caddy is also meant to facilitate faster drying of your cleaning implements, which it achieves with the help of the many perforations for ventilation. Just remember to clean the thing out once in a while!
The best thing about this caddy, though, is undoubtedly its price. Despite the cool design and overall durability, this caddy won't burn a hole in your pocket if you buy it, and that's something most of us can appreciate!
---
5. Oyeye Kitchen Sink Caddy Organizer for Dishwashing Essentials
Highlighted Features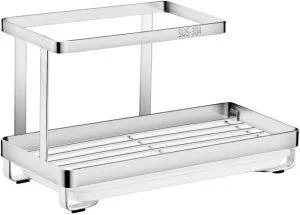 The open design and large size is ideal for storing a number of items
Made from highly durable and sturdy brushed stainless steel
Rubber bottom keeps the caddy grounded no matter where you put it
Removable drain pain enables easier cleaning
Comes with a bar for storing a washcloth or towel
Our last pick is a nifty and smart little kitchen sink caddy from Oyeye. With an open design and large surface area, this thing is ideal for storing all of your dishwashing essentials, from your sponges and brushes to towels, washcloths, and soap dispensers.
The body of this caddy has been constructed from high-grade SUS304 brushed stainless steel. This, of course, makes the caddy waterproof and resistant to rusting; however, it also has the effect of adding a sleek and modern aesthetic appeal to any kitchen sink it's attached to.
On that note, we're also a really big fan of the rubber bottom, which prevents the caddy from slipping and ensures that whatever surface it's placed on won't be scratched. Yes, that does mean that this caddy cannot be attached to the kitchen itself; while some people prefer that, it's also much easier to clean standalone caddies.
Speaking of ease of cleaning, this caddy also comes with a convenient little drain pain, which will easily collect the excess water from your dishwashing tools. And because the pan is removable, cleaning it is also very easy. And should you need to store a washcloth or towel, that's easily done too, thanks to the railing.
Overall, there's nothing about this caddy that warrants complaint in any way. It's a well-rounded, spacious little caddy that will no doubt make you grateful for its existence every time you reach for a sponge or a dollop of handwash soap!
You may read: Best Dual Compartment Trash Can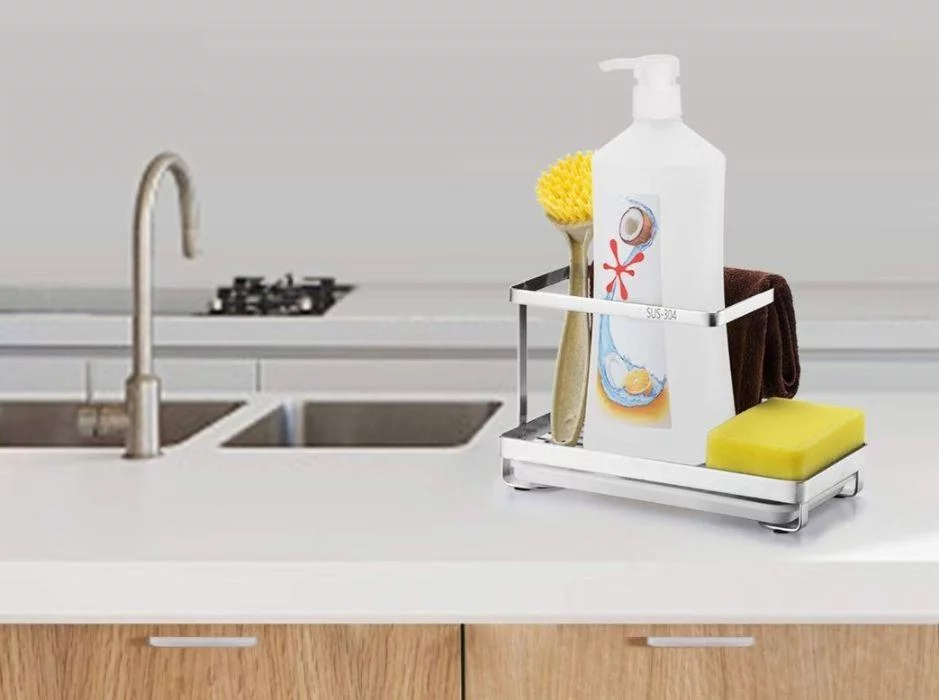 Buying Guide for Kitchen Sink Organizer Caddy
One of the best things about kitchen sink caddies is the wide variety in which they're available. Be it the build, design, or price of the caddy; there are a number of factors to keep in mind before making your purchase.
Here they are:
Construction Material
The most popular options for the construction material of kitchen sink caddies are rubber, plastic, stainless steel, and aluminum. Let's have a closer look at the different types.
Plastic and rubber are the most common choices when it comes to the construction material of kitchen sink caddies, because they are the cheapest option without compromising on durability.Another great advantage of choosing a plastic or rubber caddy is that they're not at risk of rusting like stainless steel or aluminum caddies.
The main problem with plastic caddies is that they tend to get warped or de-shaped over time. So if you are going for plastic, then ensure that it's high-quality, durable plastic.
This is the more expensive option, but it's for a good reason: caddies made from stainless steel or aluminum are far more durable than plastic or rubber ones. Plus, if you have a kitchen sink constructed from stainless steel or aluminum, then opting for a sink caddy made from the same material can add to the kitchen's overall aesthetic appeal.
However, it's important to keep in mind that depending on the quality of the metal; the caddy might begin to rust over time, even if they are advertised otherwise. So once again, make sure to opt for a reliable brand.
Compartments / Size
How big you want your kitchen sink caddy to be will depend on the number and size of objects you want to store in it. Most regular caddies will come with just the one compartment to store a couple of sponges or brushes. Single-compartment caddies are also easier to clean than their larger counterparts.
On the other hand, some caddies might have multiple compartments—two or sometimes even three, to help store a bigger number of items. Even if you're not storing a lot of things in the caddy, it helps if the compartments are separated as it makes organization easier, thereby making it easy to reach for your required tools.
Also, keep in mind that the bigger the caddy or the higher the number of compartments in the caddy, the more expensive it is likely to be.
Positioning
There are a few different placement styles when it comes to kitchen sink caddies. When deciding on what kind of placement you would like, it's good to consider the size of the available area, the size of the caddy, and the design of your kitchen sink.
While some caddies are meant to be placed next to your sink, others might come with suction mechanisms to stick to the inside walls of your kitchen sink. These latter types are ideal for those who don't want their cleaning implements to take up extra space around the sink. Plus, they're easier to install and remove, as well.
Now, some caddies also come with a "hook" design that can be installed over the sink. These are ideal for those who would like to have the option of removing the sink caddy at any time. Plus, they're easier to clean, as well.
Perforations / Drip Base
The main purpose of a kitchen sink caddy is to keep your brushes, sponges, soap dispenser, a hand lotion dispenser, or other items close at hand. However, a caddy is no good unless it also keeps those items clean and germ-free.
To ensure that this happens seamlessly, it's always a good idea to opt for a caddy that comes with a perforated bottom to properly drain excess water from your cleaning tools. Without such a mechanism, the caddy will more easily accommodate the breeding of yucky bacteria, resulting in odor and mold.
Another feature to look out for is the availability of a drip tray on your caddy. This has the purpose of collecting the water that falls away from your dishwashing tools. Consequently, you won't have to deal with water stains on your kitchen sink.
FAQ's about Kitchen Sink Caddies
1. Why do I need a kitchen sink caddy?

They keep your brushes, sponges, and other implements organized, making it easier to access them when necessary. More important to some is the caddy's ability to keep bacteria growth at bay.
2. What is construction material best for a kitchen sink caddy?
Although plastic and hard rubber are the most popular options, we would suggest going for caddies made from stainless steel as they are the most durable. However, they tend to be more expensive than plastic ones.
3. What is the purpose of a perforated bottom?
It increases air flow, which keeps your cleaning things dry. Plus, it ensures that the conditions for the growth of mold and odor are not created.
4. How many compartments should my chosen kitchen sink caddy have?
Although single-compartment caddies are popular, we think those with multiple compartments are more functional as they provide better and more feasible options for organization and accessibility.
5. What is the best kitchen sink caddy?
We don't like playing favorites, but the Oyeye Kitchen Sink Caddy Organizer definitely stands out. However, note that it cannot be mounted to or inside the sink and must be left standing.
Conclusion
Many products could reasonably fit the description of the best kitchen sink caddy; however, the Oyeye Kitchen Sink Caddy Organizer is a standout in both design and functionality at a reasonable price.
If you can afford to spend a higher amount, however, then definitely consider the ODesign Kitchen Sink Caddy. For those with a smaller budget, the simplehuman caddies are worth a try.
Good luck, and may your kitchen always stay clean!
This is Autem Decker. Main Author of 'TheHomeDigs'. You may not find her on the list of top 10 contemporary Canadian interior designers, but everyone who knows her says she was born to be an interior designer.
She makes her plan in her head and draws them in her years-old diary with a note in the corner. The way she plays with color and shape amazes us.
Connect Her On – Twitter