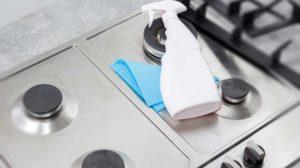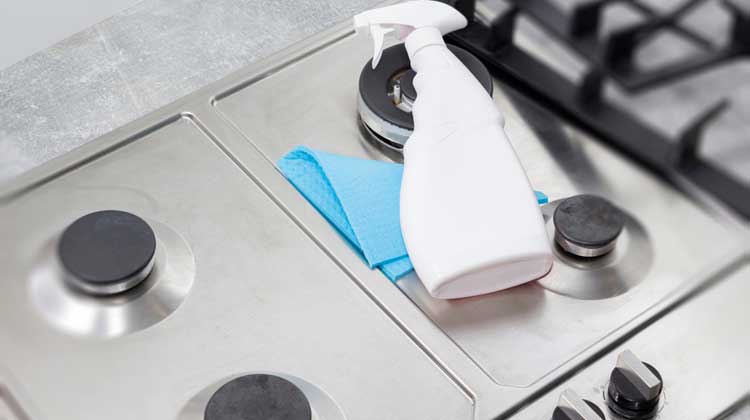 Stove tops face daily assault from splattering oils, spills and countless boil-over in the kitchen. Even if you cook rarely, your stove will still manage to get itself dirty with remnants of your cooking.
These greasy marks on the stove top do not come off easily which makes it a tedious task to clean them. But there is nothing to worry about as for it to be easier, there are cleaning agents in the market.
Here is where I can help you to find the best stove top cleaners and provide you with reviews of them.
So, let's get started!
Quick View of Top Rated Stove Top Cleaners
10 Best Stove Top Cleaners Reviews
It's not easy to find a quality stove top cleaner among so many options. But it's certainly easy to get frustrated and pick the wrong one. That's why I've come up with some terrific recommendations to help you out. Here we will tell you about the features, advantages, and drawbacks of my recommendations. Let's get started.
1. Cerama Bryte
Cooktop Cleaning Kit 

– Stove Top Cleaner Combo Pack

Key Features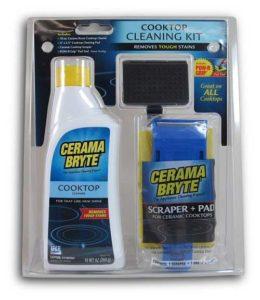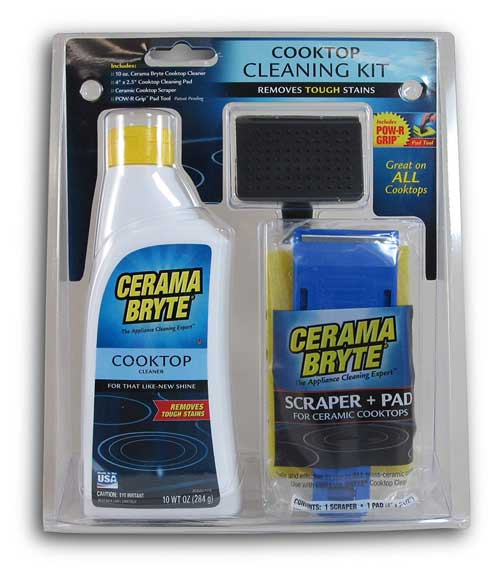 Safe for all types of cooktops.
The mild-abrasive formula makes it easier to remove any kind of hard stains
The kit includes cleaning pads and scraper to make your job simple.
The scraper can remove large and crusty nibbles
Made to make surfaces scratch-free and shiny
Cerama Bryte is one of the most popular brands who has ruled the market for decades. With a goal to develop an effective and easy way to clean the modern kitchen appliance-cook tops, they have composed a mild-abrasive formula.
This kit is a complete package which includes a small bottle of 10oz. cooktop cleaner, one cleaning pad, and one scraper.
The scrubber provided by the kit helps you clean the surface adequately and leave behind a smooth texture. The scraper given in this kit is designed to effectively remove any sort of stubborn and crusty bit which is difficult to remove by scrubbing pads.
A lot of you have heard that it is not possible to keep your stove tops fresh and clean. However, this product managed to live up to the expectations of the users. Regular use of this product aids you to keep your cooktop shiny and sparkling all the time.
If you are buying a stove top cleaner for the first time, then I would highly recommend you choose their cooktop cleaning kit as a starter pack as it contains all that is required for cleaning a stove top.
---
2. Cerama Bryte Best Value Kit- Ceramic Stove Top Cleaner
Key Features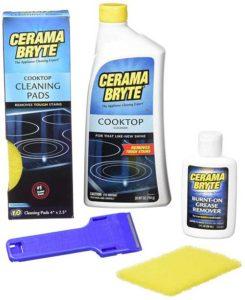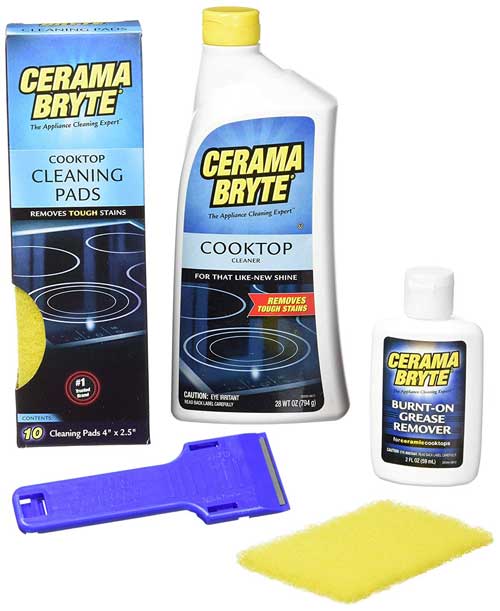 Safe for all types of halogen and radiant cooktops
It is formulated to remove hard greasy spots
Provides a brand-new look to the stove top
The non-abrasive formula is perfect for ceramic cooktops
Available at a very affordable price
Who doesn't love deep-fried food? I know I do because it is very scrumptious and of course no one can resist it. Having said that, the cooktops often have to face grave consequences like burnt down residues or oily smudges to adapt to this addiction. So, all you need is a grease remover to clean this oily mess.
However, spending money only on a grease remover is not wise and pocket-friendly. Therefore, Cerama Bryte came up with an innovative idea to bring out a complete cleaning kit which would contain all the essential items. This cleaning kit is called the Cerama Bryte best value kit.
It contains good quality cleaning agent, some cleaning pads, scraper and the best item of it all is the de-greasing agent. Some consumers mentioned that once you get used to this kit, then there is no turning back from it.
Although another group of customers was dissatisfied with the scraper that came with the kit. They complained that the scrapers might leave scratches on the stove if you are not careful with it.
Cerama bryte cooktop cleaner is one of the best stove-top cleaner brand in the market. So, in my point of view, if you are looking for a budget-friendly kit, then you can still go for this item and just be cautious with the scraper when using it.
---
3. TriNova's
Premium Cleaning Kit for Smooth Top Ranges &
Glass Ceramic Stove Tops
Key Features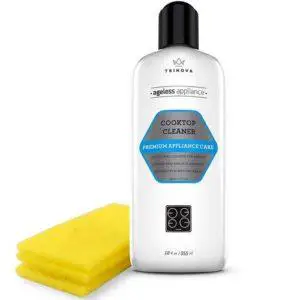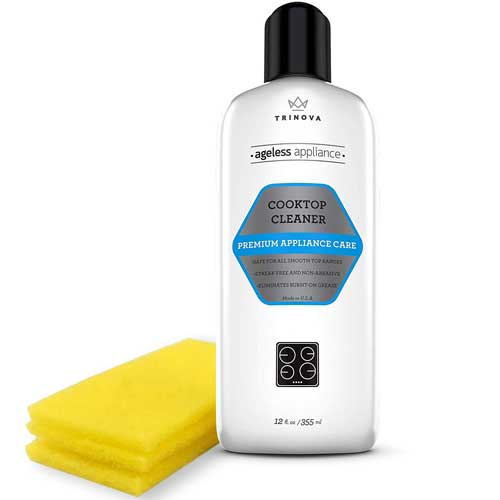 It is a non-abrasive formula that leaves no residual streaking marks
The package comes with scrubbing pads which are gentle on cooktops
The scratch-free formula makes the stove top look brand new
generally ideal for glass and ceramic stove tops
Can also be recommended for oven doors.
If you are a messy cook, then I can imagine the situation you find yourself in every day when it's time to clean up. For this reason, just to avoid this sort of messy situation sometimes we don't feel like cooking meals.
I obviously don't want your cooking talents to go to waste. So, to ease your cleaning job, I can recommend you one of the best cleaners for stove tops. Yeah, I'm talking about TriNova's cooktop cleaner.
The makers have introduced a highly effective formula against food residuals stains, and this cleaner also includes scrubbing pads which easily remove greasy bits. So basically, they have provided you with a kit for cleaning nasty messes.
The product also works well for any type of stove tops especially glass and ceramic surfaces. Nonetheless, some of the consumers have also used it for cleaning their ovens and received good results.
---
4. Weiman Heavy Duty Glass Cook Top Cleaner & Polish
Key Features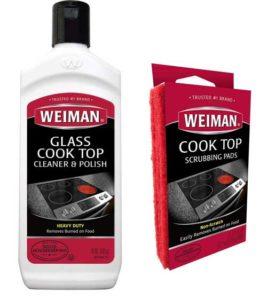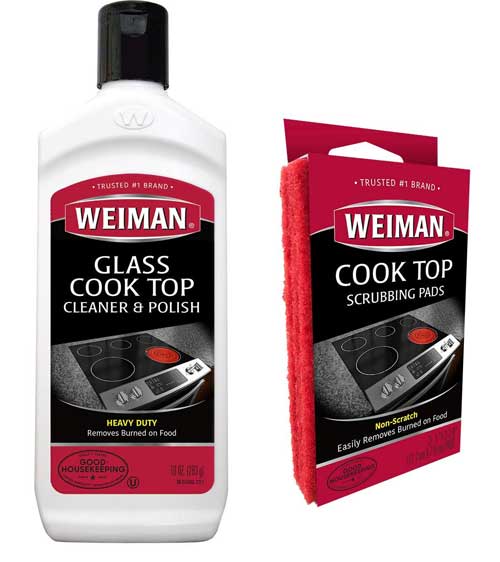 The non-abrasive formula works well against burned stains
Comes with gentle scrubbing pads and razor scrapers
The scrubbing pads help to provide polished surfaces effortlessly
The scraper can aid you to pick up hard greasy stains
The formula doesn't leave any swirly residual marks
If you are looking for the best glass top stove cleaner, then Weiman cooktop cleaner is an obvious choice. They have made quite the reputation for manufacturing a good line of cleaning agents. best glass cooktop cleaner.
To remove stubborn and greasy stains, Weiman has introduced a non-abrasive formulation which can cut through all sorts of deep-seated grimes. If you apply directly to the stains, then it immediately breaks down, and you just need to wipe it away. The formula also adds an extra polished look to the stove top.
So, you can see that this cleaner not only wipes off hard smudges but also revitalize the look of your stove top. They have also added scrubbing pads which are both gentle to the surfaces and harsh to the grimes.
The best feature of this cleaner is that they are eco-friendly. That is, the ingredients of this item are biodegradable which will definitely cause no harm to the environment. The bonus point is that your health will not be affected.
You can also call this a multi-purpose cleaner because this item can be used to clean other things in your kitchen. That being said, it works well on porcelain and even aluminum too.
---
5. Bar Keepers Friend
Multipurpose Cleaning Kit – Ideal Glass-Ceramic Stove top Cleaner
As I have mentioned before, Bar Keepers Friend cooktop cleaner is one of the first options for a spotless cleaning job. According to most reviews online, this brand is trusted by many users.
Those of you who love to keep their kitchen as neat as a new pin, I highly recommend the Bar Keepers Friend Cooktop Cleaner Kit for you. This kit not only contains a good cleaner but also comes with a non-scratch buffing dishcloth.
This buffing dishcloth is designed in such a way that it will last longer than regular sponges which usually falls apart after being used a few times. In addition, this scrubber will not emit any bad odor like those regular sponges.
However, some people complained about the scrubber in the kit that it left a few scratch marks on their stove tops but nothing against the cleaning agent. Despite of this, the best part is that you don't need elbow grease to get the job done because of its two-part formulation.
It is a plant-based solution which helps to break down rust, and the microparticles in it to remove them effortlessly. Therefore, the formula of this product is environment-friendly, and you definitely don't have to worry about the effects of harsh chemicals as there are none.
---
6. Therapy Heavy Duty Glass Cooktop Cleaner
Key Features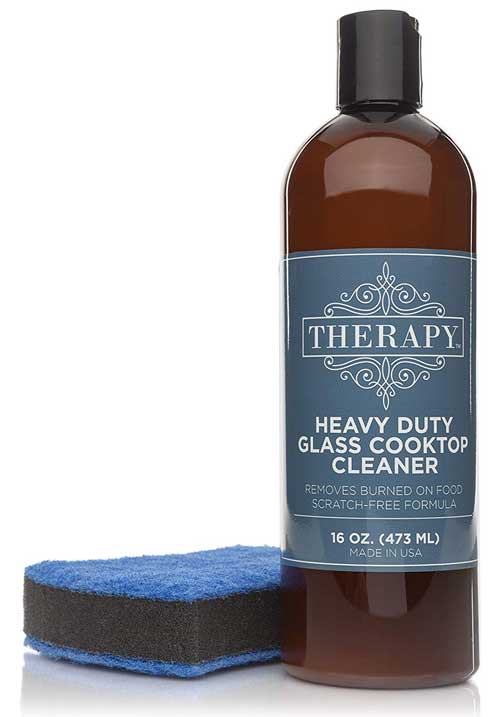 Perfect for cleaning burnt food residues and greasy smudges
Suits well with glass ceramic and induction stove tops
Made with natural ingredients
Provides non-abrasive scrubber which removes old stains
Gives off a pleasant lemon odor
How often do you clean your stove top? If you hate cleaning, then I can guess not very often. But it is important to clean the cooktop once in a while because it is said that 'cleanliness is near to godliness.'
On the other hand, cleaning chores can be relaxing when it requires no elbow grease. With this belief, Therapy created their line of cleaning products, and it is known as one of the best glass stove top cleaner.
If you are using this brand for the first time, you can try their Therapy cooktop cleaning kit which includes 16oz. of Therapy Heavy Duty Cleaner and one scrubbing pad. This scrubbing pad is a non-abrasive sponge which leaves your cooktop scratch-free.
It is very easy to use as you just have to apply the cleaner on to the smudges and wipe it away with circular motions. The formula of this cleaning agent is made largely of natural ingredients, and thus it is safe to use on glass, ceramic and even stainless-steel surfaces.
In fact, it doesn't have any petroleum solvents, and therefore you can use this without worrying about safety issues. Although it seems like a gentle formula, it is a powerful cleaning agent. It can easily get rids of boiled over spilled stains and even burnt food gunk.
---
7. Bar Keepers Friend
Heavy Duty Glass, Range and Stove top Cleaners
If you are looking for a product which will clean just about anything, then Bar Keepers Friend will live up to their name by just becoming your best friend.
This product is great with almost any type of surface especially ceramic and glass. It can also clean items made of copper, brass, stainless steel and even porcelain. Thus, you can take care of the whole kitchen with just this multipurpose cleaner.
Due to its versatile nature, it is loved by its consumers. However, the company has warned against using it on a polished stone like granite or marble. The formula of this cleaner is slightly abrasive so you should also be careful while using it on fragile items. So, it is advised to test on it first.
This slightly abrasive formula can clean any stubborn grease and hard water deposits. In this way, your cooktop will look as good as new and can clean the rest of the items in your house.
According to many consumers, it is very easy to use as you don't need to scrub hard. You only need a cloth to wipe and a small amount of this product.
---
8. Cerama Bryte Best Glass-Ceramic Cooktop Cleaner
Key Features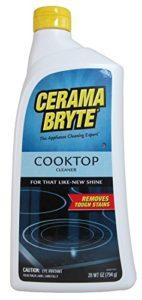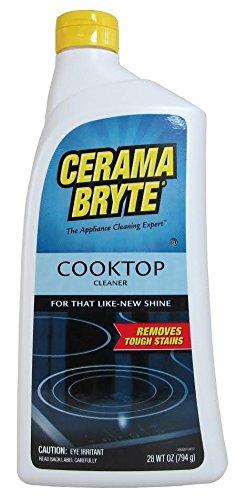 Ideal for any glass-ceramic cooktops.
Safe for almost all types of smooth tops like halogen.
Daily use can help you keep your stove top good as new
The mild abrasive formula can remove hard and dried stains easily
If you do not want the whole cleaning kit, you can only buy the cleaner brought by Cerama Bryte. It will also work well as a replacement if your bottle has finished in the previously bought cleaning kit.
There is nothing new I can say about the cleaning products of this brand. They are great with any kind of stubborn smudges caused by boiled over rice or spilled pasta sauce. As per instructions, you have to apply directly and let it sit for a while for a better outcome.
It is formulated especially for glass or ceramic cook tops, and many users have found satisfying results. Daily use of this cleaner on stove tops will provide a brand-new polished look.
Those of you who have a strong tendency to keep their kitchen immaculate as possible, this is what you are looking for. It can wipe away almost anything as the formula is mildly abrasive.
As for the price range, this cleaner gives you a proper amount at an appropriate price. Although it needs some good elbow grease, this is definitely an effective cleaning product in my opinion. If you are looking for best ceramic cook top cleaner, This one is the best option.
---
9. Cerama Bryte Cooktop Cleaner
Scraper and 5 Cleaning Pads Combo Kit
Key Features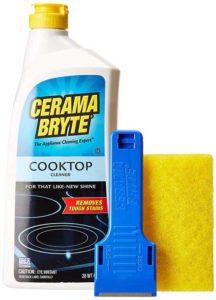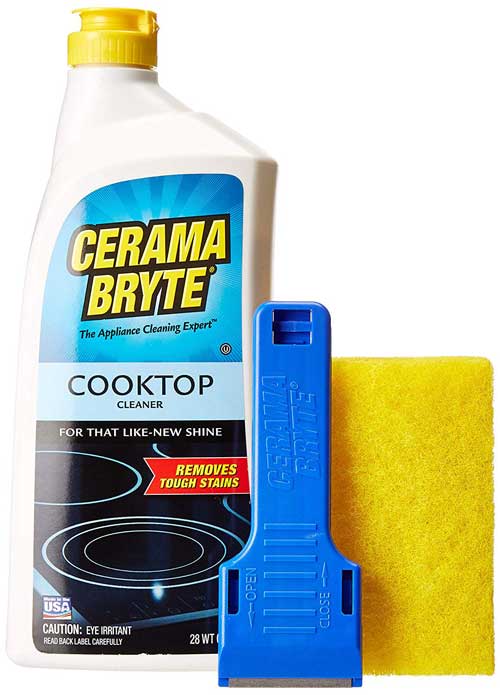 Easy to use
The kit comes with a scraper and 5 cleaning pads
The scraper works well against thick smudges and doesn't leave any scratches
Formulated to provide shiny texture and polished look
One of the most sought-after products of Cerama Bryte is the best value Cooktop Cleaner combo kit. This kit contains 28 oz. of cooktop cleaner, one scraper, and five cleaning pads.
The cleaning pads are special sponges which can easily clean any kind of messes on the stove top. The scraper can take off burnt food residues without requiring any elbow grease. Unfortunately, these scrapers are not sold separately like the cleaning pads.
If you are not a tidy person and tend to make a mess when cooking, then this kit might come in handy. However, there were of complaints of the scraper becoming rusty too soon. So, you might have to watch out for that.
Nonetheless, there is nothing new I can add about the Cerama Bryte cooktop cleaner. The formula of this cleaner has now been rated as number one cleaner formula in the market as it provides both squeaky clean and polished look.
It is recommended by the brand to use daily to give the stove top a brand-new look. Also, this thing is appropriate for any type of cooktop surfaces, especially glass ones. If you follow the instructions carefully given in the kit, then the entire cleaning process will be easy for you.
---
10. Affresh W10355051 Whirlpool – Glass Ceramic Stove top Cleaners
Key Features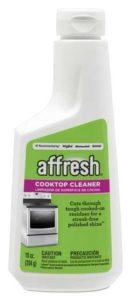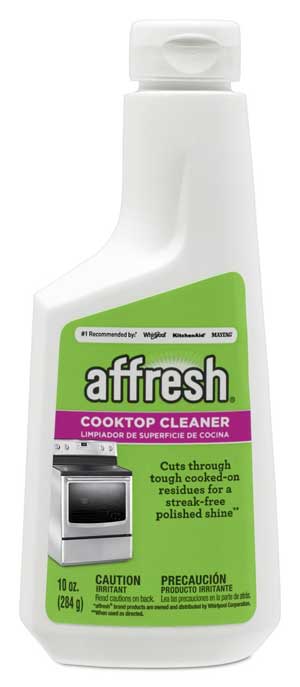 Non-abrasive formula
Safe for glass and ceramic stove tops.
Removes hard residues when used directly
Recommended by major brands like Whirlpool and Kitchen Aid
If you are searching for an environment-friendly product that can also clean perfectly, then Affresh cooktop cleaner is a good option. The makers are known to manufacture only high-quality products which make the brand very reliable.
When you buy a cooktop, usually you are suggested a cleaning kit by the sellers. And this one is one of the most recommended brands. It is recommended by popular companies like Whirlpool and KitchenAid.
The non-abrasive formula is safe for glass and ceramic stove tops. Although being non-abrasive, this formula is powerful. It is because it can remove any sorts of hard stains and even ones that are burnt up to 750 degrees Fahrenheit. So, you can guess why it is recommended by top cooktop brands.
It can not only remove stubborn deposits but also give your stove top a mirror finish. For optimum results, it is required to use at least twice a week on your stove top. According to customer reviews it's one of the best glass-ceramic cooktop cleaner in the market.
However, some reviewer mentioned that they could not remove a two-week-old baked cooking mess with this one, which is a bit of a bummer. Despite such sporadic negative reviews, in my opinion, it is one of the best cleaners for cooktop you can find at any store.
What to Look Before Buying Stove Top Cleaners
It is difficult to choose which one to buy with all the great options available in the market. Each product claims to be the best in their respective places. So, choosing randomly might cause you trouble and also an unnecessary loss of money.
That's why I am here to help you to make an informed decision by discussing the following factors you should consider before investing.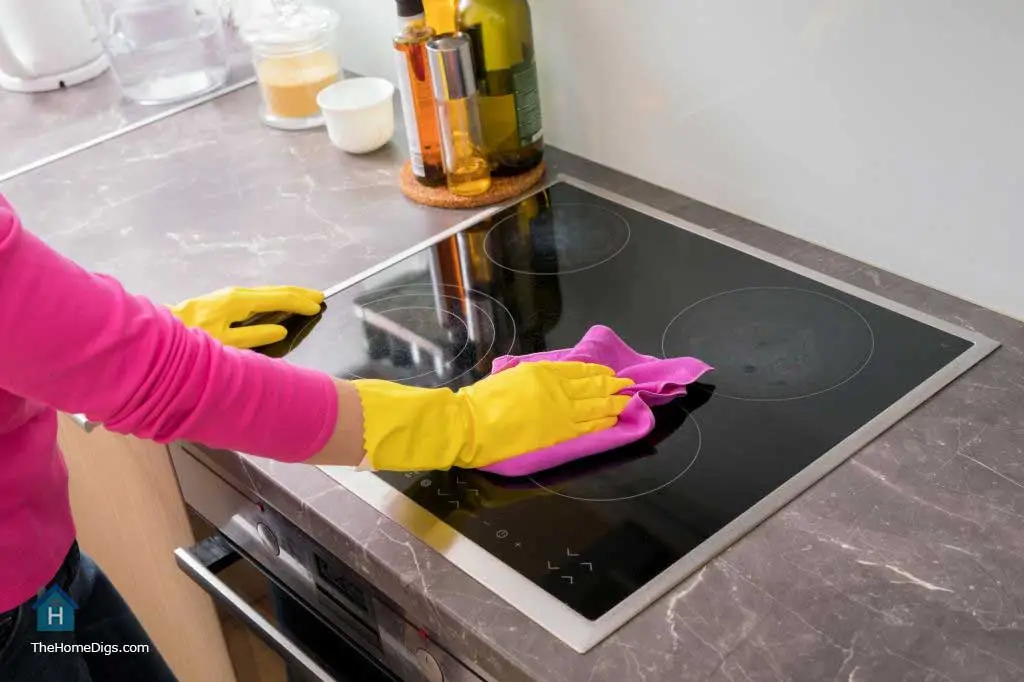 Type of stove top
Stove tops can be made of different materials like stainless steel, ceramic or even glass. For each type of stove top, there are different cleaning agents. So, to get a fresh look, you have to make sure that you choose the right product intended for your stove top.
Checking the pH levels
Cooktops become dirty commonly because of oil spills which later hardens and leave nasty stains on it. These stains can be removed with the help of a stove top cleaner.
An ideal stove top cleaner should be formulated with neutral pH levels. It is imperative because it allows the surfactant system in the cleaner to interact with the oils and dirt easily. Therefore, it helps to wash away those hard stains properly and also leave no residual cleaning marks in the process.
It is especially effective on cooktops made of stainless steel. If you own this kind of stove tops, then you should definitely buy a neutral pH formulated cleaner without any doubts. So before buying, you should check the info for pH levels.
Easy to use
While looking for a quality stove top cleaner, you might come across different products with versatile features. Each item is different from the other. However, these outstanding features will go in vain if they are not easy to use.
You can see how important it is knowing how to use them. So, it would be wise to choose a product which allows you to clean your stove without any hassle.
Safety
One of the important factors, you should pay attention to is the safety issues of a stove top cleaner. The chemicals in the cleaner might be helpful to remove old greasy stains, but on the other hand, it may pose a threat to your health.
Generally, it has been seen that the harsh chemicals can cause skin problems which will obviously be unbearable.
You don't need to keep your stove top polished at the expense of your health. So before buying, you should check if the product is safe to use or not.
Budget-friendly
It is very common among people to be close-fisted when it comes to buying cleaning products. However, cleaning products which are cheap will not always work well. So, you have to find out which products will do the best job at cleaning within your budget.
There are wide ranges of cleaning products of a different price range. You can choose according to your preferences to keep your stove top effortlessly clean and also keeping it pocket-friendly.
Pads and Razor scraps
Those of you who do not have time to clean often face the problem of old tough stains on the cooktops. As a result, cleaning the stove top becomes a tricky business.
You will need something hard and pointy to nudge those dried greasy bits. However, there is nothing to worry about as there are cleaning kits available for you to escape from this problem.
The cleaning kit must feature pads and razor scrapers which will help you to remove debris, hard stains or any kind of oily smudges. On the other hand, you can also buy a stove top cleaner which includes a cleaning kit. This will cost you less money as well.
Long-Lasting
No one will buy cleaning products which require large amounts to clean a stove top. Almost everyone including you has the expectation of washing the stove top with a small amount so that the product can last for months.
Therefore, it is a good idea to buy renowned brands as they do not compromise the quality and consider the consumer's needs to keep their goodwill.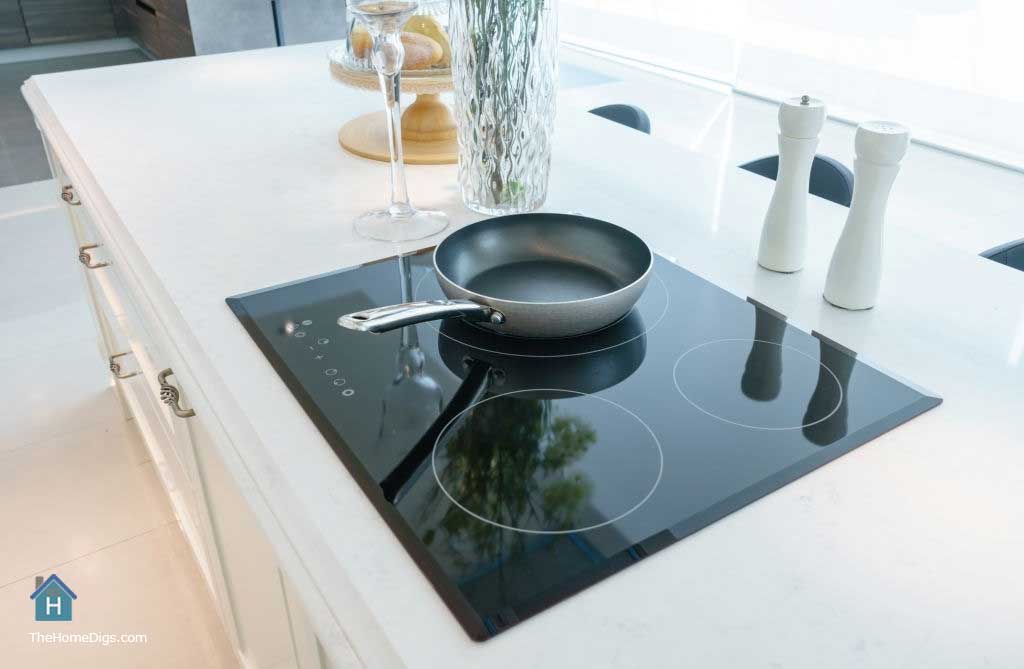 Frequently Asked Questions About Stove Top Cleaners
1. Can these cleaning products be used inside the stove as well?
No. I would not recommend this, and there are chances that it will do more damage than good.
2. Does it remove scratches?
Yes, it helps to cover only recent and light scratches, but deep scratches can't be removed.
3. Does it leave any residual marks?
No, if you wipe it afterward with a damp towel.
4. Can you clean an oven with this?
It is advised not to, and good cleaning products for the oven are available in the market.

Final Thoughts
By now you have learned about the best stove top cleaners available, and now you can come to a decision on what to buy.
I hope that my article will come in handy to make the right choice. Good luck!
This is Autem Decker. Main Author of 'TheHomeDigs'. You may not find her on the list of top 10 contemporary Canadian interior designers, but everyone who knows her says she was born to be an interior designer.
She makes her plan in her head and draws them in her years-old diary with a note in the corner. The way she plays with color and shape amazes us.
Connect Her On – Twitter