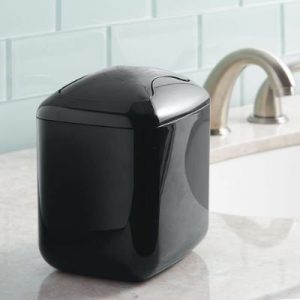 Are you having a difficult time trying to find a good countertop trash can for your kitchen or vanity? It can be a bit of a struggle, especially if you do not know where to look. No need to worry, though, because we have got your back!
We have spent hours researching different products and their user feedbacks to come with a list of the best countertop trash cans that can be just what you are looking for.
There are many different factors we considered, such as size, quality, durability, and cost of the product as well. In this article, we have also shared some tips on how you can keep the area of your trash can smelling fresh.
Top 10 Best Countertop Trash Can Reviews
There are a couple of things that make a kitchen countertop trash can great. The products mentioned on this list are all that and more!
1. SimpleHuman Stainless Steel Smallest Countertop Trash Can, 1.5 Liters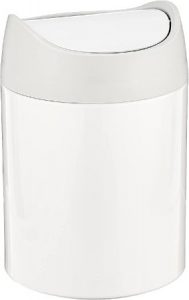 SimpleHuman is known for making your life easier with their home products. This mini trash can for countertop is no different and does just that.
The product has a high-quality stainless steel construction which means it should last you quite a long time. It comes with a balanced swing lid at the center that swings open and close easily.
This thing has a plastic inner lining that is smooth and very easy to clean. It also has a finger-proof finish which does a great job resisting smudges to keep the bin looking fresh. One complaint people seemed to have with this is the size being smaller than expected, not enough capacity to contain much waste.
Downside:
Verdict
This is a great quality smallest countertop trash can on this list. It has a very sleek and stylish design which will go with any house décor as well.
---
2. mDesign Plastic Mini Trash Can with Swing Lid for Countertop or Vanity Top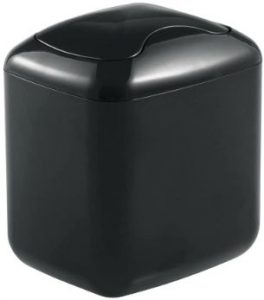 This mini trash can for counter top is the perfect waste bin for your vanity. It has a lot to offer at quite a reasonable price.
First of all, this small countertop trash can has a super durable construction with its shatter-resistant plastic body. That also makes it very easy to clean, all you need is mild soap and water to just wipe it clean. This thing has a 2.8-quart capacity and measures 6 inches by 6 inches in size and 7 inches high.
It is very easy to empty the bin using the removable lid. The only drawback here is that there have been some complaints about the swing top not leveling or the lid just falling over easily.
Downside:
Swing top does not level perfectly
Verdict
Overall, this is very convenient to use countertop garbage container that will fit right into any small living space around your house. It is quite durable, so you will not have to worry about it breaking easily.
---
3. LoveInUSA Mini Table Trash Can Stainless Steel Countertop Garbage Bin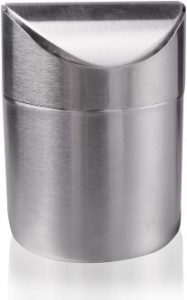 The LoveInUSA mini table trash can is a very small yet convenient bin to have around the house or in your car. With its satin finish silver-colored body, it has a very nice look to it.
This thing has a 100 percent matte stainless steel construction which makes it incredibly durable. Not just that, the product is also fingerprint-proof and stain-proof, and super easy to clean as well. It has a 4.7" diameter and stands 6.5" in height with a 0.40-gallon capacity for trash.
This countertop trash bin can easily hold small trash such as packets, crumbs, scraps, and peelings without any issue. However, do keep in mind that the edges here are very sharp, so you have to be careful so that you do not cut yourself accidentally. Make sure to also keep it out of reach from children.
Downside:
Verdict
This is the perfect mini waste bin to have on your countertop beside your coffee maker to toss the packets so that you can avoid littering. Even with its stainless steel build, it offers quite an affordable price which makes it a great option for everyone.
---
4. XCX Mini Countertop Trash Can with Trash Bags for Tabletop or Vanity Top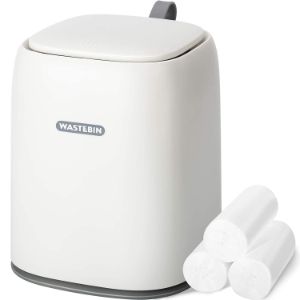 The XCX mini countertop trash can is a compact bin that is packed with features and has a lot to offer. It has a great quality build and is made up of sturdy PP material, which means it is smudge-proof and will not break easily in case you drop it.
This countertop waste bin with lid has a two-layer design, so you will not see the excess trash bag when the lid is closed. It comes with a silicone handle which makes it easy to carry around. This thing has a 0.40-gallon waste capacity and measures 5.4″ by 5.4″ and 6.6 inches high.
Unlike most of the other wastebasket that we have seen, this one comes with 3 rolls of a trash bag for your convenience, which, for the reasonable price that it offers, makes this a great deal. There have been some complaints about the lid and its mechanism that it may not always lock in place.
Downside:
May face some issue with the lid
Verdict
You can keep this waste bin on the bathroom vanity or on your nightstand so that you can throw away small trash such as tissues without needing to get up. It also has a simple yet elegant design, so it would look good with any room décor as well.
---
5. KaryHome Hanging Small Trash Can with Lid for Under Sink or Counter Top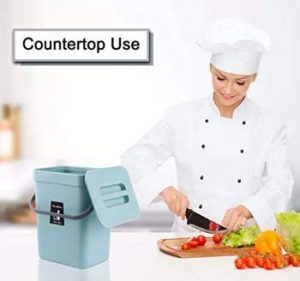 The KaryHome hanging small trash can is a great bin to have on your kitchen countertop for easy access so that you can throw away the scraps as you cook. This thing can be placed on a countertop, under the sink, or even mounted on the wall.
Thankfully, the manufacturers of this product designed it to be odor and fruit-fly-free. With one look, you will be able to tell it has an excellent build quality using non-toxic plastic that ensures its longevity.
It also works great as a bathroom countertop trash can and has a solid yet sleek design which means it will complement any décor. The only issue you may face with this is that it does not have an automatic or pop-up lid, which means you will have to pull it up using your hands.
Downside:
Does not have a hand-free approach
Verdict
If you are looking for a waste bin with a bigger trash capacity, this 1.3-gallon capacity basket can be a great option for you.
You may Read: Best Under Counter Trash Cans Reviews
---
6. Stainless Steel Kitchen Countertop Compost Bin with Bags and Charcoal Filters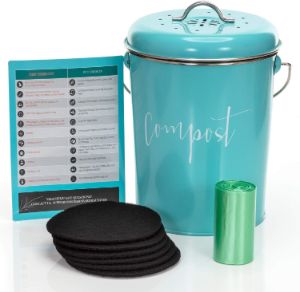 This kitchen countertop compost bin is quite a popular pick among many homeowners for its durability and functionality. It is ideal for waste such as food scraps. The bin also comes with a manual to help you with the list of dos and don'ts.
This thing is made of rust-resistant stainless steel, which makes it highly durable and promises a long time of service. The metal body also ensures that it will not leech toxic chemicals into the waste. It has a 10.8-inch diameter with a 7.5-inch height, and it has a 1.3-gallon capacity.
With its retro design and turquoise color, you can place it on your kitchen countertop to add to the appearance of the room. However, do keep in mind that the lid may not fasten, which has been an issue for some of the users.
Downside:
Verdict
This is one of the best countertop compost bins with a nice design to have on your countertop. It does a good job at keeping out the smell which makes it a great option for your kitchen.
---
7. SCD Probiotics All Seasons Compost Bin For Kitchen Countertop With Lid, 5 Gallon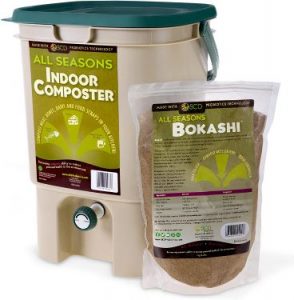 The All Seasons Indoor Composter is the biggest waste bin on this list. So, if you are looking for something with a bigger capacity, this one is for you. This rectangular basket measures 12 x 12 x 18 inches and has a waste capacity of 5 gallons.
The product is said to help you reduce your carbon footprint by recycling your would-be food waste into compost. You will not have to worry about smell or flies with this one since it uses beneficial microbes to ferment the waste food.
This thing does not need to be assembled, so you can start using it straight away after getting it.
Additionally, it features a built-in spigot that allows quick and easy access to nutrient-rich compost tea for your house plants. However, you do need to make sure to drain it frequently so that the scraps are not all over the bokashi tea at the bottom.
Downside:
Needs to be drained frequently
Verdict
Overall, this is a great environmentally friendly product that is perfect for a small family.
---
8. Estilo Brushed Stainless Steel Mini Countertop Trash Can, Swing Top, 1.5 L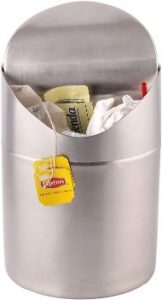 The Estilo mini countertop trash bin can be the perfect addition to your tabletop or kitchen if you have a small space to spare. It has a sleek silver design and a cylindrical shape that would complement most countertops.
This thing has a matte stainless steel build that not only makes it highly durable but also stain proof and smudge resistant. The product has a 4.7-inch diameter and a 6.5-inch height with an overall capacity of 0.40 gallons.
The mini trash can has a swing lid mechanism. However, there have been reports on the lid being a bit flimsy. It is quite sharp and has a tendency to get stuck.
Downside:
Lid may be somewhat flimsy
Verdict
If you are looking for a waste bin that is small and durable but also quite affordable, this can be a good option for you to consider.
---
9. Stainless Steel Built-in Countertop Kitchen Trash Bin Waste Chute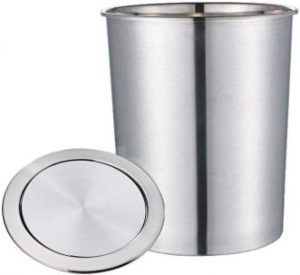 If you are on the search for a durable waste container, what can be better than this countertop bin? This thing has it all, from having a solid construction and great design to being perfectly functional.
The product has a solid 304 stainless steel construction which makes it incredibly durable. This bin is also corrosion and rust-free, so you can be sure that it will last you quite a long time. It features a built-in trash chute that you can easily install on a countertop with the garbage container below.
You will have an easy time cleaning this thing up as well with its smooth finish. This thing is quite lightweight and has a 21 cm diameter with a good trash capacity. One thing to keep an eye out for here is the lid of the product. The flip lid may get stuck occasionally.
Downside:
Verdict
This one is a great waste bin to have in your kitchen so that you can get rid of food scraps without having to move around much.
---
10. KegWorks Built-in Countertop Trash and Waste Chute for Kitchen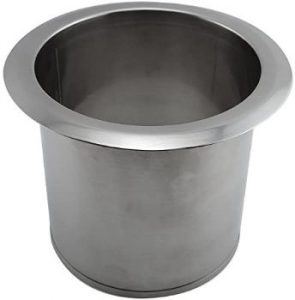 The last product on this list is another trash chute that is just as capable as the others. The KegWorks built-in countertop trash chute is sleek and simple, plus very easy to clean with its removable design.
With stainless steel construction, this waste chute is quite tough and long-lasting. This thing is super easy to install, even for a beginner, so you should not have much trouble getting it to work. It has a 7 ¾ inch outer diameter and an inner diameter of 6 inches, with a 6-inch height.
The downside to this product is that the edges here can be quite sharp. So, you will need to be very careful when handling the trash and also make sure to keep it out of reach from children.
Downside:
Verdict
This is a good option for anyone wanting to keep their kitchen neat and clean but does not have much space to spare. Keep it on the countertop or close to the sink to effectively speed up prep time.
Next Read: Best Kitchen Sink Caddies | Top 5 Picks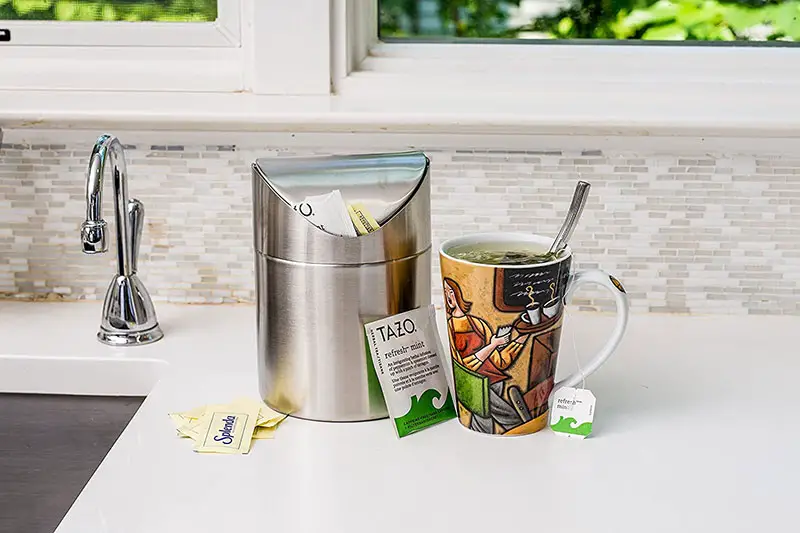 How to Keep Trash Can Area Under Countertop Smelling Fresh?
No one likes the funky smell that radiates from a trash can, no matter where you keep it. No need to worry, though, because there are a few tips and tricks that you can use to keep the trash can area smelling fresh.
Add Baking Soda
You can mix a half cup of baking soda, one-third cup of Epsom salt with ¼ cup of water. Add a few drops of lemon essential oil as well and pour it into an ice tray. When it freezes, drop the cubes into the trash can.
Take Out the Trash
Taking out the trash regularly and cleaning the bin can also help keep the smell away. Do that every time you get a hint of a smell, and you should be good to go.
Frequently Asked Questions
Where should the trash can go in the kitchen?
You can place the trash can somewhere that is far enough from the fresh food but also close enough so that it is convenient to throw away the scraps. Small or mini trash cans placed on countertops can be a great option in this case.
Should I get a trash can with a lid?
A trash can with a lid is always a good option as it can hide the garbage while also keeping the smell away.
Does lemon peel help with smelly trash?
Yes, lemon peels can disguise some or even all of the smell from the trash if you place it between the can and the liner.
How big of a trash can do I need?
It depends on the number of people you have in your household and what you need the bin for. If it is a small house, a 10-gallon capacity waste bin should do the job just fine.
How often should you clean the trash can?
Generally, you should clean your trash can at least a couple of times a year. However, you can clean it even more frequently, especially if there is a spill or if you notice a smell.
Final Words
That is all we had on the best countertop trash can. Which one did you like the most? Before you make a purchase, make sure to check out its functionality and features to see if it would be the right fit for your countertop.