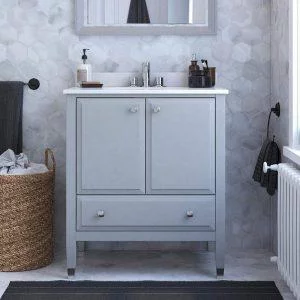 Bathroom vanities have been a staple for our homes even before plumbing started. They basically are built in basins used to wash our hands and face.
In modern times, it transformed into furniture that not only is efficient but also provides an aesthetically pleasing vibe to your bathroom.
If you are someone who's moving into a new house, renovating, or just wants a bit of change in your bathroom, this article is for you. Moreover, you might be concerned about the limited space you have. Well, we got you!
We will list down 7 best small bathroom vanity, so be sure to read on!
Best Quality Small Bathroom Vanities at A Glance
Benefits of Using Bathroom Vanity
Vanities are not just a piece of furniture sitting in your bathroom. We all have some necessities to store and stash away. For small spaced bathrooms, vanities are lifesavers because they provide advantages such as below.
Organizing Stuff
Of course, the main reason we use bathroom vanities is for organizational purposes. You can choose between cabinets or drawers or even both. And you don't need to fret seeing the unorganized pile of things in your comfort room.
Keeping a vanity makes reaching things very easy because you'll have a system in which you will store your necessities.
Keeping Things Out of Sight
In line with organization, using bathroom vanities keeps unlikely sights away. Sometimes, toilet paper rolls and sanitary napkins are not a great attraction. Having vanities allows you to show your beautiful bottles of fragrances and towels that are neatly piled while hiding unattractive things at the same time.
Aesthetics
Choosing the top-quality bathroom vanities gives your bathroom a neat, fresh, and aesthetically pleasing vibe. Since bathrooms are one of the most private rooms in a house, it's supposed to keep you comfortable and relaxed.
Saves Space
Small bathroom vanities are specially made for small bathrooms. Having a piece of big storage furniture might not help save space and do the opposite instead. Vanities range from different sizes and styles to cater to the need of your limited space.
Top 7 Best Small Bathroom Vanities Reviews
There seem to be unlimited options in terms of bathroom vanities, and you might be intimidated to choose one for your small bathroom. Well, these 7 options are the best among them.
1. RunFine RFVA0069W Vanity – Best Tiny Vanity for Small Bathrooms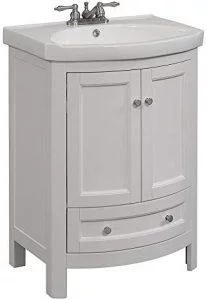 Considered as one of the best vanities for small bathrooms, this piece of item is such a beautiful addition to your comfort rooms. Why? Because the look is just classic, and you could never go wrong with it.
Its sink and body are made with vitreous china, which is a ceramic material. Surely this long-lasting bright finish is worth the investment. Even the sink has the same color as China White, which gives it an astonishing monochromatic look.
Space is a common problem, especially in this modern era. This vanity does not sacrifice elegance and usefulness, although its size is considered small.
Key Features
The body is made with vitreous china, a ceramic material that gives a long-lasting bright finish
Drawers and cabinets are super smooth to open and soundless
Will be shipped fully assembled for you
Dimension of 9" x 24.6" x 34" is perfect for small space areas
The dimension of the RFVA0069W vanity is 9″ x 24.6″ x 34″, which is just perfect for bathrooms with limited space. Specifically, it is designed to fit 34″ high, 24.6″ wide, and 19″ deep. The basin depth is 6.5 inches, which is just flawless.
What you'd love more about this is that the drawers and two doors come with chrome knobs, which adds to its elegant look. The glide of the drawer is super smooth, and the cabinet doors are ultimately soundless. This makes it perfect for people out there who love a quiet space.
You don't even have to worry about the assembly because it will arrive already set up. For the hardware, just make sure you are changing them the right way. Just do the plumbing right, and you're good to go! No more questions as to why it's known as one of the best vanities for small bathrooms.
Downside: The package includes screws that can easily break into the wood. Thus, you must proceed with caution while putting this unit together.
Verdict
This bathroom vanity looks incredible, providing a new and smooth look to the decoration. Even if it seems like small and without much room, the bottom drawer can store up to six mega roll toilet paper. So, you'll have a lot of space for a bunch of items too.
---
2. Utility Laundry Tub Vanity with Faucet – Best Small Bathroom Vanity Sink Combo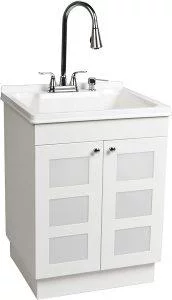 You may be the person who wants to do all things in one place. Maybe you have a small pad or condo and don't have a laundry area. Well, hold on to your seats because the LDR 7712CP-SD Vanity is here for you.
As mentioned, this product is a small bathroom vanity sink combo since it offers the use of both vanity and a laundry sink. How? Well, it offers you a 13.5-inch extra deep sink so you can soak as many clothes as you want!
Not only that, it has an attached soap dispenser and a built-in scrubbing board. The glossy white finish and frosted glass design in the cabinet still tell you it's a beautiful bathroom vanity.
It's as good as it can get since this pre-assembled unit comes with all the things you need to complete the installation.
Key Features
Its dimension of 22"L X 24.25"W X 32.75"H makes it a perfect tiny bathroom vanity sink combo
Provides ample room for laundry
Comes with a built-in scrubbing board and soap dispenser
Includes extra high arc faucet
Moreover, the factory pre-assembles the unit's base, so you don't have to worry about installing that part yourself. It comes with slow close doors which prolongs its life. A bit more about its design, the hardware of the cabinet is chrome, including the faucet.
If we'll talk about its features, well, it's just immaculate. As specified above, its extra deep sink allows you to do your laundry comfortably and fits your washing needs. You can find help in removing stubborn stains with the use of the built-in scrubbing board, and the soap dispenser is just efficient.
Also, you don't have to worry about drain blockages because it comes with a full size 4.25″ drain, which gives the optimum drain flow. The faucet, on the other hand, is full metal. Its base, handles, and arch are specifically created for long-lasting quality.
Furthermore, it is excellent for filling pails, washing, cleaning around, and soaking because of its extra high arc. Another thing is that you can switch between steady stream and powerful spray.
Downside: The quality of the faucet is not the best. For instance, the handles feel wobbly and the plastic used to create the neck doesn't fit snuggly into the base.
Verdict
Arriving in a solid package, every part of the bathroom vanity and hardware needed for the assembly comes in perfect shape. Putting them together is a breeze, and the result is aesthetically pleasing. Use it for laundry, shop sink, and more.
---
3. Simpli Home 3AXCVPAG-20 inch Contemporary Single Sink Bathroom Vanity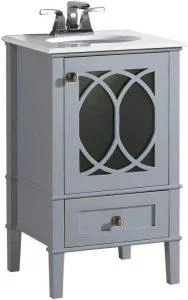 A lot of people want to keep it simple, minimal, and straight to the point. Well, if you're one of them, the SimpliHome Contemporary Bath Vanity may be the small single sink bathroom you're looking for.
Taking your bathroom's set up to the next level does not need to be costly. If you try hard enough, you'll always find an affordable unit for your liking. Although, you must make sure you invest in the best options out there. The last thing you want to do is to keep repurchasing and end up wasting your money.
In terms of bathroom vanities, this product is the perfect one to purchase if price and aesthetics are your concern. It looks great and fits every large or even small bathroom out there, especially because it's a single sink one. See, you don't need to compromise usefulness and look if you have a small budget.
Key Features
Gives ample amount of storage space
Comes with three pre-drilled faucet holes for standard 4″ center faucet
Classic design of white quartz marble top, white vitreous china sink, and grey body
The design is very straight forward; as mentioned, it comes with a single sink. Moreover, its body comes with a beautiful grey color, and its knobs are square brushed nickels. For sure, it will suit your bathroom, whatever the wall color is!
Also, the top is amazingly made with quartz marble with a white vitreous china sink that's under-mounted. These top-quality materials give it a classic elegant look. It comes with a single drawer and a single cabinet with hardwood frames and legs, yes, the build is great and durable despite its simplicity.
This vanity might be very simple, but surely its durability and design will last you decades. No matter how fast the trend in home decoration changes, you would never go wrong with this one.
Downside: In many cases, the vanity arrived with chipped paint in different areas. Check thoroughly after arrival.
Verdict
Simplicity is often the best approach for decoration purposes. In this case, it's not any different. Designed with a small and yet functional shape, this unit fits in every bathroom and brings a modern and contemporary look to the room.
---
Next Read: Best Bathroom Vanity Lights
4. Walcut 36″ Vanity – Best Glass Top Bathroom Vanity with Sink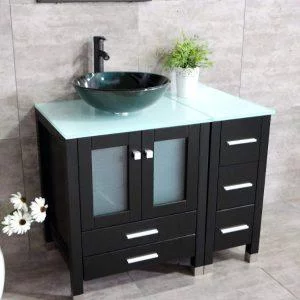 If you're looking for a complete set of bathroom vanity and top combo, the Walcut 36″ Vanity might be the one for you. Its sleek design is a perfect piece for your bathroom.
This bathroom vanity comes with a modern, sleek yet elegant look. Its black finish is so stylish and will give that neat and fresh atmosphere to your bathroom. You do not have to look for other parts that suit the style of the vanity itself because it comes with all the requirements, even the mirror!
The piece is built with medium density fiberboard (MDF), a type of wood specially used with storage cabinets, so you know the quality is superb. Its durable and stable construction is surely worth the investment.
Although it's considered a small vanity, its storage capacity is still large compared to others. It comes with two wooden cabinets – a smaller and a bigger one which allows you to store different sizes of necessities. And it is equipped with a tempered glass top, which appears to be stylish and is easy to clean up.
Key Features
Comes with a sleek modern design
Complete set and even comes with the mirror
Built with MDF type of wood
What will impress you more is that the set already comes with all required attachments, including the glass vessel sink, the sleek mirror, chrome faucet, pop-up drain, and the mountain ring as well.
Although it seems like a lot, it is no doubt that it is elementary to assemble if you just follow the manual that comes with the package. If you come to trouble, the manufacturers are very willing to help with the issue.
Not only for personal bathroom use, but the vanity is also suitable for salons and luxurious suites and hotels. This is because its design is very modern, and it ensures the utmost efficiency. Also, its 36-inch width is such a head-turner.
Downside: One issue with this vanity is that it does seem a bit too small for comfort.
Verdict
Everything about this vanity is gorgeous. The sink looks great, and the faucets add another touch to the decoration. While this is not high-end, the vanity isn't low-end either. Overall, it's a remarkable set that those with tight budgets will love.
---
5. Eclife Bathroom Vanity With Sink Combo 16" – Top Rated Bathroom Vanity for Tiny Bathroom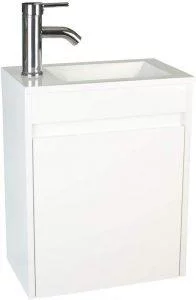 One of the major concerns we should have while purchasing anything is the product's economic attributes. If you are eager to find that bathroom vanity with the utmost efficiency, keep on reading.
This Eclife 16" vanity is the perfect choice for the people out there who want to save bucks but experience comfort and superior performance at the same time. Let me tell you why this is one of the top-rated bathroom vanities.
Its modern, simple, yet stylish design is perfect for large or small spaces. Moreover, this 16-inch white wall-mounted paint bathroom vanity comes with a resin sink, which is sturdy and durable.
And it comes with an MDF paint smooth surface, built with stone powder, and attached resin sink, making it very easy to clean up.
Key Features
Dimension: 16″L x 9.8″W x 20.3″H, perfect for small spaces
Features 1.5 GPM faucet aerator, which conserves 30% of water
Built with MDF type eco-friendly material, which is durable as well
What makes it economical is that you'll save more on your water bill than any other vanities. Why? Because it features a 1.5 GPM faucet aerator, which definitely saves 30% of water. It is easy to use because of its 3/8-inch water supply hose. And it offers a chrome faucet, which adds to its fresh, neat look.
Not only are you saving money, but you can also help in saving the environment! As mentioned, it is made with MDF, which is an eco-friendly material. Using this material adds to the product's longevity and durability.
It is quite thickly built, 15mm,to be exact, so you can rest assured that it has that sturdy and strong foundation to it.
Another plus for this vanity is that it is easy to install, and it does not intimidate you because of its simplicity. It comes with an adjustable P-bend type drain, which is convenient to install as well.
Downside: This is a vanity for super small bathrooms.
Verdict
If you're looking for small vanity, it doesn't get any better than this. The Eclife vanity is super compact and small to fit almost anywhere. While that wouldn't be good for large bathrooms, medium and small-sized bathrooms can benefit immensely from this product.
---
6. BATHJOY Wood Cabinet 24 Inch Bathroom Vanity  – Best Quality Small Bathroom Vanity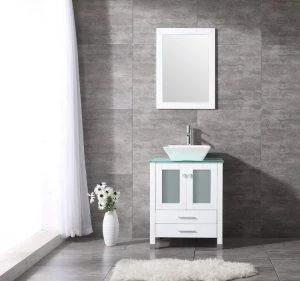 A tiny bathroom vanity does not pertain to a boring vanity. Sometimes, the small bathroom vanities are the best ones to suit your comfort rooms. A vanity as simple as this one can take your most private area to the next level.
At the same time, a glass top bathroom vanity really adds class and is a perfect 'art piece' to your bathroom. Most glass top vanities are very easy to maintain, and you might want to check out this Bathjoy 24" vanity if you're looking for one!
Manufactured by Bathjoy, this tiny square vanity is a head-turner. The style is just so classy and simple at the same time. And the cream-white color should suit any bathroom wall out there. Although it sticks with the simplest of details, the outcome of this peace tells you that it's modern and fresh.
Key Features
Dimension: 24.4"L X 21.7"W X 29.5"H
Comes with adjustable hinges and soft closing cabinets and doors
The wooden material used is easy to maintain and clean
Sink is made with ceramic to assure durability
Top is made with tempered glass – a very stylish option
Includes square or round bowl
This set includes a cabinet, mirror, faucet, ceramic sink, and a pop-up drain. Surely it's all the things you need in one product. The highlight of this product is the tempered glass countertop that is 1.5cm thick.
It even comes with some installation hardware. Fear not, although it still needs a bit of installation, it is convenient to do because of the instruction it comes with.
You will surely have a lot to fit inside the product's storage, so do not belittle it yet because it manages to boast a large capacity. The sink will not disappoint you with its 16.5-inch depth!
More on its design, the pair of soft closing doors and drawers at the front are effortless to use. The wood, paired with its smooth design makes it easy to clean and maintain.
Downside: Putting this vanity together and installing it takes a bit of time. Luckily, the guidelines are very helpful in this area.
Verdict
Installing this vanity takes time, but the result is more than worth it. The wooden design looks terrific in any bathroom, and the rest of the materials used for its build secure a long-lasting bathroom vanity. Plus, keeping everything clean and neaty is both easy and quick.
---
7. Eclife 24″ Vanity – High Quality Small Bathroom Vanity and Sink Combo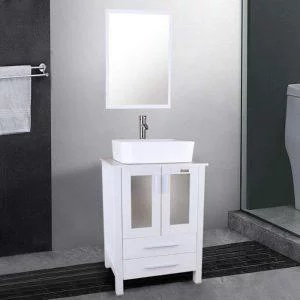 Small bathroom vanity sink combos are the trend today. The reason behind it is that they have more functions but still are space friendly.
The Eclife 24" vanity combo offers more space compared to other tiny bathroom vanities. With its dimension of 32''H x 20''W x 24''L, it satisfies the users in terms of size but still is friendly to users with limited space.
This is an obvious pick if you want to renovate, or you are starting to build your own home. Not only is it beautiful, but it is also eco-friendly and saves you some bucks. Let's talk about that in a while.
The design is very neat, the cabinet is white, and for sure, it is suitable for any theme or design of the bathroom. You also have a few options for the sink, which is great! It comes with a wooden countertop coated with a glossy finish. Yes, it is easy to clean and wipe up!
Key Features
Ecofriendly with its MDF type material
Saves 30% of water with its 5GPM faucet aerator
The faucetheight of 12" is very user friendly
Also, the two drawers and cabinets provide a lot of space to store things. On the other hand, the faucet is made with solid brass chrome, making it look like it is a luxury. As usual, the sink comes with a solid umbrella pop-up drain and a chrome mounting ring.
To elaborate on its specifications, the vanity is built using MDF material wood – the perfect type of wood used for vanities. Moreover, its rectangle shape is suitable for small spaces since it can fit in the corners.
You would not go wrong with the sink dimension, with the upper size of 18.9″(L)X14.6″(W) and bottom side of 18.1″(L) X 13.8″(W). The faucet height of 12-inches is very user-friendly.
Going back to its efficiency, it saves 30% of water use because of its 1.5GPM faucet aerator. More so, the MDF material used with the body is truly eco-friendly yet is still durable.
Downside: Assembling all of the pieces takes a considerable amount of time.
Verdict
This bathroom vanity looks classy and boasts quality. After taking the time needed to install it, the vanity provides a modern feel to the bathroom. If you feel like something is missing in your bathroom, maybe give this vanity a try!

Buying Guide: How to Choose the Best Vanity for Small Bathrooms
Before buying that bathroom vanity, it's best to stick with these guidelines!
Different Types of Bathroom Vanities
Like any other furniture, there are different types and variations of bathroom vanities. These are the basic types you can get your hands on.
Pedestal Sink Vanity
This type of vanity is free standing. It is very friendly with small spaces. There are a lot of designs of this type of sink that can suit any bathroom out there, and you can easily find one that fits your theme and, of course, your area.
Free Standing Vanities
These are a combination of pedestal sink and vanity. It provides generous storage capacity for all your items compared to pedestal sinks. Also, it does not sacrifice the neat and classy look other types of vanities provide and sports more utility. These are commonly used today without a doubt as to why.
Wall Mounted Sink Vanity
A wall-mounted one looks beautiful and saves space as well. On the other hand, it may not be as durable as other sinks because it's vulnerable to impacts.
Vessel Sink and Vanity
Theseare very elegant and unique substitutes for traditional vanity sink but are more expensive.
Undermount Sink Vanity
An undermount type appears elegant and modern at the same time. However, it takes a bit more effort to install and requires a much stronger type of countertop to support it. This makes it more expensive to assemble and set up.
Vanity Cabinets
Finally, vanity cabinets come second after the free-standing vanities in terms of trend and popularity.
Single Vanity Sinks
These are suitable for people with small spaced bathrooms or people who live alone. It saves up space and lessens cleaning time.
Double Vanity Sink
This type is suitable for families with larger spaces. It is nice for each person of the family to have their own sink and avoid lining up in the morning to use just one sink.
Top Sink
Usually, it is larger than the counter. Therefore, it suits people who need the sink more than the countertop.
Material
Material is very important since it suggests how long the product can perform. A ceramic sink is the most common choice nowadays. Porcelain is a nice option too if you have the budget, plus, it's easier to maintain. Contemporary bathrooms commonly have sinks made with stainless steel.
Size of Sink
The size of the sink is crucial; the larger the sink, the lesser the counter space is. If the purpose of your sink, for example, is for laundry, better to choose one which is deep and wide than a narrow and shallow one.
Be sure to consider what the purpose of your vanity would be. If you do your makeup and skincare every day, chances are you need more countertop area than the sink because you need your products to be easily reached. 
Compatible Design
The compatible design of a sink is important for future renovation purposes. You should look for a compatible one in case you need to change your faucet or other hardware.
Some companies develop faucet holes that are only compatible with a certain line or model of the sink, but there are manufacturers who create more universal faucet holes.
Size of Cabinet
The cabinet size of the vanity determines its storage capacity. Choose one with large storage, which still sits perfectly in your bathroom. Also, consider what you would keep inside it and make sure they will fit and not affect the glide of the cabinet.
Frequently Asked Questions about Bathroom Vanity
1. How much would a bathroom vanity cost me?
The price depends on what type of bathroom vanity you are planning to purchase. More so, it depends on the materials used, the style, the performance, and the brand.
2. How do I clean my bathroom vanity?
Regular dish soap and water can easily do the job. Most bathroom vanities come with easy maintenance type of finish. Moreover, there are cleaners specifically made for granite and quartz.
3. How long does the installation of my new bathroom vanity take?
Normally, bathroom vanities can be installed within a day, given that the area of plumbing does not need changing. More so, the hours needed for installation depends on how big or small your vanity is.
4. How do I find a bathroom vanity that will fit my space?
You just need to measure the height, width, and depth of your bathroom. And you can easily do this with a measuring tape. Websites often include the dimension of the bathroom vanities they sell.
5. Will I have visible stains in my vanity?
This, of course, depends on what you spilled and the type of finish your vanity carries, but most vanities are easy to clean.
To Wrap It up
By this time, you should already know what specifically you are looking for in a bathroom vanity. See, even if you need a small one, you don't need to compromise use and aesthetics.
Now it's time for you to decide and get your hands on one of these best small bathroom vanity!
This is Autem Decker. Main Author of 'TheHomeDigs'. You may not find her on the list of top 10 contemporary Canadian interior designers, but everyone who knows her says she was born to be an interior designer.
She makes her plan in her head and draws them in her years-old diary with a note in the corner. The way she plays with color and shape amazes us.
Connect Her On – Twitter