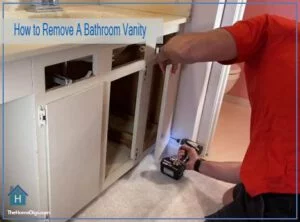 An Aesthetic lover would not want any of his or her home space to seem dull, boring, and unappealing. And this includes the bathroom too.
A desperate call for an update might be something you noticed about your bathroom and taken the thought of changing the very old vanity seriously.
However, that wish needs you to first remove the old thing. And it should not be something you do out of instinct. Rather you should give the process some importance and first learn how to remove a bathroom vanity from the wall as well as floor. Let me help you with that today…
Checklist – Things to Do Before the Removal
Get all supplies out from open shelves, sink, and of course vanity.
Use cloth tarp and cover all fans, vents, and light fixtures.
Bring your clean towels outside from the bathroom for now.
Drape the shower or bathtub with cloth tarps.
Get the floor clear by taking bath mats, scales, rugs, and trash cans out.
Simple Steps to Remove a Bathroom Vanity and Sink
To removing old bathroom vanity and sink start by gathering a few items necessary for the project. You need an adjustable wrench, rag, utility knife, a bucket, tongue-and-groove pliers, drill & driver bits, and putty knife. You will also require a wooden block and flat pry bar, but those optional.
Turn Water Supply Off & Get Tubes Out
You need to turn both hot and cold-water supply tap off. There should be shutoff valves right beneath the sink. Turning them counterclockwise will do the job. If there are no valves or maybe damaged ones, simply turn the main home water supply shutoff valve off.
Open the faucet, let it release all pressure and water. Between the shutoff valves and faucet, you'll find tubes. Disconnect one tube at a time and gradually work on all available tubes. To catch any water dripping from the line, you can place a bucket underneath.
Next focus on the supply tube's compression nut, you need to loosen it. There can be a hose connector too. Use an adjustable wrench to deal with it. Let the supply tube come off from valve. Then right beneath the compression nut, there should be a tiny copper compression ring or sleeve on line.
There should be no leaking on the shutoff valve, inspect closely to detect if there's any. If there's continuous water seeping from the valve, turn main water line off. Then you want to change the shutoff valve fixture.
Get the Drain Trap Out
Right beneath the P-trap assembly, place a bucket or bowl. There can be wastewater inside that will need something to get into. The sink's beneath has a tailpiece pipe extending, here p-trap's straight section stays connected. There's also the wall's branch drain pipe where straight segment of p-trap connects with its elbow through a pipe.
Loosen the two slip nuts, outermost ones. And get the P-trap out. You can loosen the nuts by hand for plastic pipes. Use the pliers for another case. Get the trap assembly out very carefully.
The P-trap's water will dump into bucket. Use a rag to stuff inside the wall's open pipe. This will seal the way completely and stop sewer gas from entering room.
Getting Wall Mirror Out & Cut the Caulk Joint
You want to get the mirror of vanity out as there's a chance of breaking it. However, if the thing is glued to wall, there's no need to interfere unless you intend to replace it. Get the sharp utility knife.
Then target the caulk joint. This is where the vanity top is meeting wall. You want to cut along all edges that are between the cabinet and countertop. You also want to target caulk that connects the wall and cabinet.
Get the Vanity Top Out
Now we will find out how to remove a bathroom vanity top. Have a look at the vanity tops underneath area. There should be brackets or clips holding the unit to cabinet. You simply need to unscrew for getting the brackets out.
And then carefully hold the countertop's front edge for lifting it. However, sometimes the cabinet fails to separate as its glued. To remove vanity top glued with the cabinet edges, you need to use prying.
Or you can leave for now and remove it when working on cabinet removal. When pulling the countertop up, make sure to get it away from wall. There can be chances of damage to the wall, so be very cautious while doing it.
Now to remove a bathroom vanity cabinet, you first need to check inside. Figure out where the things are fixed with wall. There should be a few screws fastening it in most cases. Use a screwdriver or drill to get all the screws out. The trims between walls and cabinets need removal too if necessary.
However, for a cabinet that is fixed with nails, you need to use a float pry bar for prying those away. Between the wall and pry bar, simply place a wooden block. This will help to avoid any wall damage.
Try pulling the cabinet far away from wall. Some cabinet comes with back panel. And these have holes that hold plumbing holes. In that case, you want to be sure of not harming the valves while moving cabinet.
Clean the wall so that there's no caulk residue. Use a scraper or putty knife for that. Before installing the new vanity, make sure to apply paint or patch on wall and floor if it's necessary.
How to Remove a Bathroom Vanity with Floor Plumbing?
Yes, the common route is plumbing through wall. But there's also an option of plumbing a vanity through the floor. The outdoor temperature of some places is pretty awful and causes pipe freezing. And this' when people go for floor plumbing. In such a case, here's how you can remove the vanity.
Removing a Vanity with Plumbing in the Floor
Shut the after-supply line and observe vanity bottom's hole size. This may require taking the valves out from pipes. Also, turn the sink beneath water off.
Turn the U-shaped part of waste pipe off. It should be connecting with the sink. Use a wrench to make it loose enough to come out. The bend should be full of wastewater that you need to catch with a bucket beneath.
Use a basin wrench for loosening the bits of water supply lines that are leading to the faucet. You want to twist them and that some point they will be free. The holes cut in vanity needs your examining.
Check the size and figure out if they are huge enough to hold pipes and valves. If not then remove the valves with a wrench. You want to put a plumbing cap on each supply line too. This will keep waste out of the pipe and you can work stress-free.
The sealer that holds vanity top needs to be cut, use a utility knife to do so. Let the knife run at the between joint of cabinet and top. And do this until the vanity is free to easily lift it up.
Check the back of vanity. There can be screws holding it to the wall. You want to unscrew those as well and then get a friend for help. Both of you can gradually lift the vanity up. And then move it away from the wall once it comes off pipes. And that's it.
Bonus – How to Dispose of Old Bathroom Vanity
It's always a good deal to plan in advance about what you'd like to do with the old vanity. Usually, the best way is to give the vanity away along with sink for donation. Too worn-out vanity however will be best to put it out to curb.
Wrap Up
And that's pretty much everything about how to remove a bathroom vanity from the wall as well as the floor. If you are also planning to remove vanity backsplash, then give it some more time and patience as the thing will feel pretty challenging.
Some people end up ripping out their wall as a result of being too hasty with the whole process. Please bear in mind that these home projects are something that requires enough time and patience. And of course, the right information on how to do it. Good Luck!
This is Autem Decker. Main Author of 'TheHomeDigs'. You may not find her on the list of top 10 contemporary Canadian interior designers, but everyone who knows her says she was born to be an interior designer.
She makes her plan in her head and draws them in her years-old diary with a note in the corner. The way she plays with color and shape amazes us.
Connect Her On – Twitter