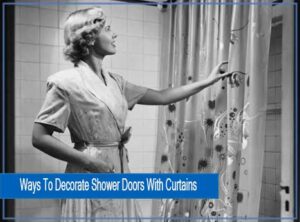 When it comes to shower glasses without any doubt they do look good in any bathroom and they express your taste in style. However, one drawback is glass shower doors offer less privacy.
Shower curtains over glass shower doors are one feasible way of glass shower privacy ideas while also increasing the aesthetic level of your bathroom.
It is possible to embellish shower doors with curtains such as hemp curtains, microfiber curtains, roll-up shower blinds, cotton curtains, polyester & polyester blend curtains, and hookless curtains.
Here, I will share with you some ideas so that you have a good idea of how to decorate shower doors with curtains.
Which side of the glass door should you fix the curtain on?
First of all, you need to add a shower curtain rod in the middle of your glass door and the shower walls. So that you can handle the shower curtain without any problem. Now you can secure the newly purchased shower curtain with the help of any types of clips and rings.
It's crucial to fix the shower curtain behind your shower glass door. The reason behind keeping the shower curtain inside the shower door is to ensure that the glass door is safe from any type of water stain plus soap marks.
In case of any emergency need or for cleaning purposes, you can remove the whole curtain set up within a very short time.
Decorating ideas for glass shower doors with shower curtain
In the market, you will find lots of curtains that you can use for glass shower door curtain but sadly not all of them will last long. In order to give you a quick overview of the shower curtain world, I have compiled a list that gives you all the information you need in one place.
So, if you are wondering for a long time if adding a curtain to your shower door is an excellent idea, then continue reading to learn how to cover glass shower doors with a curtain.
Cotton Shower Curtain
The cotton curtain has a natural look that suits the minimalistic design of modern glass shower doors and is one of the top-notch options for glass shower curtain screen. Plus, they are simple to wash and machine wash will do the job for you to kick out any formation of mold. 
Which is both soft yet robust, making it ideal for achieving a warm, natural look inside the shower room. If you're shopping for one, a cotton-polyester mix is a great option because it shrinks less when rinsed.
Cotton shower curtains are available in a number of designs and colors, including bright colors, refreshing floral prints, and stripes. When it comes to looks, these are simple to mix with versatile bathroom interior themes, from casual to modern.
Hemp Shower Curtain
Hemp cloth is getting more trendy as a replacement for plastic,  polyester, or vinyl shower blinds. It is long-lasting, environmentally friendly, as well as water-resistant.
Because hemp shower curtains do not readily absorb water, they are less prone to create a suitable habitat for mildew and germs. As a result, they do not need to be washed as frequently as cotton curtains. Due to the absence of any toxic release characteristics, they make a good choice for people who are health-conscious and want sophistication in their bathroom.
Moreover, this curtain is allergen-free which makes it a perfect choice for your home if you or your partner suffer from any allergic problem. The disadvantage of hemp is that it might feel rougher and be harder to wash than cotton, though it softens during washing.
Hookless Shower Curtains
If you don't want to deal with the trouble of hooks, this is the right shower curtain for you. Hookless shower curtains can be an ideal choice for the latest design bathrooms with roof curtain rods.
These modern curtains come in a wide range of colorful styles and designs. Also, some hookless bathroom curtain styles incorporate built-in liners for extra convenience.
Microfiber Shower Curtains
There's no doubt a nice-looking bright color microfibre curtain will bring more elegance to your bathroom.
These curtains are a gentle substitute for plastic curtains that become dry after your shower. Contaminants have no chance when these blinds are hanging in a properly-ventilated shower room because residual dampness evaporates swiftly.
Microfiber shower curtains are also bulkier in texture than most shower curtain materials, which enables excellent firmness when the shower water pressure builds up during bath time. The best part is that these awesome curtains are easily machine washable, enabling cleaning and upkeep a pleasure.
However, because these are the thickest category of a shower curtain, check that your shower curtain rod is strong and durable to take the increased weight.
Rollup Shower Blinds
Shower blinds are ideal since they blend smoothly with the current style of shower glass. It looks like a standard shower curtain yet rolls up in a similar way to a window curtain.
This option allows you to choose the shade, pattern, thickness, as well as degree of secrecy. When not in use, you can effortlessly roll it back up to its original position.
If you need solitude in the bathroom but don't want to hang a shower curtain, rollup shower curtains might provide a neater, aesthetic vibe. However, you must ensure that it is completely dry before rolling the blind up; or else, mold, fungi, and mildew may form in your precious curtain.
Polyester and Polyester Blend Curtain ( For Kids)
This specific type of curtain is best if you have little kids whom you want to gift a cartoon and kiddush looks in the washroom. You will find them in the online shop that comes with awesome HD print on it.
In terms of quality, this polyester and polyester blend curtain is excellent. Most of them are water-repellent, odorless, and Non-PEVA makes them safe for your loved one.
Another thing is that this curtain will grow a sense of privacy to your child. You can easily fit them inside the glass shower door using hooks. The best thing about them is they are very simple to clean and dry out.
Final Words
By this time, you probably already know which shower curtain will be the most suitable and matching for your bathroom's design line and looks. Now is your part to bring a full-scale change to your bathroom using a stylish, safe, and water-resistant shower door curtain.
Hopefully, this article will help you to bring a good change in your life and help you to explore the varieties of shower curtains. It should now be a little easier for you to drape your shower doors.
This is Autem Decker. Main Author of 'TheHomeDigs'. You may not find her on the list of top 10 contemporary Canadian interior designers, but everyone who knows her says she was born to be an interior designer.
She makes her plan in her head and draws them in her years-old diary with a note in the corner. The way she plays with color and shape amazes us.
Connect Her On – Twitter