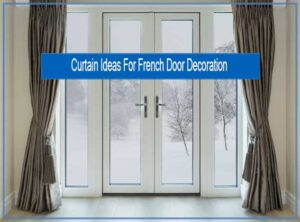 After building a house, interior decoration is a great task to adorn your house. Simple touches by a sophisticated and enthusiastic mind can change the interior view of a house.
In this case, curtains play a significant role. And somehow its placement is a key to excellent interior decoration. Most of the time set-up will depend upon your choice.
In this article, to be more specific, I want to share how to decorate French doors with curtains. Some ideas, that might be helpful for you to decorate your French door with curtains. So read on until the end.
Curtain Ideas For French Door Decoration
Most decorative designers focus on the Valance of curtains. A curtain's Valance of a French door is a luxurious symbol. And it is a necessary and substantial decorative element.
You see that French doors offer wider space for ventilation through which the sun's rays and heat can easily come into your house. For that, a curtain is necessary which will work as a good barrier. Now, when you go to set up a set of curtains in your room or house then it is worth matching it with other designs of your room or house.
To make it less cluttered or more welcoming, I am just giving you some ideas that might help you to decorate your French door with curtains. Let's see!
Use Curtains Of Tulle Fabric
Tulle fabrics will be very excellent if you use them on your French door. When you want the interior of your house should be bright as well as you don't like that the ray of sun comes into your house then it is best to use tulle fabric for the French door.
You know that tulle is very fine, lightweight, and stiff netting. And it looks very elegant and classy. Fabrics like tulle will give your house a fantasy-like atmosphere. You will see this curtain's texture is soft and smooth which has a cozy and loungy effect on the decoration of your interior design. And finally, it permits the daylight into your room for its thinness.
Blackout Curtains
Blackout curtain is another pretty curtain fabric, which is different from Tulle fabric in the application. When you don't like to allow light to come into your room then this curtain is best for you. This curtain fabric is generally used in western doors or windows which means it works as a good barrier to the afternoon sun.
This type of curtains is compatible for office, theatre room and also bedroom because these curtains make a different environment in your room so that you can hardly feel the environment outside. As well as these are fine for decor.
Natural Shades
The placement of different things in the right place is very important as well as natural color shades of your curtain are paramount. The color shades should not surpass or exceed other decors in your house. So, for the curtains of the French door, lighter or natural color shades are staples.
Read: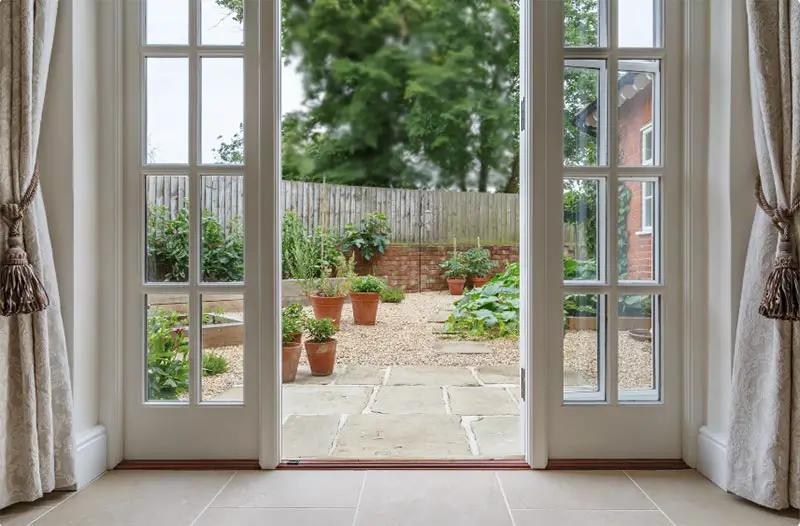 5 Simple Guidelines to follow while decorating a French door with curtains
Here are some simple instructions to keep in mind while decorating a french door with curtains.
1.  Match Color Pattern With Interior Design
It is necessary to match the color patterns of your curtain with other interior designs and color palates. At times, we like to have some patterns or prints on our curtains but if these prints do not go with the interior design then this will be a reason for ugliness. So, you have to ensure that your whole task is well organized.
2.  Curtain Rod
In most cases, it happens that, the rods of French door curtains are very simple. Because their visibility or less visibility solely depends on the curtain's design and the color of other things such as ceiling, walls, and floorings. And curtain rod will follow the design of the curtain.
3. Elegant Appearance
Without a curtain, the French door does not look so pleasant, therefore it is the way to adorn the French door as it will look elegant. There should be a way by which you can pull the French door curtain back when you want to permit light to come into your room. French door's panel and framing design are very important in that case, as well as the curtain design ought to look equally sleek or equally soft.
And it is also recommended that curtains of heavy fabric will go well with bigger panels and vice versa. For light fabrics, these should be used with pastel and plain colors.
4. Equilibrium
That means the relation of the wall and other decors with the French door curtain. At times, it is preferred that camouflaging is the best approach if there are other embellishments. In that case, the focus will be on other things and the curtain will be left unified with wall color or design.
But for a plain-looking interior, it is recommended to use a contrasting color. And it will be better to use flashy colors not opposite or bold ones to avoid eyesores or mismatch. You may use some pretty colors for your curtains, such as rustic, pastel,  and white shades.
5. Length And Accessories
I believe length is the real key. Some experts suggest adding additional inches beyond reaching the floor so that it will look regal and bolder. You can apply the same thing to the curtains of your French door, with different types of fabrics.
To make your curtains appear more opulent, you can add a head or border in metallic colors such as gold. Here in the curtain's tabs and edges, you can add more accessories therefore it will get a classic look.
These designs depend on you, as French door curtains are versatile you can print and add excellent accessories as you prefer. Depending on the decors around your space, you just need to make a valence.
 Final Verdict
Now, You should have a good understanding of how to drape French doors.  And I have added some ideas to make it look further outstanding.
After setting up all things, you should align the pattern of the curtain with your room's dominant way. And you should choose fabrics that have metallic prints because these come with classic but trendy and beautiful curtain designs.
This is Autem Decker. Main Author of 'TheHomeDigs'. You may not find her on the list of top 10 contemporary Canadian interior designers, but everyone who knows her says she was born to be an interior designer.
She makes her plan in her head and draws them in her years-old diary with a note in the corner. The way she plays with color and shape amazes us.
Connect Her On – Twitter