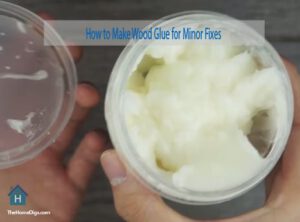 Making glues for various applications is not a new thing now. However, most recipes available are about glues that are meant for a not-so-strong bond making need.
When it comes to gluing wood, a weak bond making glue is definitely not what you'd be looking for. There are several high-quality wood glues available on the market.
However, if for some reason, you want to try making it yourself at home, finding a solid recipe can be hard.
But let's help you with that hardship today through this guide on how to make wood glue using pretty basic stuff.
Here's A Pro Guide to Make Wood Glue at Home Easily
We are definitely focusing on a guide that helps to make homemade wood glue. But that does not mean it's something equivalent to make PVA glue or similar superior quality type. This is a fun thing to try or maybe a last-minute resort for extreme needs.
But don't expect this to work as tough as a store-bought solid version glue. Because there's a reason why woodworkers spend money on bringing home so many bottles of this stuff. And that reason is a processed plus perfected glue manufactured in a certain way to hold or repair wood better.
On That Quick Note, Let's Get into The Actual Process.
Get These Materials
Baking soda
White vinegar
Skim milk powder
A stirring spoon
Funnel
A pan
Some paper towels
& Water
Start by Adding Water to Milk
First, you need to make some skim milk with the powder. Simply add water into the milk powder inside a pot or anything that you have. You will need around 100 ml of skim milk here. There should be instructions on the skim milk powder box. Follow that to add the right amount of powder with water and mix these well.
Adding White Vinegar
Now the skim milk that you just made needs to go into a pan. Then simply add white vinegar to the skim milk. You will require around 15ml of vinegar for 100ml of milk. Pour gradually and then go for the next step.
Heating
To make strong glue out of these, you need to do some heating next. Use a stirring spoon here. Place the pan on your stove and allow low heat. Keep stirring continuously. Once you see the contents are starting to curdle, it's time to remove pan. Make sure you immediately remove the pan. Or else there's a chance of ruining the glue.
Filtering
Now the glue for wood is almost ready. You will make a filter system for the heated substance. Simply get a paper towel and funnel for making the filter. You need to place the towel right on top of funnel's upper part.
Gradually pour the hot substance into this paper towel next. The liquid should start draining through towel. And you will discover the curdles of casein stuck within towel. Keep the process free from rush. Pouring a little amount at a time will allow better filtering of the solution.
Washing the Casein
Use some water to thoroughly wash the casein next. Make sure you are using lukewarm water here. The vinegar should get removed entirely after the washing step. Then add around a half teaspoon of baking soda to the curds.
Use a separate container to do this. Also, while adding the baking soda, make sure to constantly stir it. You must stop stirring when the contents achieve that regular wood glue consistency. And once you are satisfied with the consistency, go ahead and store it in an airtight container.
Homemade Glue for Multi-Purpose Use – Video
Wrap Up
And that was a simple recipe of how to make wood glue. You can use it for minimal wood gluing tasks or fix slight errors. However, don't expect it to do wonders for your projects. I still encourage you to get a formulated version from the store or online to get the best results.
It's simply a solution to go for when you have no choice left rather than making it yourself. On That Note, Signing of For Today.
This is Autem Decker. Main Author of 'TheHomeDigs'. You may not find her on the list of top 10 contemporary Canadian interior designers, but everyone who knows her says she was born to be an interior designer.
She makes her plan in her head and draws them in her years-old diary with a note in the corner. The way she plays with color and shape amazes us.
Connect Her On – Twitter