Summertime is the perfect time to enjoy the outdoors. If you're looking for ways to make your outdoor space more enjoyable, we've got you covered!
In this blog post, we will discuss 8 design ideas that will help you create an entertainment space outdoors. From fire pits to outdoor kitchens, we have something for everyone! Keep reading for inspiration.
Conservatory
A conservatory is one of the easiest ways to transform your home and create a sunroom or garden room. There's no need for planning permission, it can be built quickly, and you can begin using your new space immediately. By visiting the Oakhurst Blinds website, you can check out some of the best conservatory blinds on the market to keep your new space cool in summer and warm in winter.
The three most popular types of conservatory are Victorian, Edwardian, and Lean-to. Each style has subtle differences in design. However, they all have common features that make them aesthetically pleasing additions to any home. For example, they all have high ceilings and large windows that let in plenty of natural light.
If you're looking for a new space to relax in or entertain guests, a conservatory is a perfect choice. With its beautiful design and ample amount of natural light, it will be a popular spot in your home for years to come.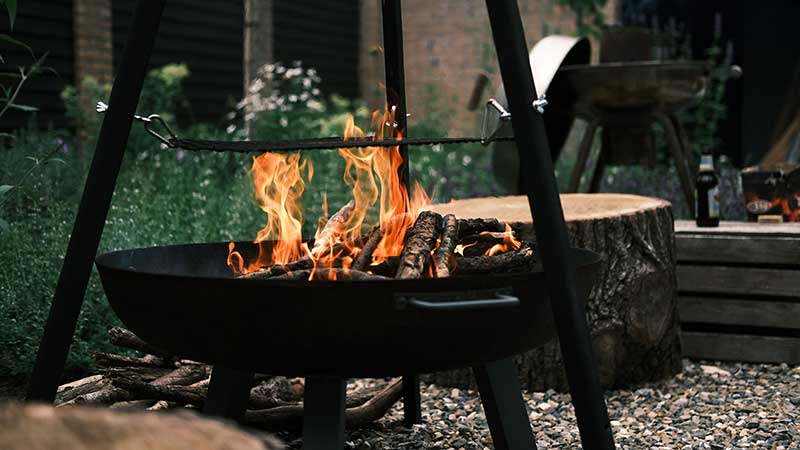 Fire Pit
A fire pit is a perfect way to create a warm and inviting entertainment space outdoors. Not only does it provide a focal point for your guests, but it also allows you to enjoy the great outdoors even when it's cold out. There are many different types of fire pits to choose from, so be sure to select one that fits your needs and style.
Make sure you have plenty of room to safely accommodate a fire pit. Choose a spot that is close to your seating area so that guests can easily gather around it. Consider adding some additional features such as benches or chairs around the fire pit so that everyone can comfortably enjoy it.
Seating Area
When you're planning an outdoor entertainment space, seating is key. You'll want to make sure there's plenty of room for your guests to relax and enjoy the scenery. Choose a mix of comfortable seats and benches that can be arranged in different ways to fit the space.
If you have a lot of room, consider adding a small dining table or even a fire pit to keep things cozy. Whatever you choose, make sure it fits with the style and mood of your yard.
Read: Best Outdoor Furniture Brands Reviews | Best Outdoor Furniture Covers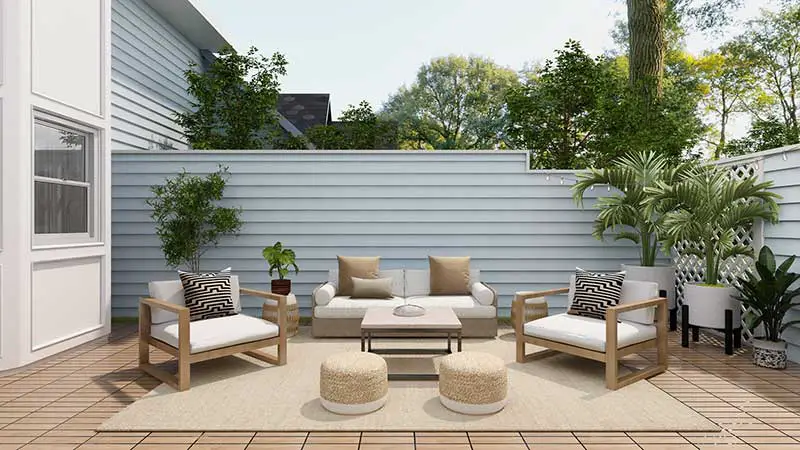 Pool
A pool is a perfect way to cool down on a hot day and can provide hours of entertainment for guests. If you have enough room, consider adding one to your backyard. Be sure to choose a design that will fit with the rest of your space and make sure it is properly installed to avoid any accidents.
If you don't have the space for a pool, consider adding a hot tub or spa. These can provide just as much relaxation and entertainment as a pool and are perfect for smaller spaces. With so many options available, there is sure to be one that will fit your needs and budget.
Spa
A spa is a perfect addition to any outdoor space. It can be used for relaxation and therapeutic purposes, or just as a place to cool off on a hot day. If you have the room, consider adding a spa to your yard.
To create one, you will need a spa, a deck or patio to put it on, and some type of enclosure to keep the water warm. You can buy a kit online or at your local home improvement store.
If you don't have room for a full-sized spa, consider adding a smaller one that can fit on your deck or in a corner of your yard. These spas are less expensive and require less maintenance than larger ones. They also heat up faster so you can use them year-round.
When designing your spa area, make sure to choose a spot that gets plenty of shade. This will help keep you cool in the summer months. You'll also want to choose a spot with easy access to water so you can easily fill up your tub.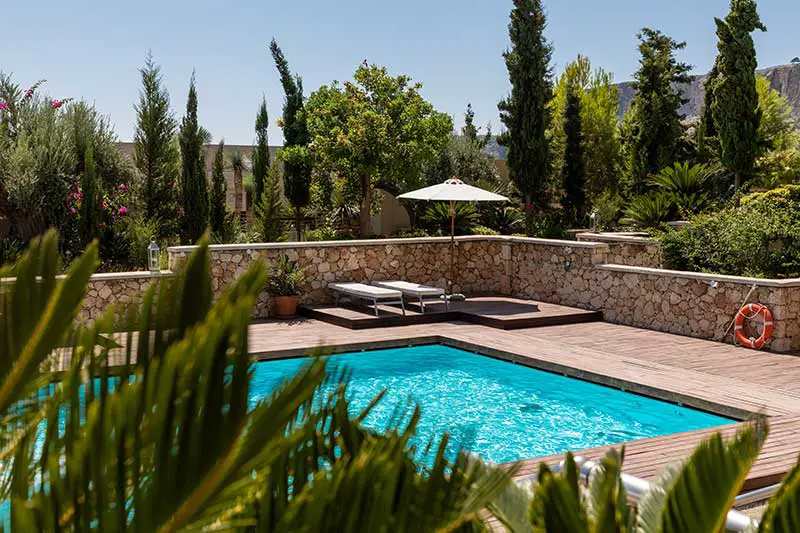 Playground
A playground can be a fun and exciting addition to your outdoor entertainment space. Choose a design that will appeal to both children and adults, and make sure there is plenty of room for everyone to enjoy themselves.
When choosing a playground for your outdoor entertainment space, consider the age range of people who will be using it. If you have young children, choose a design with slides, swings, and climbing structures. If you have older children or adults, opt for a more challenging playground with features like zip lines and monkey bars.
Lighting
Outdoor lighting is a must-have for any outdoor entertainment space. String lights, lanterns, and torches can create a cozy and inviting atmosphere that will make you want to stay outdoors longer.
Lighting can also be used to highlight specific areas of your outdoor space, such as the playground or seating area. Just be sure to use lights that are weatherproof so they can withstand rain and wind.
Bar & Drinks Area
You don't need a bar cart inside if you have one outside! If your entertainment space is large enough, consider adding a drinks area where guests can enjoy drinks and snacks. This can include a table, stools, and even an outdoor fridge or cooler.
Adding a drinks area to your outdoor space is the perfect way to keep the party going well into the night. Just be sure to have plenty of cocktails and snacks on hand. Also by adding music to the mix your friends and family can enjoy a great time. Choose music that everyone will enjoy – from classic rock to current pop hits – and get ready to dance the night away under the stars.
Verdict
No matter what your plans are for your outdoor entertainment space, following these simple tips can help make the process easier and ensure that you end up with an area you'll love spending time in. With a little thought and planning, you can create a great spot to relax or entertain guests outdoors. So get creative and have fun with it.
This is Autem Decker. Main Author of 'TheHomeDigs'. You may not find her on the list of top 10 contemporary Canadian interior designers, but everyone who knows her says she was born to be an interior designer.
She makes her plan in her head and draws them in her years-old diary with a note in the corner. The way she plays with color and shape amazes us.
Connect Her On – Twitter