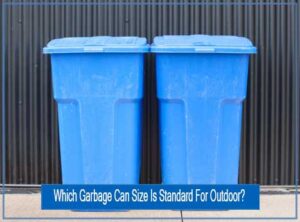 Outdoor garbage can size is the biggest concern for a homeowner. It is a concern because you never know if you will have more trash during Christmas someday. Maybe the trash collector won't come for a couple of days to collect your garbage. That's why residential garbage can sizes are an important issue. 
So what is the standard outdoor garbage can size? 20 gallons, 30 gallons, 60 gallons, or 90 gallons are standard outdoor garbage can volumes, but the standard size for your home depends on average how much garbage your home produces overall from the kitchen, bedroom, bathroom, guest room, etc. 
Here, our discussion topic is outdoor garbage can size, and how do you understand the best size for your home? So let's get started.
What is the Standard Outdoor Garbage Can Size? 
How big is a standard outdoor trash can? Is this not the question you guys ask about what is the standard one? Look, many wastes can companies make many sizes of cans, and their height is not equal at all. Some outdoor trash cans are higher in diameter; some are short but bigger in diameter. But you should get the one that has room for a few more gallons of garbage your house produces every day. 
Standard Size of Outdoor Garbage Can
It depends on the garbage you will have from all of your trash cans in the house. Usually, two or three trash cans are quite common in every house. Like one in the kitchen, one in the bedroom, and one bathroom. But for more rooms and bathrooms, this number of cans may increase. 
Garbage Can
You can get a garbage can size according to its capacity. Usually, the number of gallons gives us an idea about how big or small the garbage can be. Anyone can have 4 gallons of trash in the bathroom, 10 gallons or fewer in the bedroom, and 20 gallons in the kitchen. So summing up the trash cans, we see the total number of gallons is 34. 
Now for doing proper waste management, residential trash can sizes depend on the total gallons of trash can you use inside the house. So for 34 gallons of inside trash cans, you must need one outdoor garbage can that can hold over 34 gallons. 
People may ask a couple of questions, like except a kitchen trash can. Rarely do the other indoor cans have trash full of their capacity. And also, we don't collect trash from every can regularly. So why is the gallon number of other cans the measuring element here? 
Look, this entire measurement depends on the waste management safety issues. Sometimes a waste collector truck comes a couple of days later, especially during Christmas and winter seasons. In that case, you must ensure the capacity for several days of garbage in that outdoor garbage can. 
Garbage Cart
Quite similar to garbage cans, but these outdoor garbage cans with locking lids and wheels. It means you don't need to carry. The wheels help to move the garbage cart. That's why garbage carts are bigger than garbage cans. 
The 35 gallons garbage cart is suitable for small families with two members and rarely has guests. It is bigger, like two kitchens or three kitchen trash cans. 13 gallons of trash bag is okay for it. 
For 3-4 family members, a 64 gallons garbage cart is the ideal one. In 3-4 family members, usually, we have 3 or more bedrooms and more bathrooms. So the number of trash cans and trash increases. A 13 gallons trash bag is okay for a 64 gallons garbage cart. 
For over 5 family members, 64 gallons is not ideal. The safest number is 96 gallons. It can hold 6-7 kitchen trash can's waste. A 13 gallons of trash bag fits perfectly in it. 
FAQ's
What are the standard sizes of outdoor garbage can?
– Depends on the family members you have in the house and how much trash your family generates on average every day. 35 gallons is most ideal for small families, then 64 gallons for medium-size families, and for large families, 96 gallons is good. 
What is the weight limit of outdoor garbage can? 
– The weight limit is set on a garbage can because usually, we try to force as much weight as we can put inside the garbage can. But it's not okay. 85, 135, and 175 pounds is the weight limit for 35,60, and 90 gallons of outdoor garbage can, respectively. 
Conclusion
Outdoor Garbage can's size depends on the total waste your family produces. For a family that cooks more like breakfast, lunch, snacks for the afternoon, and finally dinner, the garbage will be much more.
Don't forget to know about the garbage bag size of your area first if you are new there because a 13-gallon garbage bag fits up to 96 gallons of garbage cans. Also, for 20 gallons garbage can, using a 13 gallons garbage bag is a waste. 
This is Autem Decker. Main Author of 'TheHomeDigs'. You may not find her on the list of top 10 contemporary Canadian interior designers, but everyone who knows her says she was born to be an interior designer.
She makes her plan in her head and draws them in her years-old diary with a note in the corner. The way she plays with color and shape amazes us.
Connect Her On – Twitter