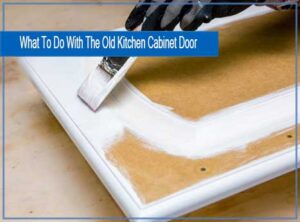 We squander a huge amount of resources. Starting from food, cloth, food plates, drinking glass, and furniture we literally waste everything and don't think of reusing them.
When you think of what to do with the old kitchen cabinet door, there are a lot of fun things you can do with it.  We can limit our trash and contribute to keeping the earth less polluted and more sustainable by opting for these alternatives.
In this article, I will briefly share 7 awesome ideas for cabinet doors of your kitchen to make something useful for your daily life
7 fun ideas to turn the kitchen cabinet door into useful stuff
If you are a creative person then you came to the right place. Adding to that, if you have been wondering how to make the best reuse of your kitchen cabinet door here I have got several ideas for you in the following part. Let's have a look…
1.   Turn in to chalkboard
This idea of repurposing cabinet doors of your kitchen would be best if you have small kids who just write anywhere including walls, tables, carpets, and sofa just everywhere. Or you can also use it for listing the grocery items or kitchen tasks.
To turn the old kitchen cabinet door into a chalkboard, first you have to make a double coat of black DIY color on the flat surface. Then on the four sides apart from the flat area, you can spray your favorite color or your kid's favorite color. Now have fun with your kids!
2.  Laundry Room Storage
Relocating and mounting kitchen cabinets in your laundry room is among the simplest ways to reuse them! If that doesn't perfectly fit the look of the space, a quick new paint job will fix it.
Transferring the old kitchen cabinets to the powder room is a wonderful way to reuse them. Installing a counter to the roof of your cabinets would be another smart method to expand storage even while providing a space to store as well as arrange things.
3.  Photo Collage
You can transform an old kitchen cabinet door into a picture collage, which would make a fantastic present for mom and dad. Hide the front part of the old kitchen cabinet door with white cardboard and then add your family photos. That's the quickest thing to build, yet it provides a lovely way to display your cherished family photos. 
That's the quickest thing to build, yet it provides a lovely way to display your cherished family photos. You can smoothly attach the photos to the cardstock using foam glue. And here is your photo collage ready to bring back the happy old memories.
4.   Turn into a desk
The nicest part of converting a kitchen cabinet door into a workstation is that it can fit into a variety of places. If you have a separate leisure area or workspace, your old kitchen cabinets would look superb as a workstation.
They can also be useful tools for bedrooms and provide space for your student to read. You might also store this in your garage to use as additional storage and a workstation for versatile DIY hobbies.
The whole process is not very complex. You just need to add four wooden or steel-made legs to give it a perfect desk-like look. And sand and paint the backside of the cabinet which is fully flat.
5.   Make a wall art and key holder
First of all, you need two molding plates with designs and shapes which suit your choice. Now you need resin which will make the solution white. Then mix equal parts of the resin bottles A & B, stir until the solution is clear, then pour away.
It's time to pour the resin into your mold plate and make sure not to overfill them. Let them dry and a few moments later they will become white.
In this step remove the mold shape and attach it to the center-right side of your cabinet door. Give them a shape according to your creativity. Now you can color the whole cabinet including the mold design with DIY white color. Then paint the outer edge with your favorite color like sky blue, pink, yellow, lime, etc.
Now just make a custom-made word design using a vinyl cutter or you can also use a stencil. Attach the word design or quote to the center-right side of the cabinet board. Finally, on the outer edge just below the word design, you can fix 4-5 key hooks using home tools.
6.  Turn the cabinet door into a serving tray
This is another easy way to make the best out of your old kitchen cabinet doors. If you love to invite people to your home for tea time for gossiping then it would be best for you. After removing the old kitchen cabinet door from the kitchen you can do the paint in your preferred color.
Now in the center of the cabinet, you can add beautiful stickers that tell about your feelings. Finally, with the help of screwing tools, you can install two handles on both sides. And your self-made serving tray is ready!
7.  DIY Shelves
Rather than throwing away old kitchen cabinet doors Using cabinet doors as shelves would be a thousand times better option. These are great for organizing and are very simple to use. Simply connect shelf hooks to the wall and mount them.
Based on the total number of kitchen cabinet doors, you can build an ample amount of shelves to fit the whole apartment. Because the doors are simply sand, dyed, or repainted, they may be harmonized with any present decoration in any corner of your lovely home.
Final Words
By now you have seen some crazy and fun plans regarding DIY repurpose cabinet doors of your kitchen. I hope what you were looking for you have got in this short article.
Now that you know what to do with your old kitchen cabinet doors, it's time to add some aesthetic value to your home. Let us know if you have any other fancy ideas to turn an old and unused kitchen cabinet door into something beautiful.
This is Autem Decker. Main Author of 'TheHomeDigs'. You may not find her on the list of top 10 contemporary Canadian interior designers, but everyone who knows her says she was born to be an interior designer.
She makes her plan in her head and draws them in her years-old diary with a note in the corner. The way she plays with color and shape amazes us.
Connect Her On – Twitter