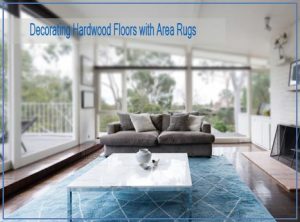 Adding a rug to a hardwood floor is a great way to add warmth and style to house décor.
But when decorating hardwood floors with area rugs, you need to consider the texture and the tones.
You can't just throw on a rug on the floor and call it a day. This small addition has to go with the room's furniture, curtains, and even the texture and tone of the floor.
We might have made the job sound a bit harder than it is. But focusing on a few little factors can help you add the perfect rug to your hardwood floor!
Placing Area Rugs on Hardwood Floors Decorating
When decorating hardwood floors with area rugs, you need to consider some questions. Where should you place the rug? And what kind should it be? We've covered it all here.
The Perfect Rug Placement
No matter how beautiful or expensive the rug you bought is, it will never show its true potential unless it is placed right.
A good rule to follow when placing carpets is that the positioning should be seamless. By that we mean, the carpet should look like it belongs there.
You could try doing so by placing the carpet underneath sofas, couches, and tables. A bare carpet in the middle of the room will look out of place. So try putting it underneath something.
Adding a carpet underneath a coffee table is also a classic décor move. It can add a lot of depth and layering to your living room.
A huge benefit of adding rugs underneath a seating arrangement is that it protects your hardwood floors. Now, when you wiggle your chair against the floor, it won't put a scratch on it!
Which Room to Place Rugs in
Rooms that have a lot of furniture that moves look great with rugs. Besides adding warmth to the room, the rug also protects your hardwood floors.
Try and place your rug in your living rooms, hallways, bedrooms, and entryways. Places, where the flooring is worked in the most, should always have a rug.
Doing this increases the longevity of your hardwood floors. It's a great way to prevent scratches and blemishes. You won't need to polish them as much, and there is no possibility of a premature crack or hole either!
Where to Not Put a Rug
Although it is recommended that you put your carpet in a high trafficked underneath something, you can place a rug anywhere you want to.
A general rule is that you never place a  rug on a floor without anything to go on top of it, and you never place a rug in the kitchen.
Usually, a kitchen is a messy place. Dropping a few ingredients here and there is a pretty normal thing even on a regular cooking day. A mat you have to scrub clean everyday is the last thing you need in your life.
As rugs for hardwood floors in the kitchen can be quite hard to clean regularly, and they might also stain very easily, we recommend that you do not place your expensive rug in the kitchen.
Add Coziness to a Room
Hardwood floors are one of the classiest kinds of flooring that you can get for your house. However, the floor can look quite empty without a rug. While that is an aesthetic a lot of people prefer, adding a rug just makes the place look a lot better.
Rugs of warm shades are great for giving your bedroom or living space a homely feeling. Without carpets, the rooms can look like hotels.
Try adding small carpets here and there without going for a wall to wall coverage. You don't want to spend thousands on your hardwood floor just to cover it up with a rug, do you?
Dividing Large Spaces
You can use carpets for décor, but they can also serve the purpose of diving in large rooms.
So, for example, if you have an open dining and living room, you can place rugs for hardwood floors in the living room. This rug creates a soft barrier between the two without doors.
You could do the same to any part of your house. It can be used in the bedroom to separate the sitting area from the bed. Study rooms can be separated into libraries and working stations as well.
Non-slip Carpets
When investing in a carpet, make sure that there are additions to the product that make it non-slip.
Anyone, whether an adult or a child, may slip on rugs and seriously injure themselves.
Small adhesives at the end of the rugs can keep the thing from slipping. You could also choose a rug that has a sticky material at the bottom. Not only will this keep you safe, but it will also keep you from having to adjust the rug throughout the day.
To stop your old area rug from slipping, you can use an anti-slip rug pad underneath.
The Right Size and Texture
Go for carpets that feel comfy underneath the feet. Stay away from scratchy or rough materials. If you feel like it, you could also invest in furry carpets.
These are much harder to keep clean but can be a fun addition to your room.
Thicker mats might feel comfy underneath the feet, but they can cause people to trip over.
Also, don't go for carpets that are too large. Keep the size of your room into consideration when choosing the mat.
Pictures of Area Rugs on Hardwood Floors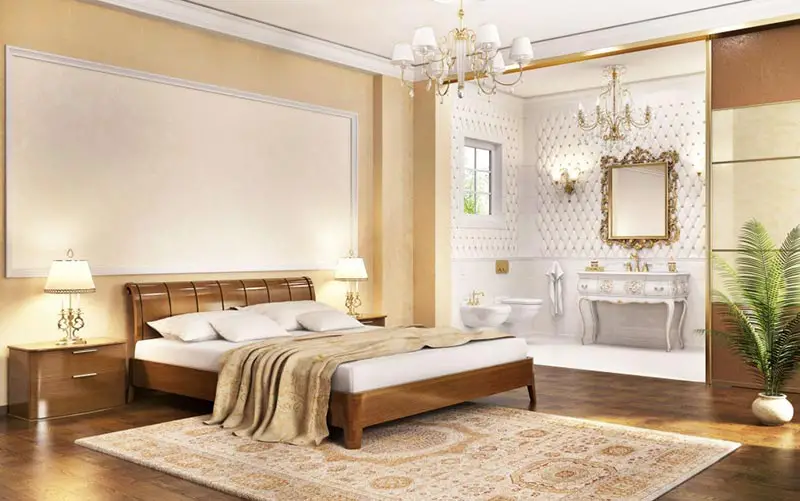 Beige with Dark Wooden Floors
The color beige will look amazing with dark floors. As shown in this picture, adding a lighter-colored rug on top of this dark shade of brown enhances the texture and color of the floor. Adding a plant in the room can bring back the color.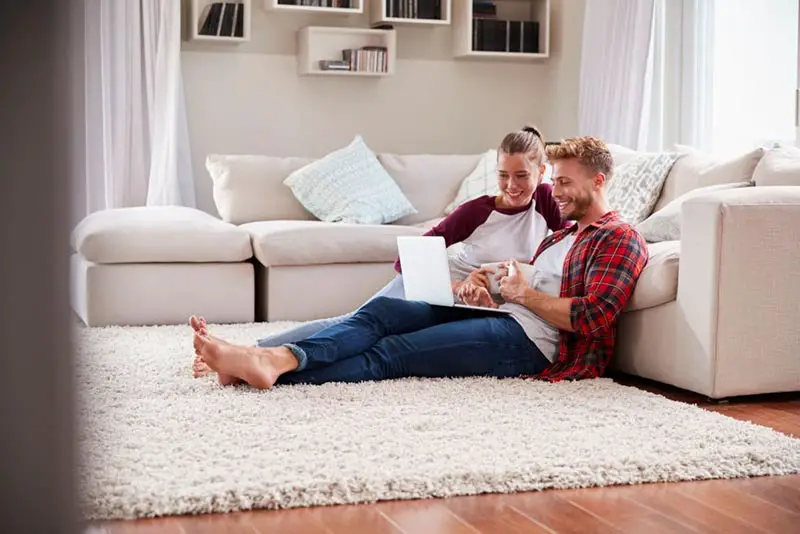 Comfy Rugs for Living Space
Adding a rug that has some texture can feel great underneath the feet. Fuzzy or furry carpets are great to walk on and sit on as well. That is why these are the perfect addition to any living space where you would want to chill.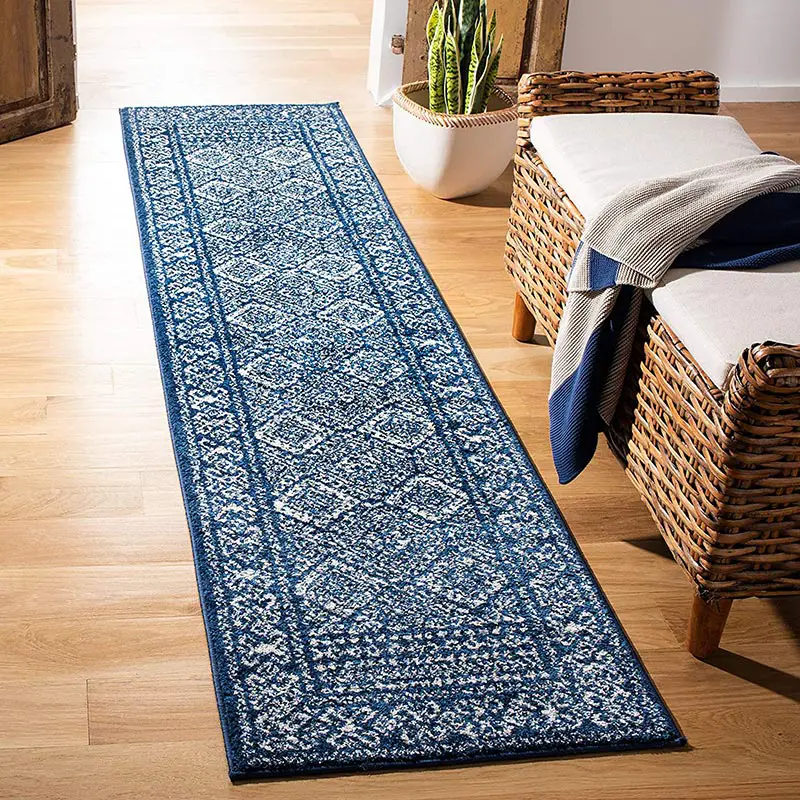 Experimenting with Size and Color for Doorway
It's no crime to go bold sometimes. When selecting a rug for your home, you can experiment with colors and shapes. Round-shaped rugs are quite popular for adding under coffee tables. A long and thin carpet like this one is great for entryway or smaller rooms like laundry rooms!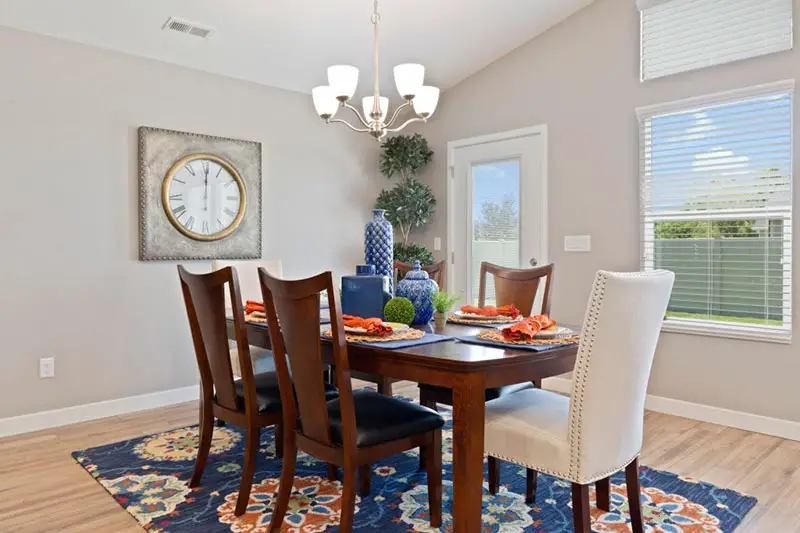 Patterned Dark Rugs for the Dining Space
Adding rugs in the dining space can be risky at times. But if you have no children at home or if you are not a messy eater, you can add this to the room. Experiment with colors and patterns to see what you like. Going for patterns is great as it can mask any stains.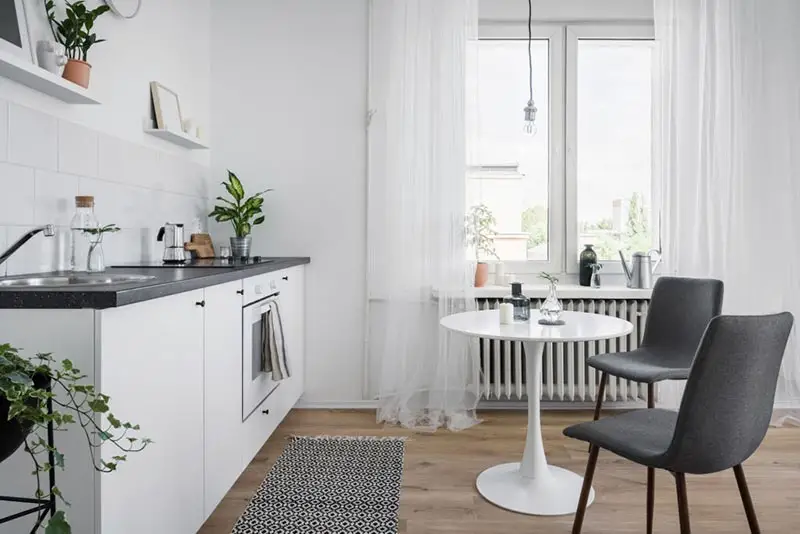 Using Rugs to Separate Rooms
You can add mats to separate your rooms; this works exceptionally well in dining areas or larger spaces. Adding a rug, even if it is thin, can help create an imaginary door between the two spaces.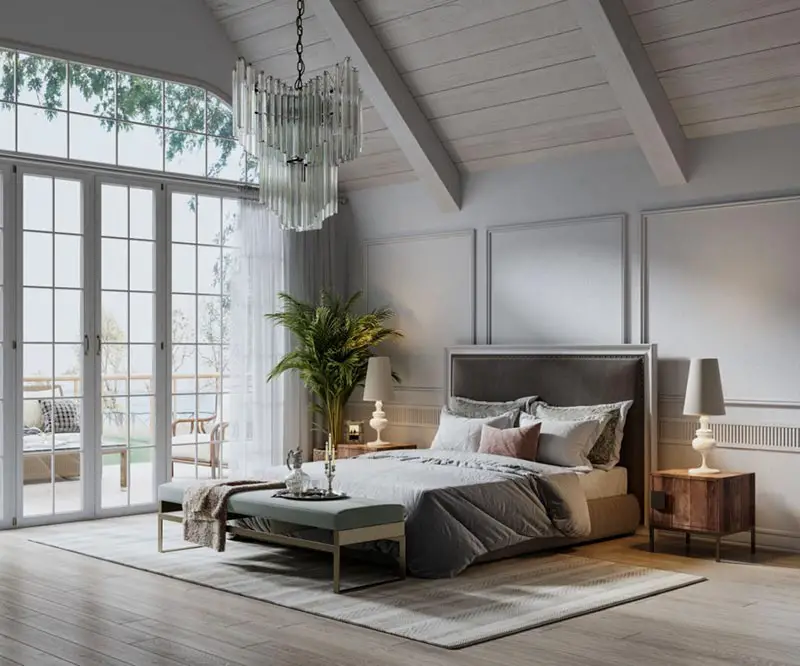 What Color Rug Goes with Grey Floors
With grey floors, you can try out lighter colors. Crease, beige, or any shade of white will look good with the grey floors. You can also add a fun lamp or some trees in the room if you feel like it's missing some color.
What Color Area Rug Goes with Light Hardwood Floors
If you have a hardwood floor that is light in color, you might be thinking what color area rug with light hardwood floors should you buy?
Choosing a mat that is darker and richer in its shade will be the better option; this is because the dark color will contrast against the light shades of the floor and a more high-class ambiance.
You could stick to basic colors such as maroon, dark grey, or a darker shade of brown. They will all look good.
If you're willing to take the risk, you can also choose a mat that has light blue hues in them. It might sound odd, but the light blue looks good on light wood floors. The shade also makes the floors look more vibrant and add a sense of calmness to the room.
What Color Area Rug Goes with Dark Hardwood Floors
What if you have dark floors, what color area rug goes with dark hardwood floors?
The best colors to choose when you have a darker hardwood floor are off-white, cream, or beige. Similar to the concept with light-colored hardwood floors, an opposite color shade will add contrast to the room.
While these are the optimum colors to choose for a floor of a darker shade, you could go for any light color mat you want.
But try and stay away from vibrant colors such as pink or purple, as they can take away the beauty of your hardwood floor.
Bedrooms with hardwood floors and area rugs look more coherent when the right shade is selected.
Final Words
Decorating hardwood floors with area rugs is always a good idea. Not only does this addition make your house look more homely, but it can also be helpful at times. For example, you can use a carpet to separate parts of your room.
Rugs for hardwood floors in bedrooms look great when the right kind is selected. Choose the right size, shape, and color, and your room will look ten times better than it used to.
This is Autem Decker. Main Author of 'TheHomeDigs'. You may not find her on the list of top 10 contemporary Canadian interior designers, but everyone who knows her says she was born to be an interior designer.
She makes her plan in her head and draws them in her years-old diary with a note in the corner. The way she plays with color and shape amazes us.
Connect Her On – Twitter