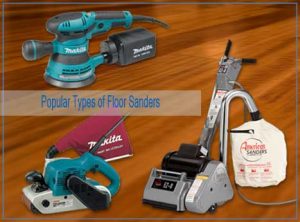 The world of sanders is blessed with lots and lots of types of floor sanders. From the industrial version to even the bare basic handheld options, there are quite a few to cover.
Now keep in mind the job of floor sanding is effort demanding. And to make it a little less daunting, the least you can do is determine the right type that would fit your flooring sanding needs.
Hopefully, this guide, which I'm planning to make with the most popular and common options, you'll be able to help yourself out. Let's get into it.
Exploring 6 Different Types of Hardwood Floor Sanders One by One
Deciding how you would be handling the project comes first. And based on that, you'll find it easier to pick the right one from all types of floor sanders. I'll point out both the goods and bads of each of these floor sanders.
Palm Sander – Great For Small to Medium Scale Works
This one is by far the most common hand sander suitable to projects of small scales basically. A sanding pad is usually given with the type. It should be square in shape. The motion of the pad is orbital while the user glides it along with the spot that needs to get smoothened out.
The square pads are available in many sizes. And depending on the project, you'd need to find out the right size. These are easily accessible in hardware stores in your locality. To keep the sandpaper in place, there will be clips on edge as well. So that the paper does not mislocate while working.
Projects that need you to get rid of paint out of plywood flooring would work well with palm sanders. The right size of sandpaper is something you need to figure out depending on the project aim.
Heavy-Duty Drum Sanders – For Sanding With Strength
It's also known as the drum floor sander. For jobs that need tough sanding, this type is perfect overall. You can work with additional force when using a drum floor sander. However, if the wood type is more likely to be stripped, then this type is a big no for those. Because it's that powerful to cause such stripping on a prone to such outcome wood.
It's by the far the strongest sander available for floor. And you can easily get rid of stains and even deeply embedded paints out with this one.
However, it's pretty effort demanding to move due to the weight. And there's a chance of causing deep sanding by mistake on wooden floors if one does not pay attention. The sanding belt is also sometimes tricky to change.
Orbital Sander – Great For Floor Finishing
Using an orbit sander for hardwood floors can be the best way to achieve fabulous finishing results. It comes with a circular sanding pad. There are some models that include square pads, however. And these work in tiny orbital patterns for sanding.
This type is great at eliminating a very minimal amount of material. And that is why it works excellently for finishing projects.
Compared to a drum sander, the orbital floor sander will however require a much longer time to get the floor sanded. Also, you will be using more sandpaper. But then again, there's less chance of causing any damage to your floors, especially permanent ones.
For working on corners, orbital sanders are preferable highly. These are usually spots where a regular huge drum sander won't fit. Also, oak-like hardwood floors will have fabulous outcome by using a huge random orbit sander for sanding it.
These are pretty versatile and quite easy to carry from one place to another. However, for getting through deep scratches or stains, it won't be very helpful.
Vibrating Sander – No Thread To Flooring
Also known as the smoothing sanders. These are great to use after using a drum sander typically. You can use it for smoothing the floor afterward basically. Very minimal weight allows you to use it for a long time and also, it's quite easy to manage.
It works by gliding over the hardwood flooring. And so, there's less risk of scarping your floor. Basically, that means you don't have to worry about ruining the integrity of the wooden floor. To make the floor have the smoothest finish after any upgrade, this one is your best bet.
Edge Sanders – Small But Powerful
To get onto hardly reachable areas, such as the edges of wood or even corners, this type works finest. It's very small in size typically if you compare it to other types of floor sanders. But despite the small figure, it manages to work with quite much strength.
There's a dust bag attached to its unit right on the back typically. And that really helps to avoid dust getting all over the place.
Belt Floor Sanders – For Softwood Usage Mainly
And finally, we have the belt floor sanders that are also called strip sanders sometimes. This is the type that operates electrically. And there are revolving brushes coming along with it. The main job for which such sanders work best is anything that includes softwood.
You can get these for having great smoothing services. Also, for leveling areas properly, the belt sanders would do a great job overall.
Frequently Asked Questions
Can you sand your own floors?
If you have the proper hardwood floor sanding equipment and an idea on how to sand, then there should be no problem with doing it yourself. It will cost you less also compared to hiring someone else to get the job done. However, if you are not sure about handling the project, it's still better to hire someone.
Is floor sanding easy?
Of course not! It's a pretty effort-demanding chore. However, that also depends on your strength and frequency of carrying out such projects.
But typically, sanding the floor requires a lot of physical strength. It's not a very complicated task to get done, but the part that its pretty tiring makes people want to hire professionals rather than doing things themselves. Again, it depends from person to person.
How long will it take to sand a floor?
The size of your floor is a critical factor here. Expect the sanding to take 2 to 14 days for someone who is doing it themselves without professional knowledge. For an expert it would typically need at least one day and not more than 6 days.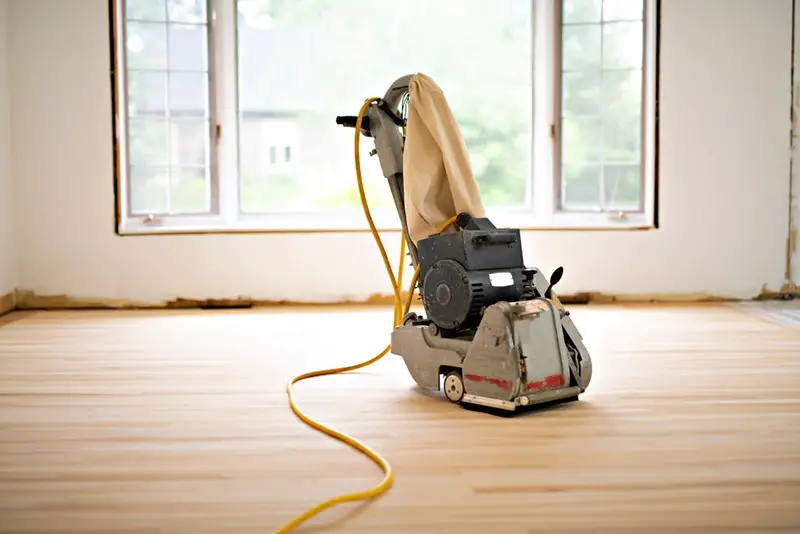 Wrapping Up
And that were some notes on 6 types of floor sanders that are commonly used by DIYers as well as professionals. You can now take your time to find out which one will be appropriate for your floor sanding project.
Also sometimes, you may need to get more than one sander to work on sanding. For example, some people like to use a drum sander for heavily trafficked areas, and then for corners, they move with a regular handheld orbital sander.
The combination of sanders that you'll use will be based on your floor sanding needs basically. So, give it some time and figure things out.
This is Autem Decker. Main Author of 'TheHomeDigs'. You may not find her on the list of top 10 contemporary Canadian interior designers, but everyone who knows her says she was born to be an interior designer.
She makes her plan in her head and draws them in her years-old diary with a note in the corner. The way she plays with color and shape amazes us.
Connect Her On – Twitter