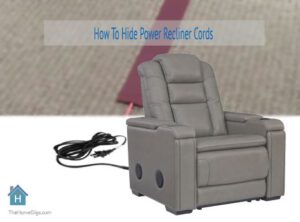 Think about an exhausting day, you are driving back to your home in the evening. All you want is just a cup of coffee and some relax.
Having returned, you took a quick shower, made a cup of coffee, and rushed to your newly bought power recliner and suddenly tripped into the cords extended from the power outlet!
Sounds dreadful, right?
Relaxing on the recliner is comfy but we'd love hiding recliner power cords messing our floors. In addition to that, this might open up a window of opportunity for interior decoration.
Therefore, I've written this simple but gorgeous piece on how to hide power recliner cords.
How To Hide Power Recliner Cords On The Floors And Walls
A recliner is a type of armchair or sofa that reclines when the person who is sitting lowers the chair's back and elevates its front. A recliner can be a manual type or power type.
However, a power recliner is operated by a motor or a series of motors to balance the chair in a relaxing position. And, it comes with cords for connecting it with the power outlet.
Speaking about cords, let's shed some light on how to hide cords for power recliner. As it is a common problem for those who already have a recliner for sleeping or relaxing. You may use any technique you prefer from the below discussion, just be careful not to do any harm to your power recliner cords.
Purchase a beautiful mat
Buy a thick floor mat and cover the cords with the mat. This is an easy way to hide recliner power cords. The mat can be large or small depending on the length of the cords & location of the recliner. Keep in mind to place the cords & mat in a suitable place in such a manner, where this set up won't cause you to trip down.
Craft a Rope or shackle
Another way to hide the cords is to get crafty. Don't worry!! You don't need to be a rope-maker. Instead, Be an artist! Make a design of a shackle or a rope with the recliner cords.
You can create this with just a pair of scissors, masking tapes, plastic cord tubes, yarn, and a creative mind! You can also use a jute rope to wrap the cord. Believe me, It will not only hide the cords but also make your sweet home more attractive and stylish.
A plain foam can be your buddy
You can place the recliner close to a wall that has a power outlet. Use a piece of plain foam that matches with the color of the wall to hide most parts of the recliner cords. That's it, your recliner cords are almost disguised within the wall! Creating this partial illusion is also cost-efficient. The important thing is, you need to locate the recliner and adjust the cords in such a manner so that most portion of the cords can be attached to the wall, then stick the piece of foam to the wall.
Use sticky hooks
Look around the room. What are you seeing?  Tables, table lamps, wardrobe, bed, and the list goes on. Yes, it's surprising what some simple paintable cord hiders & sticky hooks can do. Simply attach them to the backs and legs of your furniture, and the cords practically vanish. Amazing, right?
 The basket solution
your power recliner comes with comfort but it has it's shortcomings too. Their wires may give you a headache whether you are a messy person or an interior lover. But, a basket can save the day.
Just get a small basket and pile up the electrical cords of your power recliner into the basket. It's really simple and easy.  Another mesmerizing idea is to turn an unused shoebox into a "cord box".
 Make a designer wall
Place the power recliner near the wall. Make a cool design of a small 'mountain' on the wall using the recliner cords. You may need some sticky hooks, wrapping papers, scissors, masking tapes, and yarn for this. Make sure that your design won't create any obstacle to plug the electrical cords of the power recliner into the power outlet.
 Think out of the box
We always take things in conventional ways. There are smart solutions around us that can be materialized if we start to think out of the box. For example, we all use tissue papers, right? After using the empty toilet tissue roll, how about wrapping up your power recliner cords with it, Instead of throwing it away in the bin?
Remember, you need to arrange the cords in such a fashion so that it can be wrapped with the tissue roll. You can make this set up more delightful by painting and adding some cute designs on the roll.
Spend some bucks
Buy a cord-management kit. This useful little kit hides electrical cords within systems of tubing. You can stick them to the undersurface of desks, with only the little hint of cords visible either near the outlet and the recliner's input. You can buy them following the interior design of your house.
You can also assimilate an electrical-cord organizer into your room design. Some cable bin looks like a trash can, but actually, they are stockpile units for all nearby cables and surge protectors.
To wrap up
Well, the reality is, many of you could be wondering why should one hide a power recliner's cord. Some are not even bothered about the problems created by these cords yet! But, you will surely feel the difference once you hide them and witness the new fabulous appearance of your dwelling.
Hope this article has provided you with some quality solutions on how to hide power recliner cords.
So, hide these cords immediately and thank me later.
This is Autem Decker. Main Author of 'TheHomeDigs'. You may not find her on the list of top 10 contemporary Canadian interior designers, but everyone who knows her says she was born to be an interior designer.
She makes her plan in her head and draws them in her years-old diary with a note in the corner. The way she plays with color and shape amazes us.
Connect Her On – Twitter